You are here
Mercedes-Benz GLC250 4Matic Coupe: Stuttgart's sportier SUV spin-off
By Ghaith Madadha - Jul 17,2017 - Last updated at Jul 17,2017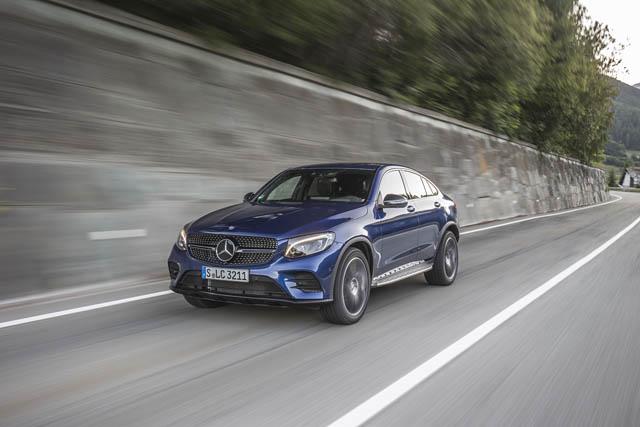 Photos courtesy of Mercedes-Benz
Among the latest additions to Mercedes-Benz' ever burgeoning model lines catering body styles to different niches, the GLC-Class Coupe is, however, an alternative spin-off of the GLC-Class mid-size SUV. Sporting a significantly lower roofline and rakishly angled hatchback at the rear in place of the SUV version's more traditional estate-like body style, the GLC Coupe is a flashier, less practical vehicle than its taller GLC SUV sister. Virtually identical in mechanicals, platform and technology, the Coupe may be more of a fashionably impulsive alternative, but it is, however, imbued with enough of a sporting flavour to distinguish itself from the SUV.
Fashion statement
In essence a car-based vehicle with SUV proportions and ride height and a '4-door coupe' body, the GLC Coupe sacrifices some practicality and space for fashion and design. A direct rival to the BMW X4 and is a junior scale model to complement Mercedes' own GLE-Class Coupe. Smoother, less complicated or aggressive, and with more flowing lines than the former the GLC Coupe has a smaller and less imposing scale than the latter, and consequently, seems less excessive than and would be expected to have a broader appeal than either X4 or GLE Coupe. However, and regardless of the Coupe's charms, the GLC SUV remains the better all-rounder.
Sharing the same width and wheelbase as the GLC SUV, the Coupe is, however, lower and longer at the rear overhang, and is the heavier of the two versions at 1785kg in GLC250 Coupe 4Matic, as driven. In terms of design, the Coupe has a distinctly sportier and flowing appearance, with broad two-slat chequered grille, big lower intakes, and assertively raised and ridged boned. Its rakishly arced silhouette, muscular haunches, sculpted side character line and big protruding sills all converge towards a slanted and pertly up-tilted rear end. Meanwhile, optional staggered 255/45R20 front and vast 285/40R20 rear tyres, further accentuate the GLC Coupe's squat and urgent demeanour.
A sportier flavour
Powered by the '250' iteration of Mercedes' familiar direct injection turbocharged 2-litre four-cylinder engine, the GLC250 4Matic Coupe's performance and characteristics are very similar to, but slightly lesser than, the GLC300 4Matic — powered by a more powerful variant, and featured in these pages on previous occasion. With the same faintly distinct four-cylinder chatter at idling, the GLC250 Coupe sounds throatier, growlier and fruitier acoustics when pushed hard. Crackling and rorting when upshifting at high load and rpm in Sport+ driving mode, the GLC250 Coupe, however, develops 33BHP and 14lb/ft torque less than the previously driven GLC300 SUV , and is 0.8-seconds slower through 0-100km/h, given the same gearing but a 50kg disadvantage.
Quick spooling with little turbo-lag from standstill, the GLC250 revs willingly to its 208BHP maximum at 5500rpm, but is best at its broad and brawny mid-range sweet spot, where it develops 258lb/ft throughout 1200-4000rpm.
Welling up with an urgent wave of accessible and versatile mid-range torque, the GLC250 is confident and quick inclines and when overtaking, which is aided by Mercedes' new 9-speed automatic gearbox. Slick, smooth and quick shifting and with a broad range of ratios for responsiveness, flexibility, refinement and efficiency, the new gearbox is a big improvement on its 7-speed predecessor, and helps the GLC250 achieve brisk 7.3-second 0-100km/h acceleration, 222km/h top speed and modest 6.9l/100km fuel efficiency.
Buttoned down
Smooth, composed, refined and comfortable — if slightly firmer — the GLC250 Coupe drives very similar to the GLC SUV, as is to be expected. However, with firmer optional sports suspension and massively wide and lower profile rear tyres complementing its more aggressive design and optional AMG body styling, the driven GLC Coupe was more eager, agile and taut through corners. With quick and direct electric-assisted steering, the GLC250 Coupe is tidy and progressive turning in when driven moderately briskly, but pushed hard and aggressively into a corner and expected under-steer seems a little more pronounced than in the GLC SUV.
This is perhaps due to its staggered wheels with slimmer front and broader and grippier rear tyres, but a more committed cornering line can be achieved by turning in tight and early and perhaps by slight lift-off to pivot weight to the rear and outside wheel. With huge grip at the rear when leaned on, the GLC Coupe's optional rear tyres are reassuring, while oversteer is caught and corrected quickly by aggressively cautious electronic stability controls, even when driving in the less intrusive but still active ''off'' setting. Meanwhile, the rear drive-biased 4Matic four-wheel-drive system sends more power frontwards to find additional traction and stability through corners and over loose surfaces.
Hunkered down
Stable and reassuring on highway and smooth if slightly firm over imperfections, the GLC250 Coupe is well controlled through corners with little body lean. Over crests and dips there is little vertical pitch while rebound is settled. Brakes are, meanwhile, confident. Well-insulated from noise, harshness and vibration inside, and with a supportive, comfortable and well adjustable seating position, the GLC Coupe has a hunkered down driving position and cabin ambiance. And while front visibility is good, the GLC Coupe's low roofline, small glasshouse, rakish and thick pillars and wide accentuated body and surfacing does, however, restrict side, rear and over shoulder visibility compared to its SUV sister.
The GLC250 Coupe, however, feature a rearview camera and parking assistance system, which one relies on more often than in the SUV, while a tight turning circle helps manoeuvrability. Meanwhile, optional blindspot and lane-keeping assistance would be worthwhile options to invest in, among numerous driver assistance systems available.
Well-spaced and packaged in front, the GLC Coupe's rear headroom is compromised compared to the SUV, but suffices, while luggage capacity is reduced somewhat. Luxurious and sporty with optional AMG Line interior, the Coupe features good quality finish, textures and materials, with uncluttered and user-friendly layouts, with forward jutting dashboard, clear cone-like instrumentation, and both touchpad and rotary controls for its tablet-style infotainment system.
TECHNICAL SPECIFICATIONS
Engine: 2-litre, turbocharged, in-line 4-cylinders
Bore x stroke: 83.1 x 91.9mm
Compression ratio: 9.8:1
Valve-train: 16-valve, DOHC, direct injection
Gearbox: 9-speed automatic, four-wheel-drive
Ratios: 1st 5.35 2nd 3.24 3rd 2.25 4th 1.64 5th 1.21 6th 1.0 7th 0.86; 8th 0.72; 9th 0.6
Reverse/final drive ratio: 4.8/3.27
Power, BHP (PS) [kW]: 208 (211) [155] @5500rpm
Specific power: 104.5BHP/litre
Power-to-weight: 116.5BHP/tonne
Torque, lb/ft (Nm): 258 (350) @ 1200-4000rpm
Specific torque: 175.8Nm/litre
Torque-to-weight: 196Nm/tonne
0-100km/h: 7.3-seconds
Maximum speed: 222km/h
Fuel consumption, urban/extra-urban/combined: 8.4-/6-/6.9-litres/100km
CO2 emissions, combined: 159g/km
Fuel tank: 66-litres
Length: 4732mm
Width: 1890mm
Height: 1602mm
Wheelbase: 2873mm
Track, F/R: 1620/1619mm
Overhang, F/R: 831/1028mm
Aerodynamic drag co-efficiency: 0.32
Headroom, F/R: 988/972mm
Shoulder room, F/R: 1455/1436mm
Loading height: 824mm
Boot capacity, min/max: 500-/1400-litres
Unladen weight: 1785kg
Steering: Electric-assisted, rack and pinion
Turning circle: 11.8-metres
Suspension: Multi-link, anti-roll bars
Brakes: Ventilated discs
Tyres, F/R: 255/45R20/285/40R20 (optional)
Related Articles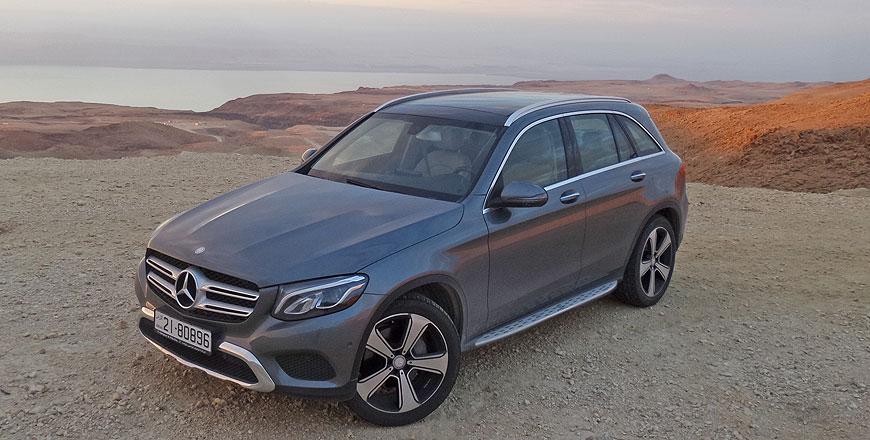 Jan 02,2017
Picking up where the GLK-Class left off and launched as a 2016 model, the GLC-Class is a practical yet luxurious compact SUV that marks a di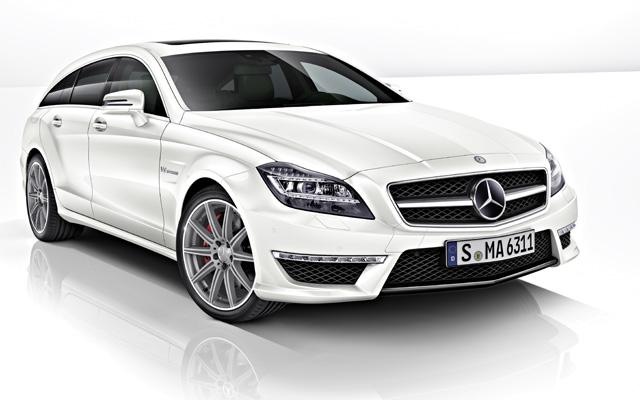 Jul 07,2014
The Mercedes-Benz AMG CLS63 S Shooting Brake 4Matic is quite a mouthful of a model designation that effectively conveys Mercedes-Benz' extensive model lines and multitude of variable versions that covers a broad spectrum of conceivable car niches.
Aug 04,2014
Launched earlier this year the latest incarnation of Mercedes-Benz junior executive C-Class model line is a larger and more luxurious and high tech offering than the car it replaces.
Newsletter
Get top stories and blog posts emailed to you each day.