You are here
Month after debut, Windows 10 running on 75 million devices
By The Seattle Times - Aug 30,2015 - Last updated at Aug 30,2015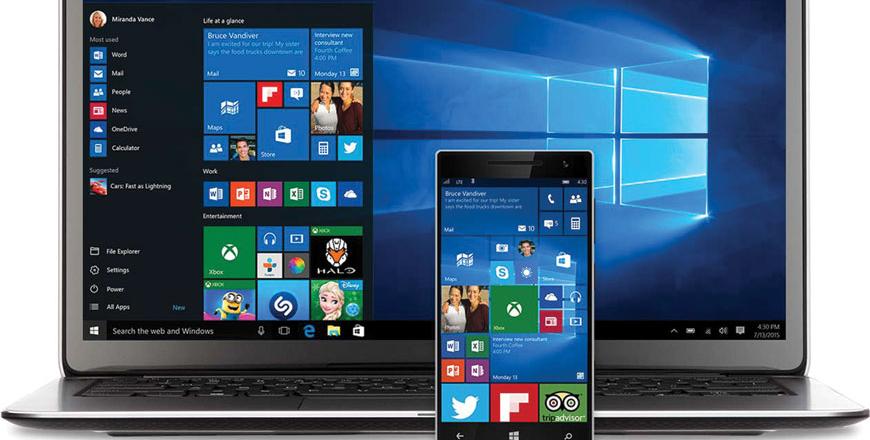 Photo courtesy of microsoft.com
SEATTLE — Microsoft, a company built on getting people to pay for software, is reaping the benefits of free. Four weeks after its debut, the new Windows 10 operating system now powers more than 75 million devices, Yusuf Mehdi, the Microsoft executive overseeing Windows marketing, said Wednesday.
Much of that momentum, analysts say, is because Microsoft is offering Windows 10 free to the majority of home users of the prior two major Windows releases. Microsoft has said the offer will extend at least through next July.
"That's pretty impressive," said Steve Kleynhans, an analyst with researcher Gartner. "I don't think any other operating system achieved that in less than six months."
In Windows 10, Microsoft is trying to rebound from the lacklustre market performance of Windows 8, the previous major version.
The touch-focused interface of Windows 8 dumped the traditional start menu, confusing many users. Many businesses and home users remained with its well-regarded predecessor, Windows 7, which still accounts for more than half of Windows users.
Windows 10 now powers 5.7 per cent of personal computers and tablets worldwide, according to web analytics company StatCounter.
At the same point after the release of Windows 8, that software was running just 1 per cent of devices. Windows 7 held a 4 per cent share at its four-week mark.
Still, it remains to be seen whether Windows 10 will revive the beleaguered PC market.
Though Microsoft has pitched Windows 10 as a product designed to work well on devices of all types, the operating system is heavily dependent on a PC market that has declined as consumers gravitated towards smartphones and tablets. Windows runs about nine out of every 10 laptop and desktop computers, but has a single-digit share of tablets and smartphones.
Data tracker IDC said Wednesday it expected global PC sales to decline by 8.7 per cent this year, and fall 1.1 per cent in 2016. Microsoft hasn't announced a release date for Windows 10's smartphone editions.
Also to be determined is how businesses, which Microsoft depends on for the majority of its profit, will react to Windows 10. Businesses, which typically get operating-system upgrades at no added charge as part of long-term technical support, aren't eligible for consumers' free-upgrade offer.
"We're starting to see people ask questions, but certainly it's not at the point where we're seeing businesses talking about big deployments yet," said Eric Berg, chief product officer of Okta, a San Francisco software company that makes tools for businesses to manage employee access to Web-accessed software.
Businesses, typically cautious in embracing new software, also await the addition of some features that weren't ready when Windows 10 was released.
"The basic functionality is wired into the operating system, but not all of it is exposed in a way that you can use it yet," Kleynhans said. "A lot of tools have to be updated so [information technology departments] can make it work."
One of Okta's products, a tool that creates a single login page for office workers' multiple Web services, operates as an add-on on top of Web browsers. Edge, the new browser Microsoft debuted with Windows 10, doesn't support the add-on technology Okta would need to run its software.
Microsoft is working to remedy that (and has promised Edge will soon support browser plug-ins). The company has released four major updates to the software since its release. An update last week included features that automate large-scale software installation and remote oversight of programmes, Kleynhans said. Microsoft has said Windows 10 will receive more-regular updates than previous releases, and that its release on different platforms would be staggered. That gave the company the flexibility to release the software earlier and without the bells and whistles it would ultimately include, analysts say.
"With this new update, you can float in features any time you want," Thomas Koll, chief executive of Laplink, a Bellevue company that migrates files between computers and operating systems.
Koll, a former Microsoft executive, said one of Laplink's customers, a large software vendor, planned to shift to Windows 10 in November after the expected arrival of a business-focused update to the software.
Related Articles
Jan 22,2015
Microsoft pulled back the curtain Wednesday on the upcoming Windows 10 operating system focused on bringing harmony to the diverse array of Internet gadgets in people's lives.
Aug 01,2015
WASHINGTON — Some 14 million people installed the Windows 10 operating system in the first 24 hours following its release, Microsoft said, c
Oct 01,2014
Microsoft on Tuesday offered its first glimpse of its Windows 10 software that it hopes delivers a winning formula for powering tablets and smartphones, along with laptops and desktop computers.
Newsletter
Get top stories and blog posts emailed to you each day.