You are here
From pain to love: Endings and new beginnings
By Shama Kaur , Family Flavours - Mar 12,2023 - Last updated at Mar 12,2023
Photo courtesy of Family Flavours magazine
By Shama Kaur
Kundalini Yoga Teacher, Aquarian Trainer Health
and Wellness Mentor
Over the course of my life, I have been in and out of quite a few relationships and it truly never gets easier to readjust to the feeling of being single. That's probably why many people jump into a relationship just when another has ended; to avoid that void the emptiness that is felt inside — with a new distraction.
My last separation was a little over two years ago. We were together for just over a year, things were getting more real and serious and the possibility of marriage was on the table.
We met each other's families and we were part of a common community — the global community of Kundalini Yogis.
Soul mates
We shared many common interests like hiking, dancing and travelling. We were both Kundalini teachers and adhered to the yogic lifestyle; we were both vegan/vegetarian, enjoyed using the tools provided by Kundalini Yoga and meditation to help us solve problems, and we often meditated together.
We shared moments of ecstatic joy, you know, the kind of joy where you feel your heart fluttering, cheeks blushing and giggling at the silliest things. We travelled to Spain, Italy, France, Morocco, Greece and Portugal to experience the beauty of extraordinary landscapes and epic cultures.
The bond that we had was so contagious that just by looking at us people felt joyful too. Love was definitely in the air, a kind of love that robbed us blind of the realities that were ahead of us and kept us both fascinated by the dream of having a long life together. In those two years, I lost myself in him and he lost himself in me.
A broken heart
When things ended, my heart was shattered. I couldn't sleep without checking my phone a million times. I couldn't eat for days and lost a lot of weight. I was teaching a Level 1 Kundalini Yoga Teacher Training in Palestine at the time and I remember hiding in the bathroom during breaks while I wept and my entire body shook with complete disbelief.
But with 15 students in the other room waiting for the next topic, I knew I had to hold it together. What helped me keep going was my spiritual mentor, who reminded me to remain conscious of my breath and to breathe so deeply into the depths of my broken heart until I could transform the pain into love.
My mentor said: "Just keep your love one step ahead of the pain. " This was my prayer and my practice for countless nights. To breathe into the pain and transform it to love; a love for myself and for all those who were suffering from the pain of a broken heart.
Turning loneliness into an opportunity
When our life takes a turn from being in a relationship to being single, it is really difficult, not only because of the pain of a broken heart, but also because of the many rituals, habits and norms that we once shared with one another. The morning messages and evening good nights, the mid-day jokes and lunchtime flirts, the weekend plans and post-work 'vents', or the shared stories of triumphs.
When we are newly single, we forget how we once used to get through our day alone, without sharing the intricacies of our day with anyone else. It takes a little time for our brain to readjust and remember who we were before and how we brought joy to ourselves each day.
After around nine months of being separated, I still felt lonely sometimes and my mind drifted into the distant memories of the past. But one day, on my daily sunset walk in the park, something hit me that said: "Wait Shama, look around you, nothing is a coincidence, you have an opportunity here, an opportunity to master the emptiness, to master the void, something that terrifies most."
Healing
And that was the beginning of my healing journey. I imagined that I was a Shamanic Healer in the mountains of Peru with no one around me except the birds, trees, oceans and seas. I paid attention to the earth beneath my feet, the leaves falling off trees, the birds chirping and the tree branches dancing in the wind. I spent moments in absolute stillness in the darkness of night listening to the sound of my heartbeat, and mentally chanting "God and me, Me and God are One". I trained myself to get really comfortable with the art of being still and called upon the forces of the Great Mother, the saints and angels to be by my side and I felt their presence all around me.
Healing was on its way and it reminded me of the artist deep within. I enrolled into some art classes and began painting again. I read books that inspired me to dance. I wrote poetry that released my anger and sadness. I brought together women in circle gatherings where we shared openly about love and relationships, and stood by one another to listen and heal.
Now it's almost two years since my separation and my life is filled with so much abundance and joy. I cherish the time to do all the things that make me happy, the time I have to teach and mentor my students, the time I have to play with my 11/2 year old niece and support my sister with her newborn, the time I have to pray, dance, paint, meditate and bring women together from all ages to talk, share and heal.
One of the perks of being single is that we do not need to negotiate with anyone else about how to spend the precious moments of the day. We are like artists who can envision how our day will look like and create it by inviting others into the picture. We do not need to compromise or let go of things we wish for if another person is not interested. Instead, we can choose to build new relationships with those who share our interests.
We have an opportunity to learn, grow and transform, like a caterpillar that grows into a butterfly without anything holding it back. We are free to explore, discover and learn.
Reprinted with permission from Family Flavours magazine
Related Articles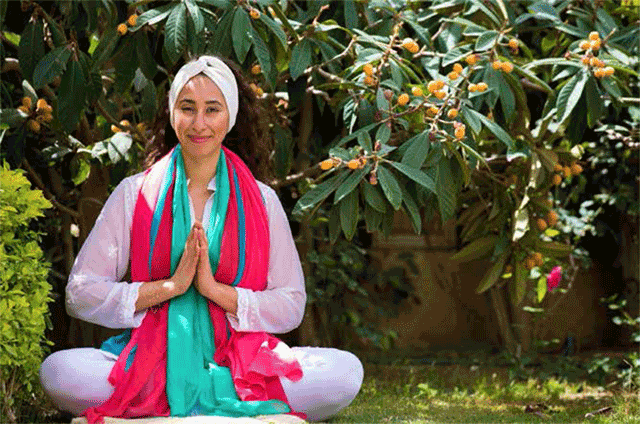 Jan 22,2023
The practice brings to our awareness our self-limiting beliefs and habit patterns that we inherited from the past. It invites us to process and release painful memories that are stored in our subconscious. It awakens our ability to become intuitive and sensitive, to understand a person or a situation even if no words are spoken- to realise the consequences of actions before they happen.
Oct 08,2023
At the core of yoga philosophy lies the principle of ahimsa which calls for non-violence in thought, word,and action. By practising ahimsa, individuals cultivate compassion, empathy and respect for all beings. As we extend this principle to ourselves and others, conflicts and divisions begin to dissolve, paving the way for a more peaceful world.
Sep 10,2023
When social media content is used as a measuring stick to which youth compare themselves, this creates self-esteem issues. Secondly, the information is often misleading or inaccurate, which impacts their decision-making and their views of the world.