You are here
Q-car cool
By Ghaith Madadha - Apr 20,2015 - Last updated at Apr 20,2015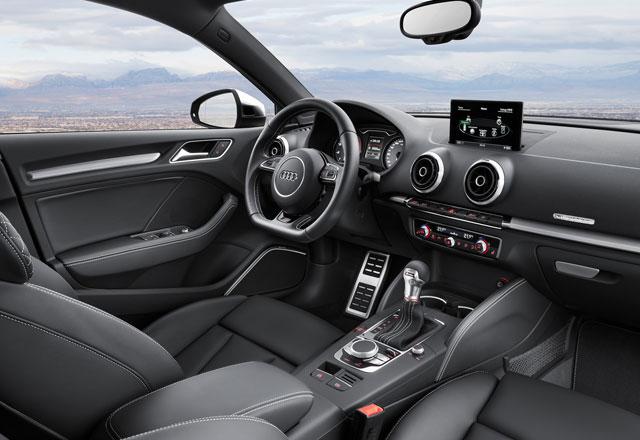 Introduced as a 2014 model, the Audi S3 Sedan is one of few compact and quick saloon cars available today. Whereas fast small saloons were thick on the ground in past, this segment has largely been replaced by hot hatchbacks or migrated to move the large and pricier executive saloon segment.
With few direct rivals, the Audi S3 is a discrete but hugely talented junior super saloon, which sits somewhere between the extrovert Subaru WRX STI, the 2-door BMW 235i Berlinetta Coupe and the less practical flamboyantly low-roof Mercedes CLA45 AMG, which despite four-door three-box configuration, is billed as a four-door coupe.
Understatedly assertive
Understatedly handsome with conservatively chiselled yet elegantly assertive presence and accessible sub-executive premium brand kudos, the S3 Sedan's is a classic high performance Q-car recipe.
Without overt bulges, wings, flared arches and gaping scoops and vents, and only quad tailpipes silver, side mirror casings and beefy 18-inch twin five-spoke alloy wheels marking it out, the S3 could — to the untrained eye — be mistaken for a garden variety A3 with ever-popular S-Line exterior styling kit.
Flying under the radar — so to speak — the S3 is a classy, reserved, quick and highly competent little brute with the power to surprise — and therein lies its appeal.
If not a flamboyantly wild and aggressive design like its brutally powerful 518BHP Audi A3 Clubsport Quattro super saloon concept car sister, the S3 Sedan is however certainly sculpted and sporty, yet assertively dignified.
With big tall grille, slim inward angled and moodily browed headlights, big lower side intakes and subtle front air splitter, side skirts, upturned air diffuser and build-in spoiler, the S3's intent is clear but more muted.
A straight and chiselled side character line is etched across the front and rear lights and is complemented by a rising lower ridge, while its roofline trails to a high-set short boot.
Consistently muscular
Powered by a transversely-mounted in-line 2 litre four-cylinder direct injection turbocharged engine with aggressive 1.2-bar boost pressure, the Audi S3 Sedan delivers sensationally swift performance, versatile delivery and frugal fuel efficiency.
Spooling up swiftly with little turbo lag from tick-over, the S3 develops a mighty 280lb/ft of torque throughout a broad 1800-5500rpm mid-range, and with no gearing flat-spots, allows for responsively muscular and effortlessly confident flexibility at virtually any speed or gear once spinning in its wide sweet spot.
Underwritten by a gloriously rich wave of torque, power builds up smoothly and effortlessly to a 286BHP maximum (10BHP less than Euro-spec versions billed as S3 'Saloon') consistently on tap throughout 5500-6200rpm.
Channelling its power through a Quattro four-wheel drive system, the S3 develops vice-like traction and vigorously through the 0-100km/h acceleration benchmark in 5-seconds flat, as driven in 6-speed automated dual clutch S-Tronic gearbox, guise, which is 0.4 seconds quicker than the manual gearbox version.
Subtly fruity acoustics channelled into the cabin reflect the S3's high performance ability, but otherwise brisk turns of speed come in an effortlessly refined manner. Muscularly flexible on-the-move, the S3's swift sequential shift gearbox can be driven in a manual mode for additional driver involvement. Electronically-restricted to 250km/h, the S3, however, returns low 6.9l/100km combined fuel efficiency and 159g/km combined CO2 emissions.
Cornering composure
Built on Audi's and Volkswagen's new more aluminium-intensive modular MQB platform with the front axle set 42mm more forwards and a slightly lighter engine with a 12-degrees backwards camber, the S3 turns in with tidy, committed and neutral agility into and through corners, unless entering a corner at extreme speed, where faint understeer is easily managed.
Putting its considerable power down through all four wheels, the S3 can vary power distribution between front and rear to where it's needed. Maintaining its composure, road-holding, the S3's Quattro system allowed for sure-footedly swift progress through tight twisting corners, sweeping bends and straights. Meanwhile, the S3's progressive steering was precise, accurate, well-weighted and reassuringly stable at high speed.
Driven at the Dubai Autodrome circuit, the S3 almost felt like a somewhat grown-up Subaru WRX STI, as it tucked neatly through corners with its torque vectoring system braking the inside wheels for added agility, and its four-wheel drive reallocating power rearwards if flung hard through a tighter corner.
Refined, committed and reassuringly stable at speed, the S3's adaptive magnetic dampers kept it poised and taut through all but the fastest tightest corners on track, where body lean became slightly evident, compared to the Audi TT sports car driven at the same session. At its most involving when driven briskly, the S3 is otherwise deceptively fast in how refined it remains at speed, while brakes faithfully reined in its 1455kg mass from speed.
Classy compact
Somewhat narrow and manoeuvrable in town, the S3 was firm, composed and buttoned-down but comfortable on Dubai's smooth roads with grippy 225/40R18 tyres. Refined inside and with an elegant and well-built premium feel, the S3's cabin is classy, sporty and convenient. With clear instrumentation, thick flat-bottom multi-function sports steering wheel, supportive and well-adjustable seats, one finds a good driving position, while the S3's design — between three-box saloon with hints of a notchback — allow for good road visibility and terrific front headroom. Rear space is also decent, with the sloped roofline only slightly reducing rear head space for tall adult passengers, who are unlikely rear occupants in this segment.
Designed with clean lines and circular motifs including air vents and rotary dials, the S3's cabin features contrasting metal accents and dark leather seats and trim, and soft textures are plenty. Well equipped with mod cons, safety and entertainment features, the S3's pop-up infotainment screen and rotary selector can be used for most functions including various vehicle mode settings.
Featuring standard Bang & Olufsen sound system, sat nav, electric seats, rear view camera, parking sensors, panoramic sunroof, climate control and keyless entry is standard Middle East spec, the S3 can also be equipped with additional infotainment and driver assistance systems such as adaptive cruise control and high beam, active lane and blind spot assists.
TECHNICAL SPECIFICATIONS
Engine: 2 litre, transverse, turbocharged 4 cylinders
Bore x stroke: 82.5 x 92.8mm
Compression ratio: 9.3:1
Valve-train: 16-valve, DOHC, direct injection, continuously variable valve timing
Boost pressure: 1.2-bar
Gearbox: 6-speed automated dual clutch, four-wheel drive
Power, BHP (PS) [kW]: 286 (290) [221] @ 5,500-6,200rpm
Specific power: 144BHP/litre
Power-to-weight: 196.5BHP/tonne
Torque, lb/ft (Nm): 280 (380) @ 1,800-5,500rpm
Specific torque: 191.5Nm/litre
Torque-to-weight: 261Nm/tonne
0-100km/h: 5 seconds
Top speed: 250km/h (electronically governed)
Fuel consumption, urban/extra-urban/combined: 8.8/5.9/6.9 litres/100km
CO2 emissions, combined: 159g/km
Fuel capacity: 55 litres
Length: 4,469mm
Width: 1,796mm
Height: 1,392mm
Wheelbase: 2,631mm
Track, F/R: 1,551/1,526mm
Overhangs, F/R: 874/964mm
Aerodynamic drag co-efficiency: 0.29
Headroom, F/R: 1,006/924mm
Luggage volume, min/max: 390/845 litres
Kerb weight: 1,455kg
Weight distribution, F/R: 59 per cent/41 per cent
Steering: Variable electric-assisted rack & pinion
Turning circle: 11 metres
Suspension, F/R: MacPherson struts/multi-link, adaptive magnetic dampers
Brakes, F/R: Ventilated discs/discs
Tyres: 235/35R19
Related Articles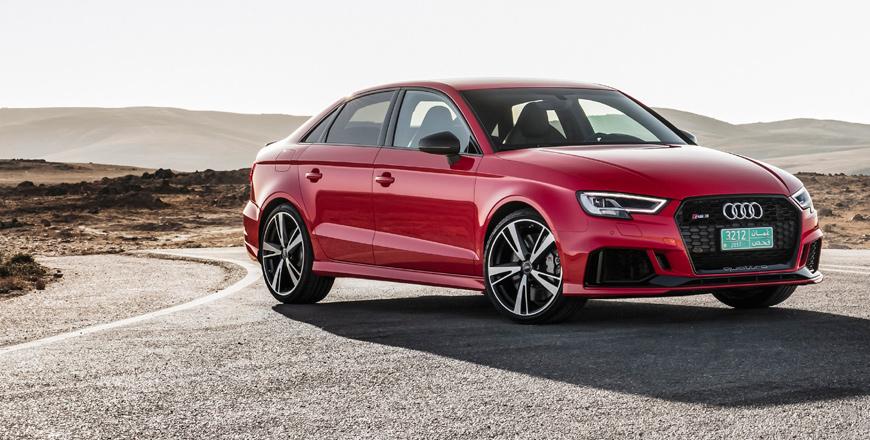 Apr 02,2018
Giving way to hot hatchbacks, larger premium super saloons and estates, and performance SUVs and crossovers, the small fast saloon was forme
Sep 01,2014
Well-established, the executive prestige brand hatchback segment includes cars like the Audi A3, Mercedes-Benz A-Class, BMW 1-Series and Volvo V40, but with the junior executive saloon segment growing in size, price and luxury, a gap has opened in the compact luxury saloon segment.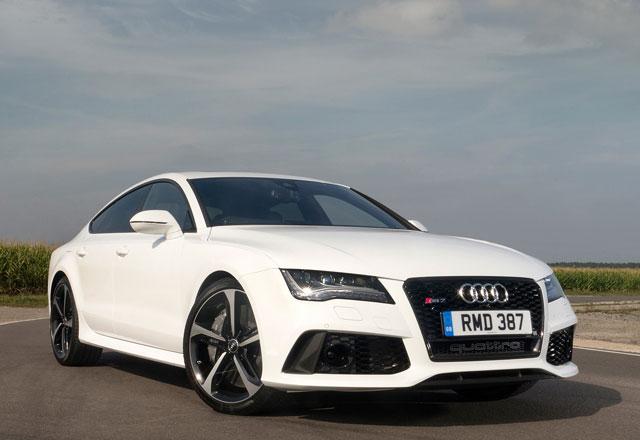 Nov 17,2014
Dramatic, low-slung and luxurious, the Audi RS7 is the four-ring Ingolstadt manufacturer's gambit into the high performance coupe-like prestige 4-door car segment.
Newsletter
Get top stories and blog posts emailed to you each day.