You are here
Renault Duster 4x2 1.6 (Manual): The people's SUV
By Ghaith Madadha - Jan 13,2020 - Last updated at Jan 14,2020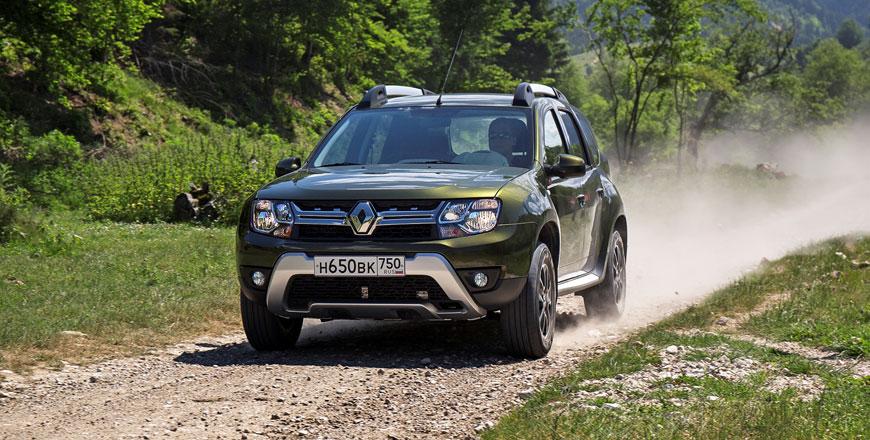 Photos courtesy of Renault
One of the most affordable modern SUVs, the Renault Duster offers plenty of practicality and functional off-road ability even in its most basic front-wheel-drive variant. Representing real value for buyers on a budget, the Duster is more about attainability rather than aspiration, it is designed a tough yet comfortable, spacious, convenient, and economical SUV that is easy to drive and manoeuvre.
First launched in 2009, face-lifted in 2014 and ostensibly replaced by a more spruced-up successor for the 2019 model year, the long-running original Duster remains relevant.
Rugged looks
Either still available as a current model or available as unsold stock in other markets, the old Duster shares the same technical and design basics with the incoming model. Rugged looking, yet inoffensive in design, the original Duster has a likably unpretentious and somewhat playful sense of charm. With its muscularly bulging wheel-arches, long bonnet, contoured surfacing, pert rear, front skid plate chunky roof rails big browed and framed headlights and grille, the Duster looks very much the tough SUV, but without projecting the overbearing or sometimes obnoxious image of other much larger and pricier SUVs.
With is that value, ability and practicality underpinning its charm, the Duster is designed to be cost effective for Renault, its Dacia brand that developed the Duster and the consumer, and so shares a basic platform with other related Renault and sister Dacia models. Spacious inside with a comparatively long wheelbase, yet relatively small on the outside, the Duster sits at just over 4.3 metres long, 1.8 metres wide and 1.6 metres tall, and is highly manoeuvrable in tight city streets and parking places, and along the narrowest off-road trails where larger SUV fare more clumsily.
Just right engineering
Engineered for reliability and cost efficiency, the entry-level Duster is powered by a familiar 1.6 litre naturally-aspirated 16-valve four-cylinder engine, combined with a four-speed automatic gearbox, to make the most of its power and return the best possible fuel efficiency. Producing 103BHP at 5,750rpm and 109lb/ft at 3,750rpm, the Duster isn't exactly very powerful, but weighing in at under 1,200kg in 4x2 guise, this is perfectly sufficient to move at a decent pace in traffic, on high way or in limited off-road use. Meanwhile, 7.6l/100km combined cycle fuel efficiency is good for an SUV, and especially so on the highway.
Smooth operating and progressive in delivery, the driven Duster's 11.5-second 0-100km/h in 11.4 seconds and 165km/h top speed means that it has no problem keeping up with various driving conditions. Confident if not especially quick, the Duster is responsive and flexible enough for its class but one does have to make full use of the Duster's full power and torque output at higher revs for keeping a good pace on steep inclines or for higher speed over taking manoeuvres. That said, the Duster's 5-speed manual is pleasant and more engaging than an auto, and combines with a light user-friendly clutch pedal.
Comfortably capable
Available in four-wheel-drive guise for more extensive off-road and low-traction driving, the Duster is, however, considerably more capable than expected in front-drive guise. Lighter than the 4x4 version, and with its engine weight pressing down on the front wheels, the Duster 4x2 benefits from the same generous 29.3 degree approach, 23 degree ramp and 34.9 degree departure angles, and almost identical 205mm ground clearance, and is easily capable of overcoming pebbly, dusty and rutted inclines, while its compact dimensions allow to manoeuvre well in narrow trails and roads alike. The Duster also proved quite comfortable and capable over quicker but still rutted dirt roads.
Comfortably capable of absorbing rutted unpaved roads or the cracked and lumpy stretches of highway, the Duster is supple and takes such imperfections in its stride, and seemingly glide over some speed bumps. Settled and refined at speed for a small and affordable SUV, the Duster is comfortable over long distances with good directional stability. Through winding roads the Duster 4x2 is tidy into corners, and grippy and reassuring throughout despite some body lean. Riding on less sophisticate rear torsion beam suspension compared to the 4x4 version's multi-link set-up, the Duster 4x2 nevertheless feels competent, manoeuvrable, settled and fluent.
Spacious and supple
Designed for user-friendly predictability, the Duster is set-up for understeer, rather than oversteer, when pushed too hard, and is for reassuringly grippy at the rear rather than agile, easy to flick and adjustable like a small hatchback though tight hairpin corners. Its steering initially feels slightly, but through corners it hydraulic assistance soon seems more natural, better weighted and textured than quicker more modern and artificial systems. Meanwhile its 215/65R16 tyres provide good grip, ride comfort, steering accuracy and rugged durability. Driving position is well adjustable and comfortable, but firmer lumbar support and steering reach adjustment would be nice.
Efficiently packaged inside, the Duster's relatively long wheelbase makes it spacious inside with good legroom and headroom, especially when driven without a sunroof. A utilitarian family car able to accommodate five passengers and generous luggage in its 475-litre boot, the Duster's cargo capacity can be increased to 1,636-litres with the rear seats folded. Rear seat access is meanwhile easy through long and wide swinging doors and driving visibility is good for manoeuvring and parking. Reasonable well equipped, the Duster's cabin features user-friendly layouts and hardwearing – if not particularly luxurious – plastics and fabric upholstery.
TECHNICAL SPECIFICATIONS
Engine: 1.6-litre, transverse 4-cylinders
Bore x stroke: 79.5 x 80.5mm
Valve-train: 16-valve, DOHC
Gearbox: 5-speed manual, front-wheel-drive
Power, BHP (PS) [kW]: 103 (105) [77] @5,750rpm
Specific power: 64.5BHP/litre
Torque, lb/ft (Nm): 109 (148) @3,750rpm
Specific torque: 92.6Nm/litre
0-100km/h: 11.5-seconds
Top speed: 165km/h
Fuel consumption, urban/extra-urban/combined: 9.9-/6.6-/7.6-litres/100km
CO2 emissions, combined: 177g/km
Fuel capacity: 50-litres
Length: 4,315mm
Width: 1,821mm
Height: 1,625mm
Wheelbase: 2,674mm
Track, F/R: 1,559/1,560mm
Overhang, F/R: 816/825mm
Weight: 1,160kg (est.)
Minimum ground clearance: 205mm
Approach/break-over/departure angles: 29.3/23/34.9 degrees
Headroom, F/R: 905/894mm
Shoulder room, F/R: 1,387/1,400mm
Cargo volume, min/max: 475-/1,636-litres
Suspension, F/R: MacPherson struts, anti-roll bar/torsion beam
Steering: Power-assisted rack and pinion
Lock-to-lock: 3.3-turns
Turning circle: 10.44 metres
Brakes, F/R: Ventilated discs/drums
Tyres: 215/65R16
Newsletter
Get top stories and blog posts emailed to you each day.