You are here
Saris — a colourful taste of India on display
By Abeer Numan - Feb 01,2015 - Last updated at Feb 01,2015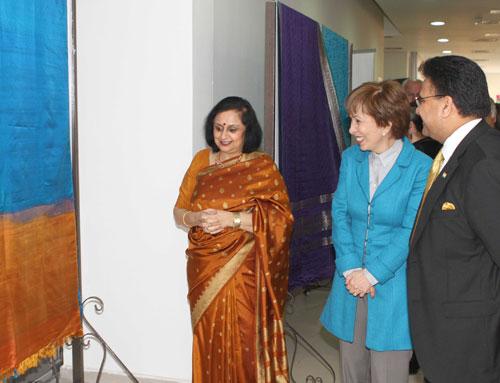 Amman — Traditional Indian saris exhibited Sunday at Galleria Ras Al Ain captured visitors' attention with their vibrancy, brightness and exquisite patterns.
Each sari on display tells a different story from the heritage of the vast civilisation of India.
Dating back to 2800 BC, the sari continues to be an artistic statement that personifies India and Indian women.
"Throughout the years, the Indian sari and India have become synonymous," Anupama Trigunayat, wife of the Indian ambassador to Jordan, told The Jordan Times.
"The sari still holds that special place because it is at the core of the life of Indian women," she said, highlighting the workmanship of Indian weavers.
The exhibition, called "Sari: The Magic of Indian Weaves", was inaugurated by HRH Princess Basma who commended the Jordanian-Indian cooperation, in whose spirit the exhibition of the saris is held.
Indian textiles and saris represent a great heritage, she said, highlighting the grace and appeal of saris.
Indian Ambassador to Jordan Anil Trigunayat said saris — the word is derived from Sanskrit "sati", which means strip of cloth — used to be one piece of cloth in the old days, as wearing stitched clothes was believed to be impure.
"When we thought of cultural activities to bring a little bit of India to Jordan, we thought of saris," said the ambassador.
Curated by Rta Kapur Chishti, the exhibition drew quite an attendance on the first day.
Sue Mullin, president of the International Women's Association, Amman, said it is interesting to see the traditional saris, which can be distinguished by states and areas, according to the pattern.
"Likewise, it is nice to see the contemporary designs which you cannot tell where they come from," she said.
Today's sari has three parts: the sari itself, a short blouse that is separately stitched and an underskirt, a petticoat, said the envoy's wife, adding that a sari is usually a six to nine-metre strip of fabric.
The blouse covers the bust and can be short or long sleeved, she said, adding that traditionally, it was believed that the navel symbolises life, creation of life, "so you keep it visible".
Visitor Parveen Rahman, a Bengali physician living in Jordan, said saris are easy to wear.
"There are some folds and you have to make the pleats," said another visitor.
Colours are also symbolic, said Mrs. Trigunayat; red and orange, and their different nuances, are very auspicious, for example.
Bright colours are usually worn at weddings and the quality of the fabric depends on the season.
Silk is worn in winter and sometimes in spring. Silk saris from the south of India are famous for their bright colours and are embellished with gold motifs. Saris from the north are usually embellished with brocade.
"Today, there are 80 ways of draping a sari," she added, depending on the area.
The exhibition will run until February 10 as part of several cultural activities held in Amman this month, including a Bollywood film festival, marking 65 years of cooperation between Jordan and India.
Related Articles
May 23,2015
The array of colours is stunning, the images, mostly abstract, soothing, almost mystic, and the spirituality acutely present. The paint
Jul 07,2014
Amman Chamber of Commerce President Issa Murad and India's Ambassador to Jordan Anil Trigunayat on Monday discussed ways to develop commercial and investment relations between Jordanian and Indian businessmen.
Aug 15,2015
AMMAN — India House in Amman on Saturday celebrated the country's 69th independence day with several cultural festivities, treating the gues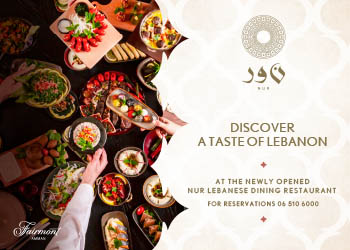 Newsletter
Get top stories and blog posts emailed to you each day.