You are here
Smiling with nostalgia
By Ica Wahbeh - Jun 25,2018 - Last updated at Jun 26,2018
Works by Fadi Daoud's 'Nostalgia' exhibition on display at Wadi Finan Art Gallery until July 7 (Photo courtesy of Wadi Finan Art Gallery)
Why would a 34-year-old artist feel nostalgic and when did he have time to become so were the questions that popped up inevitably upon stepping into the exhibition hall of Wadi Finan Art Gallery to see Fadi Daoud's works, displayed under the heading "Nostalgia".
But then, looking back at his career of over two decades, one realises he had ample time, and reason, to reminisce and pine for "the good old days".
Daoud started painting at 10. At 12 he had his first exhibition… in his father's gallery in Fuhais.
Any accusation of favouritism would be unfounded and will be subsequently disclaimed as, after studying art in Jordan, this young artist was accepted for his Master in Art Degree in Florence based on his track record. No chance to get in there unless talented.
Back in Jordan, Daoud went into teaching, imparting his knowledge and inspiring with his enthusiasm future artists, all the while continuing to paint.
The idea of this particular exhibition started with his desire to capture, on canvas, his grandmother's smile.
"I was missing her. I worked for several months attempting to reproduce her smile. It was more of an internal dialogue I was having, returning to the painting ever so often, working on it over and over again to reach the desired result."
Looking at the big painting that, I am told, makes some uneasy — the big face looks like a specimen more appropriate for an anatomy class — one needs some time to figure out the smile amid the many lines that form the portrait in typical Daoud manner.
The painting is a labour of love. The smile, upturned corners of the mouth, is, he says, that of his grandma; and the inspiration for most other paintings in which he is looking for an elusive smile that he tries to interpret. Is it genuine, servile, ingratiating, blasé?
"Look at the narghile man. He smiles, but he does it mechanically, for potential customers, not from the heart," he says.
The search for a smile takes this artist to the streets of towns and villages, in contact with cobblers, makers and sellers of orange, sugar cane or liquorice juice, vendors of odds and ends, including of water melon, which he renders in a realistic painting that, like that of the backgammon players, is striking in colour and composition.
It also produces portraits — not all smiling — dervishes in a world of their own, the ubiquitous musicians in Daoud's body of works, and a master puppeteer, a painting that gives food for thought.
It is a clear rendition of Pinocchio, from his days in Italy, but also a deeper allusion at people on earth being manipulated — or at least "guided" — by some superior order; when interpreted religiously or politically, which the artist concedes could be, the symbolism is all the more obvious, if unsettling.
The works are executed on canvas, leather or paper. The colours, muted earthen hues with splashes of blue, black, maroon or green, create fluid movement.
And then, there are the lines.
Straight, disciplined, constraining and defining, flowing sinuously or twirling in circles and ellipses, bold or vanishing in the surrounding colour, the lines are Daoud 's signature, his way of creating images of haunting beauty.
To immerse yourself in the world of Daoud's characters, to get a glimpse at the smile on the faces of some or simply to get nostalgic for the world of street merchants or trades plied in the not so distant past, you may visit the exhibition until July 7.
It is guaranteed to put a smile on any visitor's face.
Related Articles
Nov 26,2017
AMMAN — Music, painting and the human soul have found a place in the work of Jordanian artist Zaid Shawwa, now displayed under the title "Wa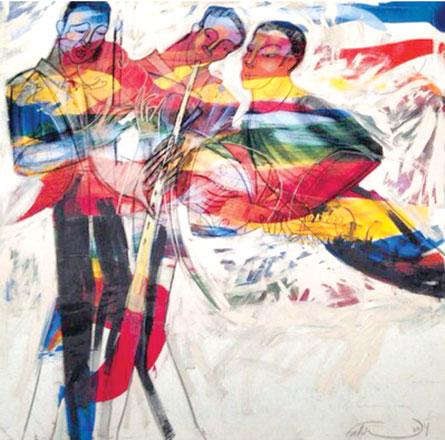 Nov 11,2015
AMMAN — Music, vocal or instrumental, is almost audible in the halls of Wadi Finan Art Gallery where Fadi Daoud's evocative works stimulate
Oct 26,2017
AMMAN — Hundreds of Jordanians experienced Japanese art at Yuko Kawaguchi's "The Colour Stories" solo exhibition which concluded on Wednesda
Newsletter
Get top stories and blog posts emailed to you each day.