You are here
When in Milan
By Nickunj Malik - Nov 09,2016 - Last updated at Nov 09,2016
The beauty of Europe is that if you drive for a couple of hours in any direction you are in another country that all have their own distinctive blend of culture, food, and dining customs, which forms a uniquely enchanting entity. It is this fascination of the continent that attracts tourists and visitors to its land every summer.
But this summer was somewhat different. With climate change, it was very hot and the temperatures rose so high that the general populace had difficulty coping with it. In Milan, which is the fashion capitol of the world, where stylish shoes are designed and crafted, many people were barefoot! Believe me it's true. I almost thought I was in India.
One day I saw a woman non-chalantly approach a public fountain, take a dip in it while fully clothed, and walk away, cooled for the moment. The lady took her dog into the fountain with her also. It was a most arresting a sight let me tell you. I stopped and gaped, forgetting to shut my mouth.
In Milan, the hotel I stayed in, did not like visitors. I cannot remember the name of the place but it was diametrically opposite the central train station. After dragging my heavy bags and passing through a zigzagging noisy traffic, I finally reached the dim lit lobby where the front-desk assistant was in a foul mood. Belatedly he noticed my presence and informed me that I could only check-in after another hour, since we had arrived before time. Then he switched languages and the rest of the conversation he had with me was in Italian. The fact that I did not understand a word of what he said did not bother him one bit.
I began framing an angry response in my head. As if sensing my irritation, another man materialised behind the desk. He was tall, pot-bellied and perspired profusely but he had a pleasant smile.
Alfonso was the big, timid, nervous chap and Michael was the bald, rude, Mafioso looking one. I read out their names from the tags that were attached to their collars. Michael passed on all his tasks to Alfonso who was still under training, I guessed. Quite often, Michael picked up a bulky black desk phone and got busy talking into it. He was fluent in English but Alfonso was not. Michael kept admonishing Alfonso in Italian and hindered rather than assisted him. Therefore, every chore took double its time in getting done.
Having just arrived from Amman, where the hotel clerks were charm personified, I watched this animosity with growing dismay. My husband had tuned off and placed himself in the lounge, where the air conditioning was the strongest.
I asked Michael to hurry up and give us our room keys. He pointed towards Alfonso who smiled, wiped his perspiration, nodded his head and looked more confused than ever before. Soon, he took out two room-key cards and handed them to me.
"Which floor?" I wanted to know the room number.
Alfonso paused, put his hands out and extended three fingers and a thumb.
"Third," he said.
"Fourth," corrected Michael automatically from behind the counter.
"Third or fourth?" I asked impatiently.
"Three fourth," repeated Alfonso, not wanting to confront Michael.
"Let's go," I called out to my dozing spouse.
He reluctantly followed me into the elevator.
"When in Milan do as the Milanese do," I announced.
"Got it," my husband responded, pressing numbers three and four.
Related Articles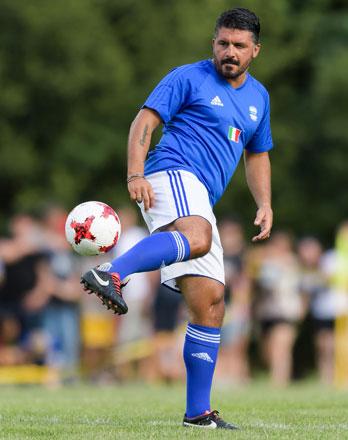 Nov 27,2017
MILAN — Big-spending AC Milan sacked coach Vincenzo Montella on Monday and replaced him with their fiery former midfielder Gennaro Gattuso.M
Aug 27,2014
Massimiliano Allegri's move to Juventus has given the phlegmatic coach the chance to prove that the disastrous run which led to his downfall at AC Milan was caused by reasons beyond his control.
Sep 04,2014
Nico Rosberg was booed in Belgium after a collision with Mercedes teammate Lewis Hamilton but the Formula One leader will raise a cheer from Ferrari fans if he does it again at Monza on Sunday.
Newsletter
Get top stories and blog posts emailed to you each day.