You are here
A-Z appeal and ability
By Ghaith Madadha - Mar 16,2015 - Last updated at Mar 16,2015
The latest iteration of what is generally accepted as the first hot hatch when it first arrived in 1976, the Volkswagen Golf GTI is the car that has it all. First featured in these pages just after the global test drive launch event in the south of France in mid-2013, the Golf GTI's day-to-day versatility and breadth of abilities was highlighted during a recent extended test drive in Dubai.
The sharpest looking GTI since the original, the current model is a complete package that combines often contradictory attributes and is above all an accessible daily drive sports car that is easy to drive, spacious, agile and brisk.
Classy and crisp
Built on Volkswagen's highly modular MQB platform, the current Golf GTI incorporates partial aluminium construction and is consequently larger and roomier, yet 42kg lighter, better handling and more efficient than its predecessor.
The best looking GTI since 1976, the current model is a more deliberate yet evolutionary design with crisper and better defined lines and creases that is both sportier and classier than the car it replaced. Lower, longer and wider, the Mk7 Golf GTI has a more rakish and athletic presence, with sharper lines and angles yielding a more urgent and dynamic demeanour with subtle underlying hints of the elegantly simple and angular Giugiaro-designed original.
Tidier and tauter, the contemporary Golf GTI has greater precision and presence, with slim grille, browed headlights, bold VW badge and big lower intake.
Strikingly handsome in Night Blue — as driven — dark tones also better integrates the black lower intake slats.
More muscular than before, the current GTI features a raised bonnet and better toned flanks. Better harmonising its side skirts and A-pillar base with the waistline, the current GTI also features slimmer, moodier and classier rear lights and dual exhaust tips.
Cool, restrained and chiselled, the GTI's thin red pinstripe across the grille and headlights pays tribute to the original, while its C-pillar kink creates a sense of forward momentum.
Lively performer
Powered by an advanced version of VW's turbocharged direct injection 2-litre engine, the current Golf GTI features a new engine head design with integrated turbocharger and a water-cooled exhaust gas loop, which contributes to efficiency and performance. The GTI additionally features improved and variable thermal management, and reduced friction losses, and is Euro 6 efficiency compliant.
More powerful and efficient, the GTI develops 10BHP more, with 217BHP available at an earlier and broader 4,500-6,200rpm range, and is 13 per cent more efficient, returning 6.4l/100km combined fuel consumption in 6-speed dual clutch DSG gearbox guise, as tested. A 51lb/ft torque rise is more significant with 258lb/ft developed throughout a wide 1,500-4,400rpm band.
Quick off the mark with negligible turbo lag, the GTI is responsive, and with a short scramble for traction at full throttle and subtle dump valve rorts at full load redline upshift, blasting onto 100km/h in 6.5 seconds and towards a potential 244km/h top speed.
Smooth and seamless in delivery, the GTI's charismatic engine is refined when cruising, but is not so insulated as to feel detached, and instead delivers a muffled gruff low-end growl. Muscular and flexible in mid-range, the GTI picks up speed and overtakes with confident ease in town and highway from high gears, while a punchy and eager top-end delivers a brisk turn of speed.
Composed and confident
Driving the front wheels through a 6-speed automated dual clutch gearbox, the GTI swaps cogs with seamless finger-snap succinctness. Default auto mode's shift points are well judged, and while there is a sport mode to hold gears longer, one, however, found sequential manual mode through the steering-mounted buttons or gear lever to be more engaging for sporty driving.
With snappy gearbox and flexible and punchy gearbox, the GTI pounces fluently from one corner to the next, while an XDS+ torque vectoring system utilises selective braking for greater agility and less under-steer when powering out of corners. Tidy, crisp and eager into corners, the GTI remains flat and composed throughout.
With a bigger footprint, lower height and weight the GTI drives with better high speed and cornering composure, and is faithful through corners, even if one comes back on throttle early.
With well balanced handling and driver engagement, the GTI delivers reassuring grip and confident stability but feels ever lively and willing to weave through snaking switchbacks with pointy and agile manoeuvrability.
Lively but not twitchy, the GTI's steering is similarly well-judged, with good high-speed directional stability, but is also responsive, direct and eager on-centre or through corners. With quick ratio of just over 2-turns lock-to-lock, the right level of resistance and refined feel and feedback, the GTI's steering is intuitively natural.
'Just right'
A classy and grown-up hot hatch with the right level of comfort, stability, cabin and ride refinement, the GTI is at the same time and fun and engaging B-road blast with old school hot hatch charisma, agility, taut body control, performance and directness to keep one engaged and alert whether snaking through winding lanes, commuting on the highway or driving down to the shops.
A "just right" car on every level, the GTI is a refined yet connected drive that delivers clarity, confidence and practicality. With low bonnet and big glasshouse the GTI provides excellent road visibility to accurately place whether through a sharp corner or tight parking spot.
Classy but not overstated, the GTI has a clean, crisp, robust and upmarket but honest — rather than pretentious — character, design, drivability and cabin, and is as much at home in the corporate car park or back road switchbacks.
Driver-oriented yet practical, the GTI's cabin provides an ideal and alert driving position, with plenty of room and highy adjustable and supportively comfortable seats, while instrumentation is clear and un-fussed.
Well-presented and finished with quality materials, the GTI's feels well built, while the gear lever and various buttons are ergonomic and user-friendly. Spacious and practical — especially in 5-door guise as tested — the GTI well accommodates tall and large drivers, even with the optional sunroof.
Accommodating inside, the GTI's longer wheelbase provides 15mm more rear legroom and good rear access. Luggage space is uniform and flat, and easily accommodated a week's worth of luggage in its 380-litre boot, which with rear seats down, expands to 1270 litres.
Well equipped with comfort and infotainment features, the GTI features numerous advanced driver assistance and safety systems including progressive steering assist, post-collision braking, driver alert system and Isofix child seat latches as standard.
Optional available are adaptive cruise control, emergency braking, dynamic light assist, lane-keeping assist function, rear side airbags and a Performance package that adds 10HP power, improved brakes and a limited slip differential for improved handling and agility.
TECHNICAL SPECIFICATIONS
Engine: 2-litre, turbocharged transverse 4 cylinders
Bore x stroke: 82.5 x 92.8mm
Valve-train: 16-valve, DOHC, variable timing, direct injection
Gearbox: 6-speed manual, front-wheel drive
Power, BHP (PS) [kW]: 217 (220) [162] @ 4,500-6,200rpm
Specific power: 109BHP/litre
Power-to-weight: 154.7BHP/ton
Torque, lb/ft (Nm): 258 (350) @ 1,500-4,400rpm
Specific torque: 176Nm/litre
Torque-to-weight: 249.6Nm/ton
0-100km/h: 6.5 seconds
Maximum speed: 244km/h
Fuel consumption, combined: 6.4l/100km
CO2 emissions, combined: 148g/km
Fuel capacity: 50 litres
Length: 4,268mm
Width: 1,799mm
Height: 1,442mm
Wheelbase: 2,631mm
Track, F/R: 1,538/1,517mm
Aerodynamic drag co-efficiency: 0.318
Unladen weight: 1,402kg
Headroom, F/R: 964/967mm (w/sunroof)
Elbow room, F/R: 1,469/1,440mm
Luggage capacity, min/max: 380/1,270 litres
Payload: 543kg
Steering: Variable electric-assisted rack and pinion
Turning circle: 10.9-metres
Brakes, F/R: Ventilated disc/disc
Suspension, F: MacPherson strut/multi-link
Tyres: 225/40R18
Related Articles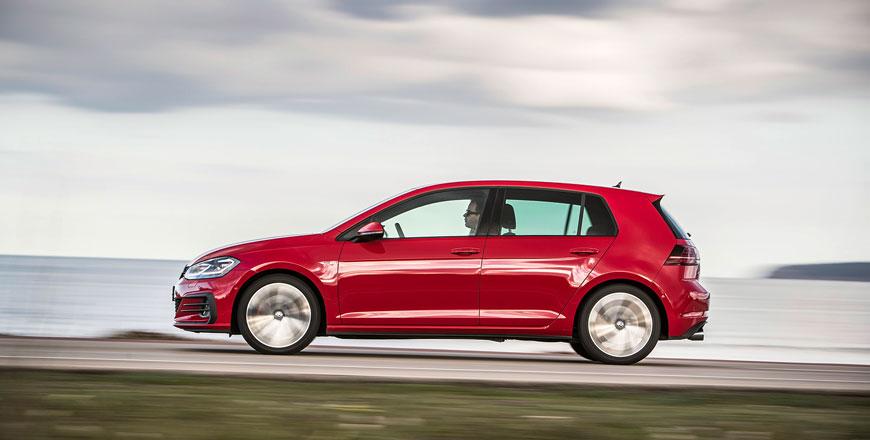 Jan 29,2018
By All the car that one could reasonably need for most motorists, the Volkswagen Golf GTI is at once a nimble and quick sports ca
Jan 06,2014
The livelier and sportier version of Volkswagen's classy hot hatch, the Golf GTI Performance makes the best use yet of the Mk7 generation Golf's lighter partial aluminium construction with a 10BHP power hike over the regular Golf GTI. The more focused and driver-oriented edition of the new car, the Golf GTI Performance also features a mechanical limited-slip differential to complement the standard electronic XDS+ torque vectoring system.
Nov 14,2016
Launched globally late last year and in the Middle East earlier this year, the Volkswagen Golf GTI Clubsport arrives 40 years after the icon
Newsletter
Get top stories and blog posts emailed to you each day.