You are here
Courageous stand
Nov 02,2014 - Last updated at Nov 02,2014
Sweden's recognition of a Palestinian state, as reported in the article "Sweden recognises Palestinian state, hopes move will revive peace process" (The Jordan Times, October 30, 2014) is courageous.
It is the first European Union country to understand the decades-old Palestinian struggle.
Palestine is now a step closer to justice. It has gained the support of one of the most peaceful states in the world, which means a step closer to peace.
Sweden's support, it is hoped, will influence and encourage other countries in the EU and in the world to support Palestine, which will strengthen the possibility of reconciliation with Israel.
Sweden's move reassured many people in Palestine and in the world that there is still a chance to achieve peace.
After all the failed peace negotiations and meetings to stop aggression, people have lost hope. Sweden's move reignited hope in many.
Moreover, it reassured the people that truth is still conveyed despite false media and propaganda.
In order for other countries to support Palestine and to achieve peace, it is important that citizens contribute as well.
Campaigns, events and discussions are important ways to convey the message and spread the truth to the entire world.
I hope there will be progress when it comes to both the Palestinian issue and international peace.
Majd Al Bakry,
Amman
Related Articles
Dec 23,2014
Members of the Lower House's Palestine Committee on Monday met with Swedish Ambassador Helena Rietz and reviewed ways to boost parliamentary cooperation.
Dec 02,2014
French lawmakers voted Tuesday in favour of recognising Palestine as a state, sparking an immediate angry reaction from Israel, which said such "unilateral measures" would harm efforts towards Middle East peace.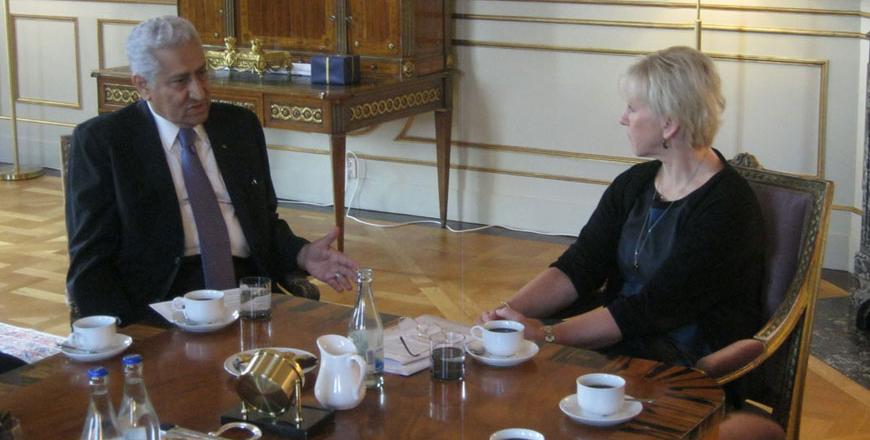 Aug 26,2015
AMMAN — Prime Minister Abdullah Ensour met with senior Swedish officials on Tuesday and discussed ways to boost the Jordanian-Swedish relati
Newsletter
Get top stories and blog posts emailed to you each day.