You are here
Driving in Jordan
Aug 27,2014 - Last updated at Aug 27,2014
A couple of days ago, I picked up a young American friend at the airport for his first visit to Jordan.
Since my car was having radiator problems, rather than driving to the 7th Circle, I chose the Madaba turnoff — more garages in case I needed them.
I drove the way I have become used to after 40 years in Jordan.
As we got into the thick of the traffic in the Wihdat, my friend started to show something between amazement and, maybe, a little terror.
I gave him a brief description of "how we all drive in Jordan". I started with the milder things, like honking a lot while driving — either warning somebody out of your space or warning somebody else that you are moving into his space — or at red lights a nanosecond after the light changes. (Honking at somebody in America is often interpreted as a major insult, and can result in a fight or even a shooting).
He was amazed at how I negotiated "lane changes" — no signals usually, weaving in and out.
I explained to him the protocol of gestures and hand signals here, and that usually all of us can get away with a lot of obnoxious moves, like making U-turns in the middle of a crowded street with a simple gesture (stroke the chin) that says: "I know this is kind of wrong, but give me a pass."
And we all usually give a pass, because we know that we may want to do the same thing five minutes later.
Double parking on a major street and stopping a lane of traffic?
No police, no problem.
I mentioned a list of other things we do that would be traffic violations in the West. I simply said: "There are no laws against these violations here. This is the way we do it."
Now to some of the more serious things that cause major clogs in traffic or are just plain dangerous to life and limb and reflect arrogance and disrespect for other drivers and the law.
At an intersection with a light traffic flow, or where there is a stop sign, I always factor in that someone could come right through the red light or stop sign at top speed, and so I enter these intersections cautiously, ready to hit my breaks in an instant.
I have avoided many serious collisions by simply having fast reflexes.
One-way streets? Are you kidding? That's some sort of Western invention to restrict our movements.
A few evenings ago, I was driving on Wasfi Tal road towards Khalda. I noticed two expensive cars with an open roof, and in each car were very young children standing up with their heads and shoulders above the roof, clapping and having a great time. I thought a sudden stop or collision from behind would instantly break the backs or necks of these precious little girls. Do the parents even care?
Or do they just choose to ignore basic laws of physics?
A more serious issue is that this is not regarded as a violation.
Lastly, a simple suggestion to the authorities who "control" traffic flow: One of the main reasons for huge snarls and the stoppage of traffic on main arteries is that many drivers who want to turn onto the off-ramp, such as at the Sports City Circle, drive their cars on the far left two lanes, blocking two lines of cars that are going straight, until they get up to the off-ramp and then push themselves into the two lanes on the right.
The solution? Either a policeman stands at the off-ramp and doesn't let these drivers in or construct a small barrier — half-a-metre high — about one kilometre before the off-ramp for a person to be forced to line up in the right two lanes to make the turn.
Bob Robertson,
Amman
Related Articles
Apr 21,2017
AMMAN — The Greater Amman Municipality (GAM) on Thursday announced continued maintenance, lighting and paving campaigns on a number of main
Apr 28,2014
Although many motorists in the capital would prefer a traffic-light free commute, several said the new signals that replaced the 7th Circle were a "good idea" to resolve congestion in the area.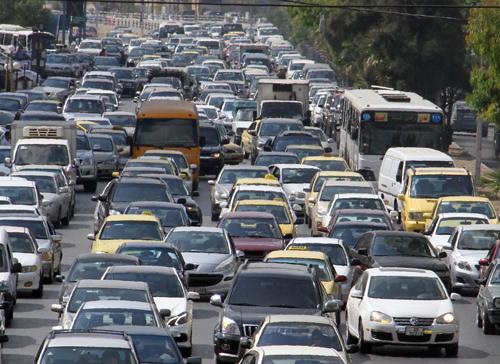 Mar 09,2016
AMMAN — The Central Traffic Department (CTD) said on Wednesday that tickets will be issued to motorists who change their lanes without alert
Newsletter
Get top stories and blog posts emailed to you each day.