You are here
For safer roads
Mar 20,2017 - Last updated at Mar 20,2017
Travelling from one destination to another keeps economy and livelihood going. In the process, rushing, yielding, managing time and respect for others is taught early on.
The laws a country sets to regulate behaviour and the way people behave when they travel show what its citizens accept, or refuse.
According to a UN Economic Commission for Europe study for 2014, Jordan witnessed 688 fatalities and 2,063 serious injuries due to traffic accidents, which cost about JD238 million.
A major cause of accidents involving pedestrians is refusal to use pedestrian bridges, as well as laws that never find a pedestrian at fault in an accident.
I believe that many accidents involving pedestrians can be avoided by meting out strict penalties to those who refuse to abide by the law.
I also believe that always finding the vehicle at fault in case of accidents involving a pedestrian, simply because a pedestrian is at greater risk of injury, is wrong and should be changed.
By placing no fault on pedestrians, they are encouraged to engage in irresponsible behaviour while on the road, as they know they will not be liable regardless of their actions.
Pedestrians should be found guilty when they choose to jump over the fence separating the two sides of the road and collide with a vehicle even when a pedestrian bridge is close, or when they fail to give ample time to a reasonable and prudent driver to react.
Only when we stand up to what is wrong and place the blame deservedly can change truly occur.
The educational system can play a great role in raising awareness on the issue.
Citizens are generally made aware of the rules of the road when they obtain their driver's licence, yet the issue needs to be given more media attention, and statistics on fatalities and causes of accidents must be shown to the public.
Violators of the rules of the road should not only be given citations, but should be forced to take a defensive driving course (at their expense) and should be tested on the material upon completion of the course.
The course certificate should then be submitted to the Department of Motor Vehicles.
This reinforcement will remind violators of the proper rules of the road and reaffirm the country's interest in protecting its citizens.
Clear laws regarding pedestrians will make them aware of their responsibility, and not always depend on the driver's control of the road.
Issuing laws that state when a pedestrian and when a vehicle is at fault and strictly enforcing them makes more responsible citizens and safer roads in the country.
Lynn Malkawi,
Amman
Related Articles
Oct 27,2016
The recent figures given for this year's traffic accidents so far are truly shocking.Every day we read of horrific crashes, most of which ar
Sep 17,2017
AMMAN — The Royal Automobile Club of Jordan (RACJ) on Saturday announced its participation in the global "Park Your Phone" campaign that see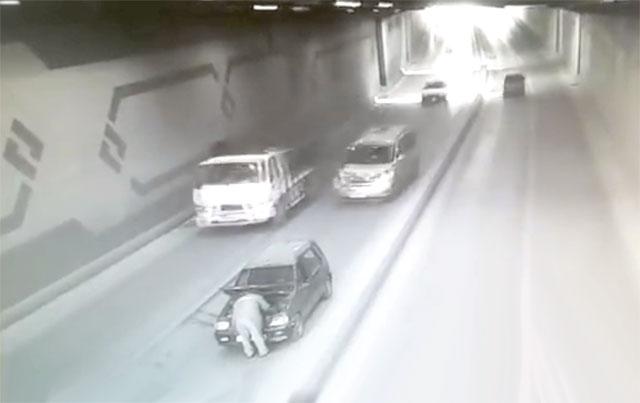 Mar 06,2018
AMMAN — One person was critically injured and a second was listed in fair condition on Tuesday, following an accident that involved a mini-v
Newsletter
Get top stories and blog posts emailed to you each day.