You are here
Ugly misogyny
Dec 17,2014 - Last updated at Dec 17,2014
This might be a little bit late, considering that the heated argument between two members of Parliament, Yahia Al Saud and Hind Al Fayez, took place almost two weeks ago, but it is an incident that should not be left unnoticed.
The "shouting match" between a male and a female member of the Jordanian Parliament reflects misogyny, an unacceptable attitude towards women.
Saud shouted several times at his female colleague, ordering her to "sit down".
I think if an issue deserves more coverage by the media, it is the ugliness of the persistence of misogyny in Jordan, especially in important sectors like Parliament, government and institutions of education.
Misogyny, in this culture, manifests itself in outrageous violence, in yelling, cursing and swearing at women.
Saud is reported to have a "history of verbally and physically assaulting others in Parliament".
Disrespectful, degrading and even violent treatment of women cannot be called but misogyny.
Males like Saud consider that the place of the woman is in the house and that her job is to pamper her husband.
If that were the case, women's voices would not be heard or they would be silenced whenever trying to express their thoughts.
One should consider the scandalous way women are treated in other institutions and the fact that male figures enjoy privileges that women do not, although they do the same job.
In this society that is filled with misogynist voices, women should make their voices heard. Sexism has to stop if society is to become better. What happened to Fayez triggers many questions: How well a Parliament with so few women represents the majority of Jordanians? Why are women treated with violence in such a prestigious institution like Parliament? Does such attitude of a male MP towards a woman representative reflect that of society? Do other institutions feel troubled having empowered female members working for them?
These questions should be answered, if not researched.
I wish to thank Fayez for not sitting down, for not "obeying" the orders of the male authority and for showing how women in our society have amazing strength.
Aya Akkawi,
Amman
Related Articles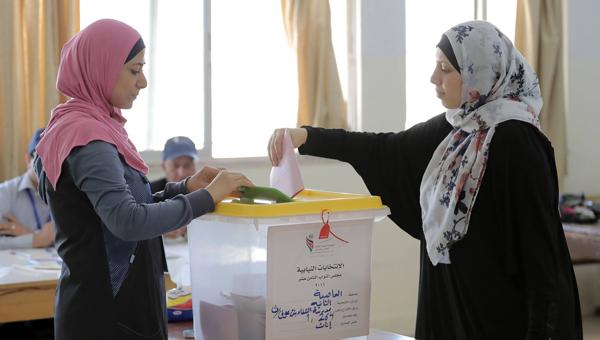 Sep 20,2016
AMMAN — Voters and activists in Amman on Tuesday stressed the importance of electing qualified women to the Lower House, noting that female
Dec 14,2014
MP Hind Fayez, a member of the Lower House Energy Committee, on Sunday called on the Jordan Atomic Energy Commission to make public all its feasibility and environmental studies, especially those proving that Jordan possesses commercial quantities of uranium.
Jun 10,2014
The head of the Lower House's Integrity and Transparency Committee, MP Hind Fayez, said on Tuesday that the panel was "shocked" over Amman Mayor Aqel Biltaji's refusal to attend a meeting to investigate a JD120 million tender to revamp streets.
Newsletter
Get top stories and blog posts emailed to you each day.