You are here
'Capoeira brings out bravery in everyone'
Syrian girls from Zaatari selected in global competition for defying odds in Afro-Brazilian martial arts
By Camille Dupire - Nov 20,2018 - Last updated at Nov 21,2018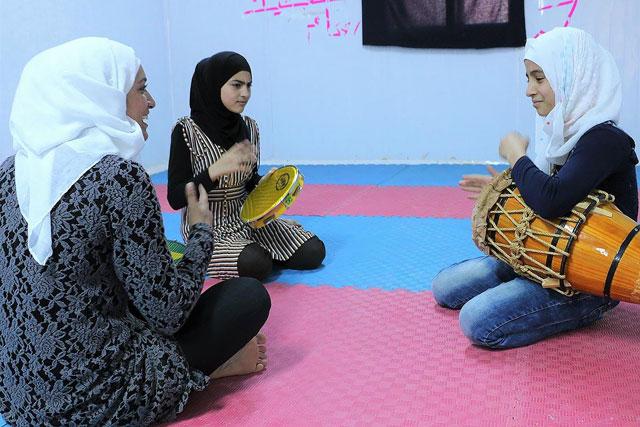 Syrian Rasha and Malak take part in the capoeira classes at the Peace Oasis in Zaatari camp recently (Photo courtesy of LWF Jordan)
AMMAN — Young Syrian girls from Zaatari camp have been selected as finalists for the global "Girl Rising" creative challenge, as an acknowledgment of their work as capoeira facilitators inside the refugee camp.
Launched as a part of the "Girl Rising" global movement, which seeks to eradicate poverty and improve girls' education, the challenge aims to "shine a light on people and organisations truly making a difference for girls and their communities and inspiring more people to stand up and support the women and girls in their lives", according to actress Lendry Bender, one of the judges in the competition.
For Syrians Ruqaiya, Rasha and Malak, being selected in the global competition was "an incredible achievement", as the three of them remembered being "completely alien" to the Afro-Brazilian martial art of capoeira just a year ago.
"When I applied, I thought maybe I was going to be a Zumba teacher," 20-year-old Ruqaiya remembered, recounting how she then started to learn capoeira and "loved it! The movements were challenging but I was proud of myself as I mastered them one by one".
The young woman from Daraa, in southwestern Syria admitted that she had "never heard of capoeira" when she interviewed for the trainer's position at Zaatari Camp's Peace Oasis community centre, which is run by the Lutheran World Federation (LWF).
"In Zaatari camp, girls have fewer opportunities than boys to play freely," Ruqaiya explained, noting that "capoeira therefore provides a unique opportunity for girls to engage in free and creative movement".
A martial art that combines dance, music and acrobatics, capoeira is known for its quick and complex manoeuvres, predominantly using power, speed and leverage, according to online sources.
"Our LWF team has tailored a programme in cooperation with Capoeira4Refugees and Capoeira Al Shababi to meet the needs of the girls, providing an enclosed female-only space, and speaking to prospective families to explain the positive impact of capoeira," explained Malak Mahmoud, a LWF programme support officer, noting that "initially, it is never easy to get people to accept that girls would enrol in a 'man-dominated' type of sport, but they usually end up being the most motivated and they love it!"
Ruqaiya remembered the first day she had to teach a class by herself, saying: "I was nervous. I did so much preparing! But, 10 seconds into the class, my fear faded as I saw that the girls were having so much fun. I feel braver now."
One of five Syrian refugee youth trained by LWF to be a capoeira facilitator, Ruqaiya stressed the many benefits for participants.
"There was a girl who barely spoke when she joined," she recounted, pointing out that "Capoeira is a partner sport, but at the beginning, she didn't want to work with anyone. A few weeks into the class, I saw her choose her own partner. And, every class after that, she chose a different girl to play with".
"Capoeira brings out the bravery in everyone. It is a safe space where everyone can be themselves," the young trainer highlighted with a smile.
"Beyond the physical benefits of exercise, capoeira can also be used as a tool to release negative emotions, make friends and heal from traumas," Mahmoud told The Jordan Times recently, noting that a central aspect of the programme is the training-of-trainers approach, through which Syrian youth coaches are supported until they can lead classes by themselves.
"Not only does this encourage youth leadership, but children also gain positive role models from their community whose behaviour they emulate," Mahmoud stated, adding that this also ensures the project's sustainability, as the tradition of capoeira is passed on.
Rasha and Malak, aged 13 and 14, have been friends since they arrived to Zaatari six years ago. They joined capoeira together at the Peace Oasis, and said they have since "mastered complex movements, memorised songs in Portuguese and learned to keep perfect rhythm on the drums".
"The first day was very awkward," Rasha remembered, saying that "the movements were strange and I had never heard this kind of music before. But I got better and better, and my confidence grew".
She said she looks up to her capoeira coaches and constantly learns from them. "When I grow up, I want to be a capoeira coach, or a doctor, or both!" she exclaimed.
Malak, for her part, voiced her happiness to pass on her knowledge to other girls from her district, saying "when I go home after class, Rasha and I teach capoeira to the other girls in our neighbourhood."
Established in 2013 in the fifth district of Zaatari camp, the "Peace Oasis" is LWF's flagship community based on psycho-social intervention, mostly targeting youth between 14 and 24 years of age.
"In addition to capoeira — which is highly successful — the centre also provides a range of activities such as football, music classes, or any activity that provides youth the opportunity to express themselves in a safe and resilient manner," LWF programme coordinator in Jordan Rosanna Rosengren-Klitgaard told The Jordan Times, noting that, despite being a part of the shortlisted finalists in the global competition, the young capoeira trainees were not selected as winners, "which does not really matter as the acknowledgement in itself is already a tremendous victory".
The Zaatari project was a part of 882 submissions received by Girl Rising from 110 countries, according to its website.
Newsletter
Get top stories and blog posts emailed to you each day.