You are here
'UNICEF Jordan will shift focus in 2019'
Broader support, youth among renewed priorities for this year
By Mohammad Ghazal - Jan 13,2019 - Last updated at Jan 13,2019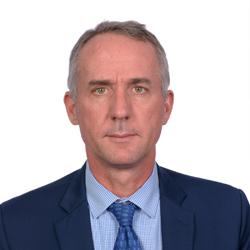 AMMAN — UNICEF Jordan will refocus on vulnerable children of all nationalities in Jordan in 2019, while continuing to support Syrian refugees wherever they are in the Kingdom, according to UNICEF Jordan Representative Robert Jenkins.
UNICEF Jordan, which has been working closely with the government and civil society partners in Jordan for 66 years, will shift towards broader support focusing on Jordanian communities and youth, Jenkins said in a recent interview with The Jordan Times.
"We are shifting away from the approach of providing lifesaving assistance to the Syrian refugees…UNICEF Jordan expanded very quickly and was mostly focused on Syrian refugees, so there has been gradual transition from that and it will continue in 2019," he said.
To implement its projects, UNICEF Jordan's budget for 2019 stands at $160 million, which is around 25 per cent less than 2018's budget.
"We are rationalising our programme with a planned reduction of the budget by 25 per cent when compared with 2018…which is recognition it is becoming more challenging to mobilise resources…and it is also a reflection of our focus on an increased role for community-based organisations," he said.
"There are gaps in the funding for the budget, but we are optimistic because we are focused on cost effectiveness and rationalising," he added.
As UNICEF Jordan is redirecting its focus in 2019, it will also be supporting the long-term sustainable interventions, which come in line with the government's priorities to achieve goals in its two-year plan and Human Resources Development strategy, he said.
"This requires a greater emphasis on strengthening the systems of government at all levels, from policy level to planning, monitoring and overall management of services within communities," Jenkins added.
The shift is meant to improve basic services that are available to all children, while partnering more with NGOs and the private sector.
"We are encouraged by the government's priorities, which are very much aligned with our focus," he said.
Expanding access to education and improving the quality of education are top areas that should see increased cooperation between UNICEF Jordan, the government and other concerned entities, he said.
"We are concerned about access to kindergartens and our strategy is to expand that, as this is also a government's priority… We will also encourage private sector and community-based organisations to help in achieving this objective," he said.
UNICEF Jordan is also concerned about adolescents of all nationalities who are dropping out of school.
"Girls are dropping out from school for reasons of safety… We have seen an increase in early marriages among Syrian refugees… Girls also have domestic responsibilities… We do see a drop in girls attending school," he said.
Difficult financial conditions also continue to affect boys who are leaving school for work, he said.
"We are working on supporting vulnerable households and will continue to do so, and we are working with the National Aid Fund in this regard," he added.
In 2019, UNICEF Jordan will also continue working on getting youth engaged and fostering their skills as Jenkins said this has "untapped, amazing potential".
Newsletter
Get top stories and blog posts emailed to you each day.