You are here
11th Souk JARA opens Friday
By Dana Al Emam - May 11,2015 - Last updated at May 11,2015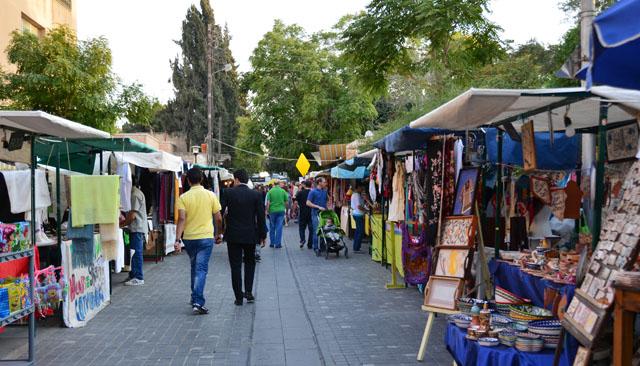 AMMAN — The annual Souk JARA opens this Friday, featuring vendors from all governorates for the first time, Jabal Amman Residents Association Vice President Khader Qawwas said Monday.
"We have worked on establishing a space specifically for unique vendors from the governorates, especially for self-employed women," Qawwas added, noting that the initiative is being implemented in partnership with the tourism and labour ministries.
Each week the souk, which is held in cooperation with the Greater Amman Municipality (GAM), will showcase products made by the local community in one region, he told reporters.
Souk JARA is a venue for the creative ideas and initiatives of men, women and young people, as well as local charities, providing owners of small businesses and women who work from home with the opportunity to display their products at an outdoor market that attracts some 10,000 visitors every week, according to the organisers.
The launch of the souk's 11th edition will be held under the patronage of HRH Princess Rym Ali, they said.
Located on Fawzi Malouf Street (off Rainbow Street) in Jabal Amman, the souk opens to the public every Friday from 10am to 10pm, and is scheduled to continue throughout the summer.
Also speaking at Monday's press conference, GAM Zahran Area Manager Khaled Qassad highlighted the municipality's support for cultural activities, noting that the partnership between GAM and JARA is a strategic one that dates back to over a decade.
"The municipality assists the successful souk in the preparation of infrastructure, maintenance of the street, lighting and cleaning services as well as through its press office," he told reporters.
The souk is an "important" opportunity for emerging producers to sell their handmade crafts, according to Raed Badri, secretary of the Handicraft Producers Association, who said the association provides free craftsmanship workshops for Jordanians to enable them to participate in the market.
Souk JARA hosts over 100 booths that sell a variety of merchandise, including embroidered products, mosaics, ceramics, woodworks, accessories, soaps, candles and food items.
up
28 users have voted, including you.
Related Articles
May 16,2015
HRH Princess Rym Ali on Friday inaugurated this year's Souk JARA, an outdoor market that continues through the summer season.
May 12,2014
The Jabal Amman Residents Association (JARA) has announced that the 10th Souk JARA will kick off on Friday and continue until September 26.
May 17,2014
Amman Mayor Aqel Biltaji on Friday inaugurated Jabal Amman Residents Association's (JARA) 10th Souk JARA.
Newsletter
Get top stories and blog posts emailed to you each day.