You are here
13th Amman Security Colloquium to kick off Wednesday
By JT - Nov 14,2021 - Last updated at Nov 14,2021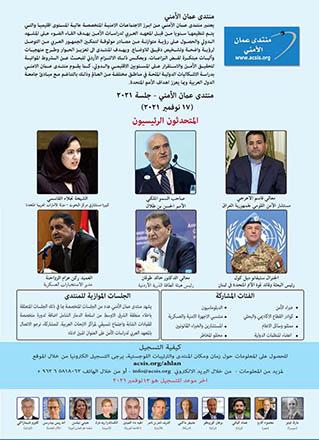 A poster for the Amman Security Colloquium, to be launched Wednesday at University of Jordan (Petra photo)
AMMAN — The 13th edition of the Amman Security Colloquium will be launched Wednesday, November 17, with the participation of Arab and international figures and a group of senior speakers.
Ayman Khalil, head of the forum's organising committee, said that the two-day forum will be held at the Wadi Rum amphitheater at University of Jordan, according to the Jordan News Agency, Petra.
The forum will feature HRH Prince Hassan, Chairman of the Jordan Atomic Energy Commission Khaled Toukan, Head of Mission and Force Commander of the United Nations Interim Force in Lebanon (UNIFIL) Maj. Gen. Stefano Del Col, Senior Advisor to Dubai Public Policy Research Centre Sheikha Najlaa Al Qasimi, Iraqi National Security Advisor Qassem Al Araji, in addition to a group of international researchers and security experts.
The forum will witness a session on the Arab region and Turkey to address concerns and cooperation, as well as sessions on maritime security in the Red Sea, Gulfs of Aden and Oman, Nuclear-Test-Ban Treaty in the Middle East, enhancing the role of women and youth, their inclusion in security and disarmament issues, and security challenges in the Middle East.
The forum's activities are expected to focus on nuclear, biological, chemical and radiological armament.
The forum will also shed light on foreign policies, regional cooperation, disarmament, and non-proliferation, with a special focus on the Middle East region.
On the sidelines of the forum, the Arab Institute for Security Studies (ACSIS) will hold a number of sessions, in which personalities from the UAE, Saudi Arabia, Qatar and Iran will participate.
Khalil said that the forum, organised by ACSIS in cooperation with a number of governmental and international organisations, has become one of the most prominent specialised high-level forums in the region, highlighting the role of Amman as an incubator for Arab and international dialogue.
He noted that this annual gathering of international experts and decision-makers aims to discuss emerging security challenges at the international and regional levels.
The Amman Security Forum had previously announced the Amman Security Competition in its 3rd edition, which aims to enhance the contribution of emerging youth leaders interested in security and strategic issues.
The forum provides the winners of the competition the opportunity to join the Conference on Arms Control, Disarmament and Weapons of Mass Destruction Non-Proliferation, and present their winning scientific contributions in front of the forum attendees, without incurring financial fees.
up
13 users have voted, including you.
Newsletter
Get top stories and blog posts emailed to you each day.