You are here
15,000 Jordanian students participate in INJAZ's Business Challenge
By Rayya Al Muheisen - Mar 20,2023 - Last updated at Mar 20,2023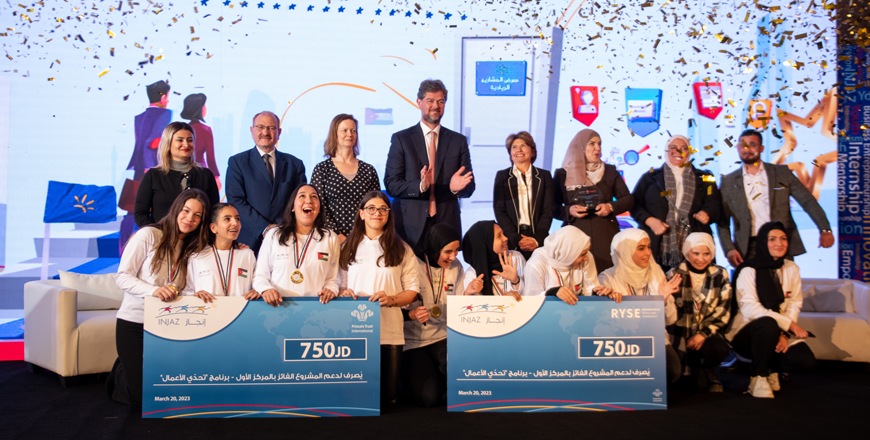 Nominated teams of the Enterprise Business Challenge, implemented by INJAZ in partnership with the Prince's Trust International, during a ceremony on Monday (Photo courtesy of INJAZ)
AMMAN — More than 15,000 students from 250 schools around the Kingdom have taken part in the Enterprise Business Challenge (EBC), implemented for the 12th year in a row by INJAZ, a local non-profit in Jordan, in partnership with the Prince's Trust International (PTI).
INJAZ is implementing the Business Challenge programme in cooperation with the Ministry of Education, and in partnership with the Prince Charles International Foundation, and this year, in partnership with the RYSE project "Resilient Youth and Socially and Economically Empowered", as well as the Mashreq International School and Montessori School.
Out of 28 nominated teams, six teams were honoured during a ceremony held on Monday. As for the EBC challenge, the "LNTM" team from Mashreq International School earned first place, followed by the "Group 1" team from the Montessori School and third place was awarded to "Al Nashama" team from Zaid Bin Haritha School.
Meanwhile, within the partnership with the RYSE project "Youth Adaptable and Socially and Economically Empowered", the first-place award was given to the "Misbah team" from Zainab Bint Al Rasoul School, second place was awarded to the "Achievers team" from Bint Adi School, and third place was won by "The new team" from Al Qadisiyah School.
"The Enterprise Business Challenge programme is one of over 40 programmes implemented by INJAZ in schools nationwide," Dima Bibi, INJAZ CEO, said during her opening remarks.
Bibi added that throughout the past 23 years, INJAZ has worked with hundreds of private and public sector partners to empower youth by equipping them with the required and necessary skills to help them enrol them in the labour market in general, and private sector in particular, as well as motivate them to achieve their full potential. "Knowledge, skills and behaviours are the main pillars of INJAZ programmes," said Bibi.
"EBC is an example of the foundation's programmes that aim to build financial, entrepreneurial and digital skills, in addition to basic skills such as teamwork, analytical thinking, decision-making and other vital skills," Bibi added.
Bibi stated that the programmes are built to help students acquire skills in a practical and enjoyable way while helping them learn about the most important concepts in the business world, business ethics. Students then play a virtual game that simulates the reality of business on the computer.
"We are gathered to celebrate the brilliant achievement by the students," Helen Fazey, deputy head of mission at the British embassy said during her remarks.
Fazey remarked that the ideas displayed by students were "inspiring and innovative".
"The challenge represents an opportunity for young Jordanians to showcase their business mentality and creativity," she added.
Related Articles
Apr 14,2022
AMMAN — More than 4,000 students from 114 schools around Jordan participated in the Enterprise Business Challenge (EBC) programme in 2022.&n
Apr 01,2021
AMMAN — INJAZ, a local non-profit in Jordan, is set out to deliver UK-based youth charity organisation Prince's Trust International Enterpri
Apr 27,2022
AMMAN — The Enterprise Business Challenge's first-place winning team designed a system to improve irrigation water management, according to