You are here
1,536 illegal workers rounded up from sidewalks of major cities
By JT - Feb 16,2015 - Last updated at Feb 16,2015
AMMAN — The Labour Ministry said its inspectors have apprehended 1,536 illegal guest workers who usually sit on sidewalks, and near major circles and bridges in cities across the Kingdom to wait for work offers.
In a statement sent to The Jordan Times on Monday, the ministry said it launched a campaign in November last year to stop guest workers from sitting on sidewalks, which has become a regular scene in major cities, particularly Amman.
The ministry described such a phenomenon as "uncivilised" as it affects traffic movement and jeopardises the lives of the workers who may be hit by passing vehicles.
The largest number of workers found sitting on sidewalks was registered in downtown Amman, where 247 guest labourers have been apprehended since the beginning of this year, the statement said, adding that 182 illegal workers were detained in Irbid and seven in the central Governorate of Balqa.
The ministry said the campaign will continue until it succeeds in clearing circles and sidewalks from illegal workers, adding that legal action will also be taken against employers and farm owners who do not report cases of runaway guest workers.
Many foreign workers, particularly Egyptians, sit near major circles in Amman waiting to be hired as day labourers for construction or renovation jobs.
The ministry said illegal guest labourers negatively affect work opportunities for Jordanians, exacerbating unemployment in the Kingdom.
The ministry urged people not to hire workers who wait on the sidewalk for employment and to report places where they gather.
The public can report illegal workers by calling the ministry on its hotlines 0796580666, 0777580666 or its toll-free landline 080022208.
Ministry inspection teams apprehended around 29,221 illegal guest workers of different nationalities in 2014, Labour Minister Nidal Katamine said earlier this month.
Official figures estimate the number of guest workers in the Kingdom to be almost 1 million people, with Egyptians representing nearly two-thirds of them.
Related Articles
Nov 23,2015
AMMAN — Labour Ministry cadres have deported 1,208 illegal guest workers of various nationalities between October 27 and November 17,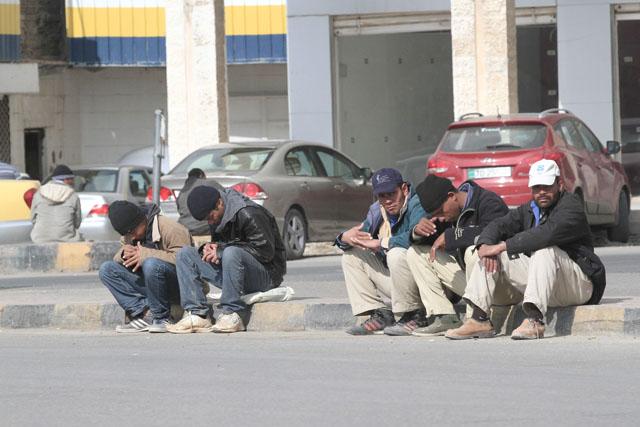 Mar 05,2014
The Labour Ministry has shut down 103 factories and institutions since the beginning of this year for employing illegal guest workers and breaching the Labour Law a senior official said on Wednesday.
Feb 01,2015
Labour Ministry inspection teams apprehended around 29,221 illegal guest workers of different nationalities in 2014, Minister Nidal Katamine said on Sunday.
Newsletter
Get top stories and blog posts emailed to you each day.