You are here
'17 people dead, 187 injured in heater-related incidents since last November'
By Rana Husseini - Jan 12,2016 - Last updated at Jan 12,2016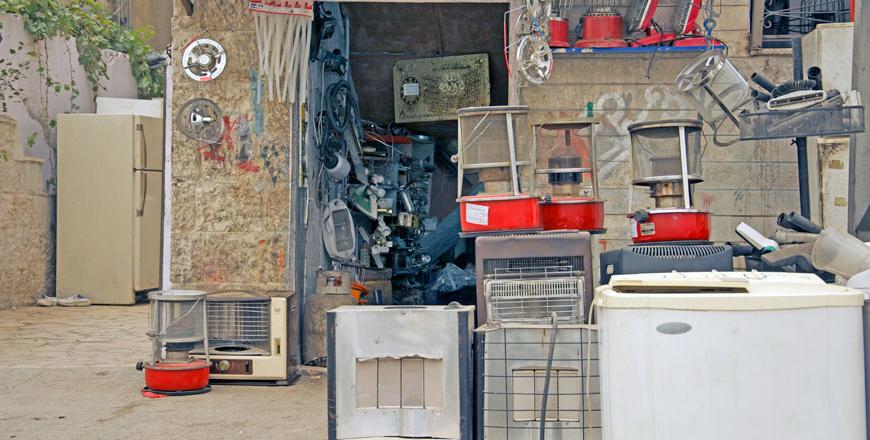 Several kinds of heaters on display outside a appliance repair shop in the capital (Photo by Amjad Ghsoun)
AMMAN — Despite numerous awareness campaigns by the Civil Defence Department (CDD) to curb heater-related accidents, the number of fatalities is on the rise.
Since the beginning of November, 75 accidents related to heaters have resulted in the death of 17 people and caused 187 injuries, CDD Media Director Brig. Gen. Farid Sharaa said.
Last winter, 307 incidents resulted in 23 deaths and hundreds of injuries, according to Sharaa.
The CDD official said the majority of the accidents were caused by gas heaters, followed by wooden and coal stoves, and finally kerosene heaters.
"Unfortunately, and despite our repeated awareness campaigns and warnings, the number of incidents and fatalities is on the rise," Sharaa told The Jordan Times.
The most recent incident occurred on Saturday in Irbid in which a 35-year-old Syrian woman and her three daughters aged 12, 7 and 4, died of carbon monoxide poisoning, according to the CDD official.
"The family had a kerosene heater in a small room that was not ventilated," Sharaa said.
He also attributed the rising number of heater accidents to population growth.
Many of the incidents occur among guest workers residing in the Kingdom, who mostly come from countries with warm climates, the CDD official explained.
"Around 40 per cent of the incidents involve foreign workers who are not used to handling heaters in their countries, so when they come here they mishandle these heaters and accidents occur as a result".
Sharaa noted that most people fail to check their heaters properly, underscoring the need to change the hose of a gas heater regularly.
"The minute there are cracks in the hose or it appears worn out, it should be immediately replaced," he stressed.
The CDD official urged the public not to keep kerosene and gas heaters on for long periods, ventilate homes and make sure the hoses connected to gas cylinders are attached correctly.
"People sometimes fill the kerosene heaters while they are on and this is very dangerous, while others put wet clothes very close to these devices and this can cause a fire."
In addition, some people use heaters to boil water or cook, which is also "extremely dangerous", Sharaa said.
He stressed the importance of not relying on children to replace gas cylinders and of keeping heaters away from small rooms, such as kitchens and bedrooms, noting that the stairwell is the best area to place them.
"It is also extremely important for families to keep an eye on their children and make sure that they stay away from heaters to avoid serious injuries and accidents."
Related Articles
Dec 07,2015
AMMAN — Despite several awareness campaigns organised by the Civil Defence Department (CDD), its cadres still deal with heater-related accid
Jan 30,2016
AMMAN — A married couple died on Friday in the latest heater-related incident to take place in the Kingdom this year, police officials said
Dec 27,2015
AMMAN — Two people died on Saturday of gas inhalation from a heater inside their home in Mafraq, according to the CivilDefence Department (C
Newsletter
Get top stories and blog posts emailed to you each day.