You are here
3,300 Zaatari children work — study
By Khetam Malkawi - Jun 10,2015 - Last updated at Jun 10,2015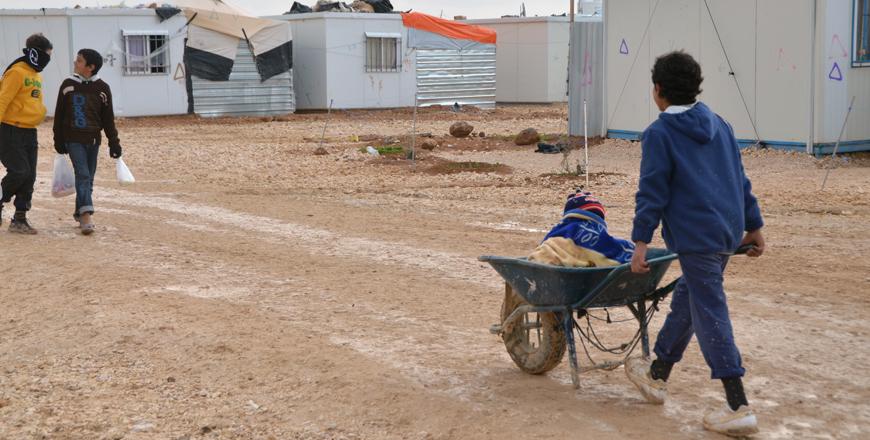 The most common job for children in the Zaatari camp is delivering goods and water using wheelbarrows, according to a study (Photo by Muath Freij)
AMMAN — Almost 13 per cent of children in the Zaatari Refugee Camp work, leading to a negative impact on their health and education, according to a study conducted by UNICEF and Save the Children.
The "Assessment of Child Labour among Syrian Refugees in Zaatari Camp" found that 3,300 Syrian children are working, the majority of whom are boys between the ages of 7 and 17.
The report, which will be launched on Thursday on the occasion of World Day Against Child Labour, annually observed on June 12, covered 518 households from across the 12 districts in Zaatari camp, including 1,587 children.
Currently, 83,000 Syrians live in the camp, some 90km northeast of Amman, and children constitute half the population.
Families interviewed for the assessment, a copy of which was sent to The Jordan Times, cited limited or nonexistent income as the primary reason for their children going to work.
The most common jobs for children in the camp are delivering goods and water using wheelbarrows (60 per cent), street vending (19 per cent) and preparing food and beverages for sale (15 per cent).
Working children, the study said, reported an impact on their health due to performing certain jobs.
"Three out of four working children reported health problems," the report said, with 80 per cent suffering from extreme fatigue and a further 40 per cent who reported injury, illness or poor health.
Other findings showed that nearly all the children's stated reasons for working were related to economic insecurity, while one in four households, just over 26 per cent, said it was necessary to take their children out of school to generate income.
Over 45 per cent of economically active children work in their own or a family business, according to the study.
On average, children work six-and-a-half hours a day and 44 per cent work seven days a week, earning around JD9 per week.
Around 45 per cent of the children indicated that their work was casual in nature, while almost 25 per cent were working full-time and a very small number worked outside the camp in different activities (one girl and 11 boys).
Over 41 per cent said they gave their earnings directly to their parents/guardians, whereas 45 per cent said they kept some for themselves.
The findings also showed that over 90 per cent of working children had never worked before either in Jordan or Syria, implying that environmental conditions, lifestyle and circumstances prevalent in the Zaatari camp pushed families and children into such decisions.
Twenty per cent of the surveyed children reported physical abuse and nearly 24 per cent reported emotional abuse, the report said.
Sixty-two per cent of the children said they are not going to school, which, the study said, emphasises the need for education access and quality to be addressed as a matter of urgency.
Related Articles
Jul 25,2018
AMMAN — Due to funding shortfalls, Syrian assistant teachers in Zaatari have been given advance notice that there will be no funding for the
Mar 27,2014
After three years of conflict in Syria, hundreds of thousands of refugees living in urban areas in the Kingdom are struggling to meet their daily needs, according to a new report by the UN Refugee Agency.
Oct 27,2015
AMMAN — The Education Ministry and UNICEF on Tuesday opened three new schools at the Zaatari Refugee Camp, with the support of the EU, Germa
Newsletter
Get top stories and blog posts emailed to you each day.