You are here
4m Captagon pills found hidden in car with foreign licence plates
By Rana Husseini - Nov 27,2016 - Last updated at Nov 27,2016
AMMAN — Security agents on the Aqaba checkpoint have thwarted an attempt to smuggle 4 million Captagon pills, official sources said Sunday.
"A security agent at the checkpoint near the Durra Border Crossing suspected the behaviours of a man driving a GMC with a foreign licence plate and notified anti-narcotics and customs department agents," Director of Public Relations, Media and International Cooperation at Jordan Customs Department (JCD) Col. Emmad Nosaeir said.
Upon searching the vehicle, the JCD official told The Jordan Times, "agents found 4 million Captagon pills stashed in the vehicle's tyres and other secret compartments".
A source from the Anti-Narcotics Department (AND) told The Jordan Times that the illegal shipment was destined for a neighbouring country.
"The driver of the vehicle obtained the illegal pills from a location in Jordan, and we are currently questioning him to identify the source of the pills and to see if anyone else is involved," the AND official said.
The official added that once the questioning is completed, the suspect will be referred to the State Security Court prosecutor for further questioning and indictment.
Captagon (fenethylline) is a synthetic stimulant similar to amphetamine.
The pills are usually manufactured and transported from neighbouring countries in the north via Jordan to rich countries on the southern borders, according to officials.
Drug smugglers, officials have said, target rich countries "because one Captagon pill there is worth JD7, while its market value in Jordan does not exceed JD1 per pill".
Although banned in most countries in the 1980s, illegally produced and smuggled Captagon — sometimes containing amphetamine instead of fenethylline — is a common drug abused in the Middle East, according to web sources.
In previous remarks to The Jordan Times, an AND official said the Syrian conflict, the refugee crisis and unrest in surrounding countries are to blame for the new illicit drug smuggling methods the Kingdom has been witnessing over the past four years.
In recent incidents, suspected drug smugglers have resorted to using sheep, car tyres, biscuit packets, packages of sweets, olives, large marble blocks, door closers, book covers and children's beds to hide illegal narcotics.
Ninety-five per cent of the illicit drugs smuggled into the Kingdom are destined for neighbouring countries, according to AND.
Related Articles
Jul 21,2014
Anti-Narcotics Department (AND) agents last week arrested six people who were allegedly attempting to smuggle one million Captagon pills to a neighbouring country, official sources said.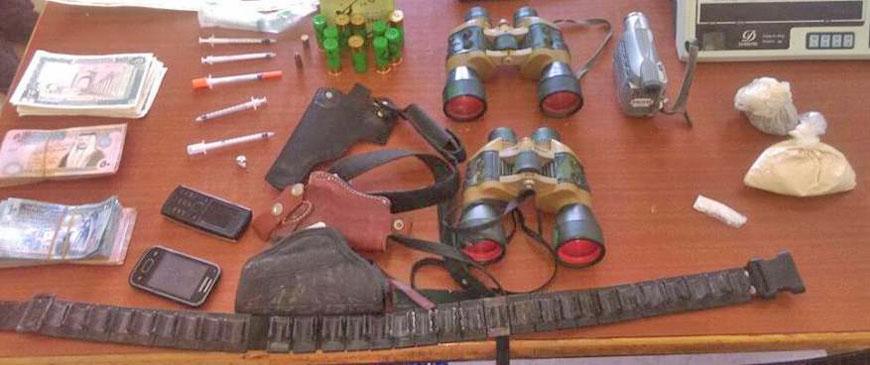 Aug 04,2016
AMMAN — The Anti-Narcotics Department (AND) on Thursday announced the arrest of 19 suspects in raids on houses and vehicles in Amman and Maf
Feb 21,2015
Anti-Narcotics Department (AND) agents last week arrested one suspect and are looking for three others who were in possession of 1.2 million Captagon pills in a southern governorate, officials said on Saturday.
Newsletter
Get top stories and blog posts emailed to you each day.