You are here
52m euro grant from EU to support employment, vocational training programme
By JT - Nov 09,2015 - Last updated at Nov 09,2015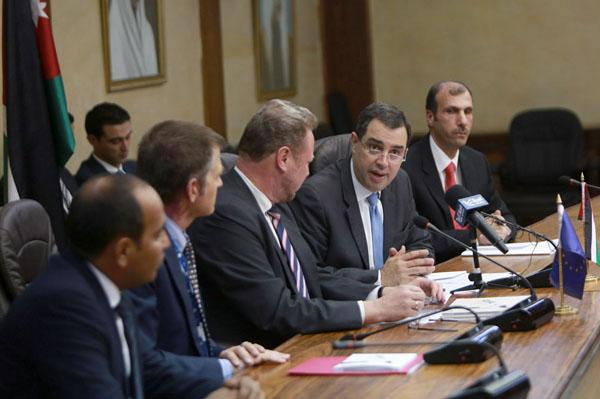 Planning and International Cooperation Minister Imad Fakhoury and Michael Koehler, director of neighbourhood policy at the EU, at a signing ceremony on Sunday (Petra photo)
AMMAN — Jordan and the EU on Sunday signed a grant agreement worth 52 million euros to support the implementation of the Skills for Employment and Social Inclusion Programme.
Planning and International Cooperation Minister Imad Fakhoury and Michael Koehler, director of neighbourhood policy at the EU, signed the agreement, a ministry statement said.
The grant will help provide additional financial resources via the state budget to carry out further activities in line with the National Employment Strategy 2011-2020 and the Employment and Technical and Vocational Education and Training (ETVET) Strategy 2014-2020, the statement quoted Fakhoury as saying.
It aims at supporting policy making and planning across ministries, other institutions of the TVET system and social partners, and at improving the relevance, quality, effectiveness and attractiveness of technical and vocational education, and training for employability, the minister added.
It also aims at increasing the number of people in education and training, particularly women, young people and people with disabilities, and enhancing the role of social partners and civil society organisations in promoting employment and human resource development.
In addition, the EU will sign a grant contract titled "EU Support to Jordan's Response to the Syrian Crisis/Private Sector Development", Fakhoury said at Sunday's ceremony.
The 5-million euro contract is a contribution to enhance Jordan's response to the Syrian crisis through stimulating economic development in the northern governorates, the ministry statement said.
The project will be implemented by a consortium led by the Luminus Group (Al Quds College) through establishing an innovation centre to provide comprehensive services to start-up companies.
The EU has previously presented 12.5 million euros as a first tranche of 55 million euros to support the Education Ministry's budget in responding to the Syrian refugee crisis.
The amount is aimed at enhancing services to 140,000 Syrian children and helping them integrate into the educational system for the 2015-16 and 2016-17 academic years, the statement added.
Fakhoury thanked the EU for offering this "timely" support to Jordan.
"Indeed, the EU is a key and strategic partner in Jordan's development and reform process and we continue to count on the EU's financial and technical support to realise our future developmental objectives," he added.
Related Articles
Nov 15,2015
AMMAN — Germany has allocated 127.9 million euros as additional aid in grants, technical assistance and soft loans that target "substantiall
Mar 11,2015
Jordan and Japan on Wednesday signed three grant agreements, valued at $17.5 million (around JD12.4 million).
Dec 30,2015
AMMAN — Jordan on Wednesday signed a grant agreement with the German Development Bank (KfW) to finance a solar plant to produce electricity
Newsletter
Get top stories and blog posts emailed to you each day.