You are here
55% of female journalists say they faced online harassment, violence — survey
By Maria Weldali - Sep 30,2023 - Last updated at Sep 30,2023
Representative image (Photo courtesy of Freepik)
AMMAN — Illuminating the challenges female journalists are exposed to, the Jordanian Network to Combat Digital Violence Against Female Journalists revealed that 55 per cent of female journalists surveyed in Jordan reported having faced online harassment and violence.
"The lack of awareness and true understanding of the concept of digital violence against female journalists in particular might be an underlying cause for most of the digital violence cases female journalists in Jordan go through," according to a statement by the Jordanian Network to Combat Digital Violence Against Female Journalists sent to The Jordan Times.
It noted that the majority of female journalists (200 journalists) have been the target of online attacks and violence by persons they do not know, representing 64.8 per cent of respondents.
Recent figures published by the network showed that the percentage of female journalists in Jordan, who received digital safety training was 15.8 per cent, while 84.2 per cent did not receive any training related to the topic.
The network was launched in 2022 by the Salam@ programme, in partnership with the Information and Research Centre of the King Hussein Foundation (IRC-KHF). Salam@ is a multi-year programme implemented by the Canadian think tank SecDev, with the goal to change perceptions and behaviours, and increase awareness of digital safety.
"Digital violence and abuse on female journalists is a serious threat to media and press freedom," Salam@ national coordinator Lina Momani told The Jordan Times.
She noted that online or digital violence is extremely gendered and its main purpose is usually to belittle the female journalist on both the personal and professional levels.
Saba Tahseen, a Jordanian reporter and activist who experienced different instances of online abuse and harassment, told The Jordan Times that she received threats of physical harm, and other "uncomfortable" messages simply because she talked about or discussed a particular topic or issue.
"We get bombarded with hate messages and threats. It affects us. We are humans."
Related Articles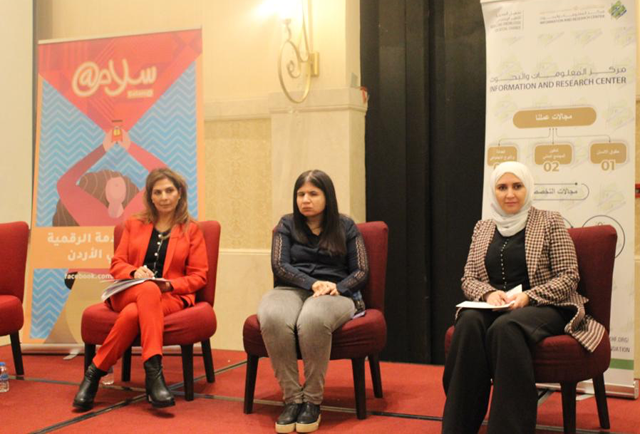 Nov 30,2022
AMMAN — The Salam@ programme for digital safety, in partnership with the Information and Research Centre of the King Hussein Foundation (IRC
Jul 04,2022
AMMAN — As gendered digital violence is becoming "a particularly dangerous" trend, Jordanian female journalists and digital violence experts
Dec 27,2022
AMMAN — Over half of female journalists in Jordan have experienced digital violence, a recent Salam@ survey revealed.Speaking with The Jorda