You are here
$7.3b Jordan Response Plan endorsed
JRP seeks to compensate Kingdom for burdens ensuing from regional crises
By Rana Husseini - Feb 02,2018 - Last updated at Feb 02,2018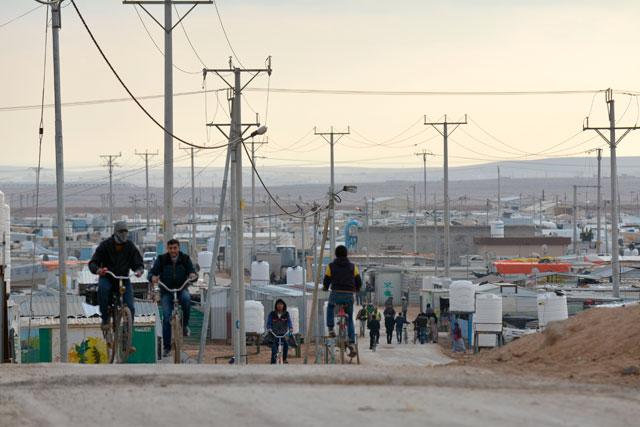 Scene from Zaatari refugee camp, some 80km northeast of Amman (Photo by Amjad Ghsoun)
AMMAN — The government of Jordan and the international community on Thursday endorsed the Jordan Response Platform (JRP) for the Syria Crisis for the next three years, worth $7.3 billion.
The announcement was made during the 10th meeting of the JRP 2018-2020 for the Syrian Crisis held at Al Hussein Youth City chaired by Prime Minister Hani Mulki.
The JRP, which was prepared by governmental agencies and international donors agencies, seeks to compensate Jordan for the burden it has borne due to regional crises. It aims at securing sufficient grants and concessional financing to address the general budget needs over the next three years.
In his address to the gathering, Mulki said that the "situation in Syria and the unprecedented refugee crisis have been globally recognised as the worst humanitarian disaster the world has faced since the World War II, posing an increasing threat to global security, development and economic growth".
"Seven years into the Syrian crisis, the prospects of an impending return to Syria for the 4 millions displaced around the globe are still remote. Even if a peaceful solution materialises, it will take years to rebuild Syria and for Syrians to resettle," Mulki stated.
He added: "This means that Jordan will have to continue bearing the mounting costs of the crisis and facing the ever-increasing challenges to the social and economic fabric of the country for 2018 and beyond."
A safe and dignified future for Syrian refugees tomorrow requires proportionate investment in the resilience of host countries today, especially Jordan which is setting an international model for hosting refugees, Mulki added.
He reiterated the Kingdom's commitment to uphold its moral obligations especially towards Syrian refugees, as "we have always done with those who fled for safety over many decades", noting that "we have been carrying more than our fair share of the response on behalf of the international community".
The premier said that the JRP represents a step further towards a comprehensive response effectively linking short-term solutions with longer-term initiatives with the aim of strengthening local and national resilience capacities.
Mulki concluded by stressing that Jordan's fiscal situation remains very challenging, noting, "while I was pleased to learn that funding for the JRP in 2017 was well over 65 per cent, I still call on your sustained and increased support to the 2018 JRP".
"Together we must invest in Jordan's priorities to help the government provide for those who sought refuge within our borders without undermining the needs of our citizens and our development. This is critical for Jordan's stability, security and resilience," Mulki stated.
Minister of Planning and International Cooperation Imad Fakhoury said the JRP "is another clear sign of Jordan's commitment to build an integrated multiyear framework to respond to the challenges faced by the Kingdom because of the Syrian crisis".
"We need a framework able to appropriately respond to the impact of the crisis in a transparent and sustainable manner and that is fully in line with the principles of national ownership, alignment, mutual accountability and harmonisation adopted in the Paris Declaration and reinforced in Accra, Busan and Addis Ababa," he said.
Fakhoury added that the ministry took "bold steps" to improve multi-stakeholder planning and aid coordination, enhance transparency, and strengthen accountability as means of improving overall aid effectiveness in Jordan in 2017, while ensuring that international grants channelled to the JRP are tracked and accounted for.
Some of the steps included integrating the recent policy decisions related to livelihood and education in the JRP, making it "the only comprehensive plan for the Syrian crisis in Jordan", Fakhoury explained.
All budget requirements for refugee and resilience programmatic responses were disaggregated into detailed project summary sheets annexed to the plan, Fakhoury added.
In terms of JRP results, "much has been achieved" over the past year, according to Fakhoury.
For example, the minister added, access to education has been improved, and over 130,000 Syrian refugee boys and girls are currently enrolled in public schools across the country.
Furthermore, more than 211,000 primary healthcare assistance services and 91,930 maternal and child health assistance services have been provided to Syrian refugees and vulnerable Jordanians, according to Fakhoury.
Cash assistance programme has reached an average of 143,000 Syrian refugees and 5,800 Jordanians per month, while 18,225 Syrian households received non-food item kits, Fakhoury added.
Fakhoury urged the international community to "increase its support to Jordan this year".
"While I sincerely thank you for the support received and committed in 2017, we continue to call on all of you as representatives of international community to sustain and increase your generous support to Jordan in 2018 and beyond, since the country alone will not be able to sustain its assistance to refugees without risking regression in our national development gains after decades of hard work," Fakhoury said in his address.
The deepening of the partnership between government and the international community is critical, and must continue to focus on protecting people in need and enhancing Jordan's stability, while promoting its economic and social stability, Fakhoury stressed.
"We must ensure that collective action reinforces national capacities, and complements and aligns to the country's development agenda," Fakhoury said.
UN Resident and Humanitarian Coordinator Anders Pedersen also addressed the gathering that "it is reassuring to know that the government of Jordan and international community share similar goals and have a shared sense of priority".
The international community will continue to work in close partnership with the government of Jordan to reinforce its efforts "to respond to the needs of vulnerable households, while maintaining its political, economic and social security", Pedersen said.
The UN official added: "With the support of the international community, the Jordanian government has taken bold and courageous step of enabling Syrian refugees to access its schools and health centres".
"This has been recognised and applauded, and in partnership with the government of Jordan we will explore ways this type of mutually reinforcing support might be extended to other sectors, noting the very real financial and social costs associated with protracted displacement," according to Pedersen.
Jordan has been at the cutting edge of the response environment for the past seven years, Pedersen maintained, adding that "it has been highly innovative and already been used as a model for other countries and regions".
Related Articles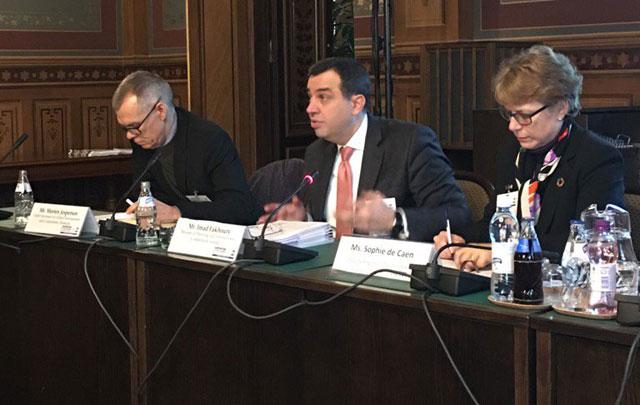 Jan 25,2017
AMMAN — Planning and International Cooperation Minister Imad Fakhoury has participated in an international conference in Helsinki to discuss
Sep 24,2017
AMMAN — Planning and International Cooperation Minister Imad Fakhoury on Sunday called on the UN and other organisations to report their ref
Aug 15,2015
AMMAN — Minister of Planning and International Cooperation Imad Fakhoury on Saturday said that donor countries and organisations have so far
Newsletter
Get top stories and blog posts emailed to you each day.