You are here
'Abundant fodder production expected this year due to ample rainfall'
By Hana Namrouqa - Jan 12,2016 - Last updated at Jan 12,2016
AMMAN — The Kingdom's natural pastures are expected to produce abundant fodder this year as the "performance of the wet season is excellent so far", an agriculture ministry official said on Monday.
Agriculture Ministry Spokesperson Nimer Haddadin described the amount and distribution of rainfall since the wet season started in October 2015 as satisfactory, noting that the recent rain increased soil humidity.
"Rainfall over the past weekend in particular was sufficient and covered most parts of the country. It increased the humidity of the soil, which will in turn increase the production capacity of the natural pastures," Haddadin told The Jordan Times.
He added that rain during this time of the year is also beneficial for fruit trees and field crops, underscoring that more runoff is expected now since the soil is sufficiently humid.
"It is now that dams and desert dams can efficiently store rainwater. The soil has absorbed enough rainwater since the start of the wet season, which means that more runoff will be channelled into the dams," Haddadin noted.
Figures released by the Jordan Valley Authority indicate that the major dams received four million cubic metres (mcm) of rainwater between Friday and Saturday morning, raising storage levels to 47 per cent of the total capacity of 325mcm.
According to Jordan Meteorological Department data, 64 per cent of the wet season "has been realised".
Related Articles
Dec 03,2016
AMMAN — Four million cubic metres (mcm) of water entered the Kingdom's dams between Thursday and Saturday morning, according to the Jordan V
Nov 21,2017
AMMAN — Rain on Tuesday ended a state of looming drought, dispelling farmers' fears of a low production season, according to officials.Water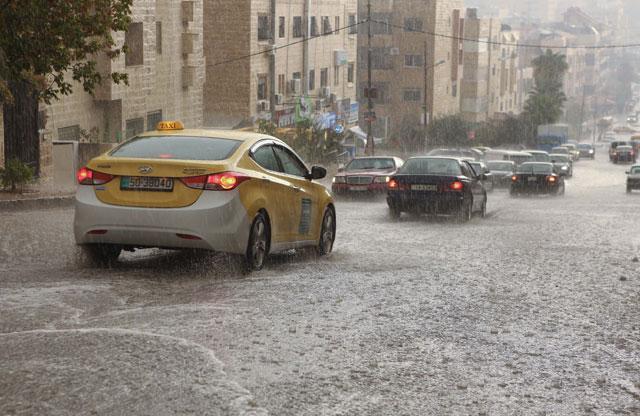 Apr 13,2016
AMMAN — Rainfall during this time of the year is good news for farmers of wheat and barley, an official at the Agriculture Ministry said on
Newsletter
Get top stories and blog posts emailed to you each day.