You are here
'Action plan to strengthen resilience of agriculture sector'
Sector witnessed 14 per cent drop in exports last year — Hneifat
By Hana Namrouqa - Jan 22,2018 - Last updated at Jan 22,2018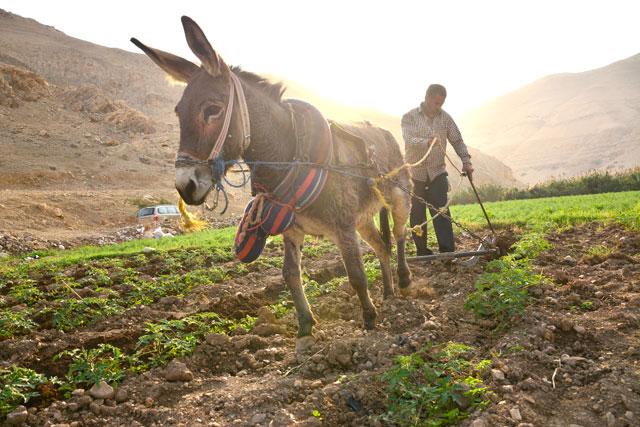 A farmer ploughs his field in Southern Shuneh recently (Photo by Amjad Ghsoun)
AMMAN — A set of measures will be implemented this year to address agricultural marketing bottleneck and strengthen the resilience of the agriculture sector, which saw a 14 per cent drop in its exports last year, according to a senior government official.
The measures entail supporting farmers, launching government-based agricultural production projects, exploring new means and portals for exporting fruits and vegetables, modernising agricultural guidance and restructuring the ministry among other measures to recuperate agriculture in Jordan, Agriculture Minister Khaled Hneifat said.
The action plan seeks to stop the agricultural sector from a deterioration that started with the Syrian crisis in 2011 and worsened with the consecutive borders closures with Syria and Iraq, Hneifat said.
"There's no country in the world suffering as much as Jordan does in terms of agricultural marketing congestion…, the regional turmoil post the Syria conflict has affected all the sectors, but agriculture was the most-hit by the regional instability because it is the most fragile sector," Hneifat told The Jordan Times in a recent interview.
Exports in 2017
Agricultural exports dropped by 14 per cent in 2017, when the Kingdom exported 590,000 tonnes of fruits and vegetables, according to Hneifat.
Ministry's figures indicate that in 2016, Jordan exported 686,000 tonnes of fruits and vegetables, which was a 12.4 per cent drop compared to the exports of 2015.
"The drop in exports of fruits and vegetables in 2017 is attributed to two factors: First is the closure of borders with Syria and Iraq and the halt of exports to Qatar, and second is the crisis of the chemical residues in Jordan's exports of vegetables," Hneifat said.
Jordan closed the Jaber border crossing with Syria in 2015 for security reasons, while Ramtha, the other border crossing with the war-torn country, had been closed for over five years. In the summer of that same year, the Karameh-Tureibil crossing on the border between Jordan and Iraq, the gateway for Jordanian produce to reach Iraqi and European markets, was also closed.
Jordan and Iraq reopened the Karameh-Tureibil border crossing in August last year, but farmers and exporters complain that exports of fruits and vegetables to Iraq remain meager.
Jordan's exports to Syria, as a conventional market and as a transit point, stood at 250,000 tonnes of produce per year before the borders were closed, while the number of exports stood at 230,000 tonnes of fruits and vegetables annually to Iraq before the border closure, according to the minister.
Hneifat highlighted that as the issue of chemical pesticide residues was resolved, it had no lasting implications on the Jordanian agriculture sector.
In mid-May 2017, the United Arab Emirates enforced a decision banning the import of seven of Jordan's main vegetable exports due to claims of increasing levels of chemical pesticide residues found in Jordanian agricultural products. The banned vegetables included zucchini, sweet pepper, eggplant, cabbage, green beans, cauliflower and lettuce.
Some 70 days later, the Gulf state, which imports over 150,000 tonnes of produce annually, lifted its ban after its officials and technical teams visited the country several times upon the request of the ministry to check firsthand on the Kingdom's measures in ensuring safe agricultural production.
Although exports of fruits and vegetables dropped in 2017, the country's sheep exports increased, according to the minister, who said that sheep exports in 2017 reached 500,000 heads of sheep, recording a 24 per cent increase in exports compared to the year 2016.
"All these challenges have affected the agriculture sector, and now the Qatari market, which used to import 17 per cent of Jordan's produce and 70 per cent of its sheep stock is also closed to Jordan's exports in light of the political crisis in the Arab gulf," Hneifat pointed out.
Air cargo
The ministry is exploring options to export the country's fruits and vegetables via air cargo to overcome the ramifications of border closures on the agriculture sector, the minister said, but the plan can be unfeasible for small farmers growing low-value crops.
Hneifat said that he has met recently with commander of the Royal Jordanian Air Force to discuss the option of exporting fruits and vegetables via military aircrafts, but noted that a proposed cost of JD1.5 per one kilogramme would be high for farmers, rendering it unfeasible.
"How can farmers compete given such a cost, especially if the cost of air transport was high and the amounts were small," Hneifat said, underlining that farmers of high-value crops, like strawberries, can compete in regional and international markets.
Supporting farmers
To support and protect farmers' interests, the ministry has rescheduled farmers' debts at the Agricultural Credit Corporation, the minister said.
"Farmers received in 2017 interest-free loans worth JD20 million. In addition, the volume of agricultural credit has increased from JD41 million in 2016 to JD52 million in 2017, while at the same time, the number of beneficiaries from agricultural crediting increased from 7,000 in 2016 to 10,000 in 2017," he noted.
The agricultural loans in 2017 were either low-interest or free of interest, he said, noting that as the farmers were granted loans, they were also directed to grow water-efficient crops, such as grape, date palm, protected crops grown inside greenhouses and hydroponic fruits and vegetables, Hneifat said.
The ministry has also "revived" the concept of marketing festivals for seasonal fruits and vegetables, such as olives, pomegranates and citrus fruits.
"Reintroducing seasonal festivals to promote certain fruits and vegetables seeks to reduce poverty and unemployment by supporting small farmers and housewives involved in small income-generating projects, such as olive pickling," the minister noted.
He noted that a festival held last year to promote olive products generated within three days JD550,000 in direct income to housewives involved in home-based income-generating projects.
Meanwhile, the ministry is also encouraging local produce by banning the import of certain agricultural commodities, like potato, onion, citrus fruits, red and white meat and cut flowers, while at the same time steering farmers to cultivate more of such plants to reach a state of self-sufficiency.
By replacing certain imports of fruits and vegetables with local produce, a total of JD171 million were achieved in savings last year, Hneifat noted.
Agricultural insurance
After the ministry "activated" its Agricultural Risk Fund in 2017 by granting farmers compensations for frost damages for the first time since the fund was created in 2009, the ministry is now negotiating with an American insurance company the introduction of agricultural insurance into the sector, according to Hneifat.
"The ministry has been studying insuring the agriculture sector under an agricultural insurance company for some time now. We are in talks with an American company and have finalised the proposal," the minister said.
The issue of setting up an agricultural insurance company is "complex", the minister said, highlighting that it requires huge funds and reinsurance for the whole agricultural sector.
"The company will protect farmers in cases of natural disasters, like frost, floods, heatwaves and snow or against loss of revenue if prices of their crops decline," Hneifat noted.
Agricultural guidance
A new regulation on the restructuring of the ministry is expected to be approved this week, Hneifat said, noting that under the new regulation, the ministry will create new directorates for foreign trade, production, agri-entrepreneurship and investment as well as agricultural guidance.
On agricultural guidance, the ministry will raise the number of existing agricultural guides from 60 to140.
The ministry will assign each guide a certain number of farms to oversee, where the guides will meet with farmers regularly to steer them into crops that are high-value, climate resistant and water-efficient, according to the minister, who said that they will also be guiding farmers on which pesticides to use, how much time to wait before picking fruits and vegetables sprayed with pesticides and also ways to prevent the spread of diseases among other tasks.
"The step will further improve the competitiveness of Jordan's fruits and vegetables abroad," Hneifat noted.
Agricultural manufacturing
A number of agricultural manufacturing companies will be set up this year, according to Hneifat, who said that they seek to address agricultural production pile up.
The ministry will set up two factories for producing dried tomatoes in southern Ghor and Mafraq, a company for agricultural automation and services in central Ghor, a factory for freezing fruits and vegetables in northern Ghor and factory for wool manufacture in Madaba.
"We are in the process of preparing the projects' tender documents and the tenders will be floated this year," the Minister said.
The projects are expected to cost JD5-JD10 million, he said, noting that they will be financed by the state budget and funding agencies.
Hneifat concluded that despite of the scant natural resources and agricultural produce pile up, farmers are "increasing the quality and quantity of their produce", highlighting that they produce 2.5-3 million tonnes per year, thus contributing "an actual number of 20 per cent" to the country's Gross Domestic Product.
Related Articles
May 01,2017
AMMAN — Private sector laboratories will soon begin assisting authorities in the testing of fruits and vegetables for pesticide residues, a
Apr 25,2017
AMMAN — Minister of Agriculture Khaled Hneifat and United Arab Emirates Ambassador to Amman Bilal Al Budoor are scheduled to meet on Tuesday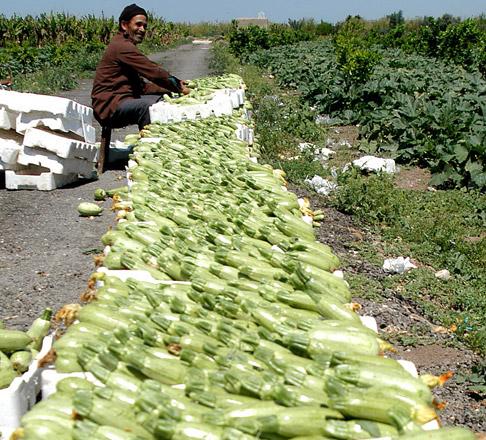 Apr 23,2017
AMMAN — The Ministry of Agriculture is contacting its Emirati counterpart to verify reports claiming the latter had banned the import of sev
Newsletter
Get top stories and blog posts emailed to you each day.