You are here
Activists to 'continue struggle' for rights of Jordanian women married to foreigners
By Rana Husseini - Aug 20,2017 - Last updated at Aug 20,2017
Members of 'My Nationality is the Right of My Family' are scheduled to meet again in the coming days (Photo courtesy of MNRMF Facebook page)
AMMAN — A group of activists working to ensure full rights for families of Jordanian women married to non-Jordanians have announced that they will continue their struggle until their demands are met.
Individuals from the group "My Nationality is the Right of My Family (MNRMF)" met last week and will meet again in the coming days to "reevaluate" their work and plan new steps to move forward with their demands of full citizenship rights, said Aroub Soubh, spokesperson of the coalition.
"We will be uniting our efforts with other groups working for the same cause and we have decided to call for a general assembly meeting of our coalition to evaluate what we have achieved in the past and what the best means are to move forward in the near future," Soubh, who is married to an Iraqi, told The Jordan Times.
As it stands now, Jordanian men married to non-Jordanian women can pass on their citizenship to their wives and children, a right that is denied to Jordanian women married to foreigners.
The issue gained public attention when the campaign "My mother is Jordanian and her nationality is a right for me", whose members are now part of the coalition MNRMF, held dozens of sit-ins in various parts of the Kingdom. The campaign, created in 2009, has been demanding the right for women married to foreigners to be able to pass on their Jordanian citizenship to their families.
The calls by the group "My mother is Jordanian and her nationality is a right for me" later shifted to demands of granting the citizenship to their children. The calls followed negotiations and discussions with government officials that concluded that spouses will not be eligible for the citizenship.
In 2014, the government pledged to ensure the proper application of the "privileges" the government had granted to children of Jordanian women, provided that their mothers had been living in Jordan for a minimum period of five years, for at least 180 days per year.
Some of the "privileges" included providing residency permits, the ability to apply for driving licences and real-estate ownership, as well as the availing of benefits in the educational, health, labour and investment sectors.
"Our position is clear. We want full citizenship rights for families of Jordanian women married to non-Jordanians, and we will not accept what the government offered recently to children of Jordanian women married to non-Jordanians," Soubh stressed.
Rami Wakeel, one of the lead campaigners of "My Mother is Jordanian and her nationality is a right for me", said the reason the group agreed to the government's offer of 'privileges' to children was only because there "were many desperate and poor families who suffered tremendously from the situation before the measures were introduced".
"We agreed because we did not get the minimum rights that citizens of Jordan enjoy and we were hopeful that it would later lead to more rights and eventually citizenship," Wakeel told The Jordan Times.
Wakeel stated that the group will continue to hold sit-ins in front of the Prime Ministry and Parliament because "the government failed to meet its obligations and promises of the privileges towards children of Jordanian women married to foreign men".
"Children of Jordanian families are not fully enjoying the 'privileges' that were promised by the government, and we are still suffering from discriminations and complicated governmental procedures when it comes to issuing driving licences, residency and work permits," Wakeel noted.
According to a study carried out by the Information and Research Centre — King Hussein Foundation in 2011, families of Jordanian women married to non-Jordanians face more economic challenges.
The study showed that 94.5 per cent of husbands affirmed that they faced challenges in the labour market, while 72 per cent of these families cannot access healthcare.
Fifty per cent of these children are not accepted in public schools due to lack of legislations that govern their enrollment and 16.2 per cent of these families are seriously considering leaving Jordan because they are deprived of their economic rights, according to the study.
Meanwhile, Amman Third District Deputy Khalid Ramadan, who has previously joined the group's demonstrations, said he will also work to raise the issue among MPs and the government under the Dome.
"We strongly believe in full citizenship rights and we will lobby the government," Ramadan said.
The MP told that he also plans, along with other deputies, to submit a proposal at the Constitutional Court to get a legal definition of Article 6 of the Constitution.
Article 6 of the Jordanian Constitution stipulates that Jordanians are equal before the law, regardless of their ethnicity, language or religion.
Women groups have attempted to push the government to insert the word "gender" in the provision, but their demands were rejected by the government.
"We need to know if Article 6 addresses both men and women, and, once we get the explanation from the Constitutional Court, we can move forward with other strategies that would support our claims for citizenship rights for Jordanian women," Ramadan explained.
The MNRMF, which was launched in February 2013, is a coalition comprised of 12 civil society organisations and 18 independent individuals, according to a position paper that was provided by the activists.
The members come from different backgrounds and possess expertise in the social, legal, economic and media fields, and seek to grant Jordanian women married to non-Jordanians the right to pass their nationality to their spouses and children, the position paper stated.
The coalition aims to raise awareness on the issue, with four committees working on the legal framework, advocacy, media and research.
Individuals and entities who oppose granting citizenship to family members of these women, particularly those with Palestinian husbands, say such a measure will only lead Israel to implement its "ultimate plan of creating a substitute homeland for Palestinians in Jordan".
Government figures show that there are 88,983 Jordanian women married to non-Jordanians, mostly Gazans, with 355,932 children within these families registered with the Civil Status and Passports Department.
Palestinians, except Gazans, who became refugees after the creation of Israel on Palestinian land, and those who were living in the West Bank when it was occupied by Israel in 1967, have been given Jordanian citizenship.
up
55 users have voted, including you.
Related Articles
Jul 16,2017
AMMAN — Families of Jordanian women married to non-Jordanians are due to hold a new sit-in demonstration at the Prime Ministry on July 26 to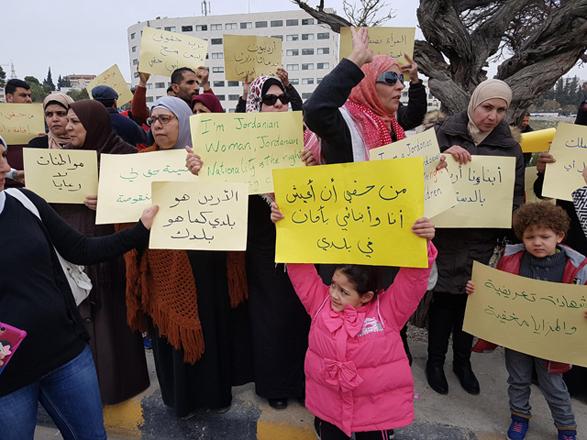 Mar 22,2017
AMMAN — Over 150 men, women and children on Tuesday staged a sit-in demonstration in front of Parliament, calling on the government to grant
Mar 27,2017
AMMAN — Activists on Sunday welcomed Parliament's decision to limit the authority of issuing residency to children of Jordanian women m
Newsletter
Get top stories and blog posts emailed to you each day.