You are here
Activists decry exploitation of Jordanian labourers in Eilat, normalisation
By Sawsan Tabazah - Jan 22,2018 - Last updated at Jan 23,2018
AMMAN — Denouncing normalisation and labour exploitation, activists have launched a campaign against a company recruiting Jordanians to work in Israel.
The anti-normalisation campaign "Itharrak", meaning "do something", called on Jordanian social media users to send a unified massage to the the company which, they said, has recruited hundreds of Jordanians for work in hotels and construction projects in Israel's Eilat, "exploiting their need for jobs as a tool for normalisation".
The rate of unemployment in Jordan reached 18.5 per cent during the third quarter of 2017, according to the Department of Statistics.
"Being unemployed is not an excuse to work in Israel… there must have been plenty of other choices to work abroad like the Gulf," Zeina Abu Ennab, an activist said, noting that working in the "Zionist entity is an unacceptable act of normalisation".
Abu Ennab urged the public to put pressure on the government to change its policies towards the "Zionist enemy".
Mohammad Absi, the coordinator of the youth-based campaign, told The Jordan Times the company had to cut off its Whatsapp service after activists sent tens of messages within two days of the campaign.
Rana, a holder of a BA degree in Hebrew and English languages, said she rejected a job offer from an acquaintance working in Israel when she was a fresh graduate back in 2011 although "the salaries there are much better".
Rana explained that working in Israel or even with any company owned by Israelis anywhere in the world is something she could not accept because that would "empower the Zionist entity".
"Even if the salary [in Israel] is irresistible, I would never work there," she said.
Jumana Ismail, a Boycott, Divestment and Sanctions (BDS) campaign activist, said working in "the Zionist entity is totally rejected and is considered economic normalisation, regardless of the aim".
Protocol to recruit Jordanians in Eilat
MP Dima Tahboub submitted a question last July to the government regarding Jordanian workers in Eilat and the companies to recruit them.
"I received answers but the issue was not discussed under the Dome yet," said Tahboub who provided The Jordan Times with a copy of the government's response to her questions.
The government responded that Jordanians working in Eilat work under a protocol signed between the Aqaba Special Economic Zone Authority (ASEZA) and Israel, which was renewed in 2015 "without the knowledge of the Labour Ministry".
The government's response noted that three main private agencies recruit Jordanians for Israel: Al Arabia, Al Oula and Al Muhannad.
These companies, which are registered by ASEZA and licensed by the Ministry of Labour and the Ministry of Industry and Trade, are also certified by the Israeli side, the government said in its response to the MP, adding that they work under the jurisdiction of ASEZA.
"The mandate of inspectors working for ASEZA and Aqaba's Labour Directory is limited to checking the records of the agencies to make sure that they deduct 7 per cent of the annual salaries of those recruited [in accordance with the Labour Law]", the government said in its response.
An informed source at ASEZA told The Jordan Times that the protocol was signed in 1996 and went into effect in 2015, under the Jordanian-Israeli 1994 Peace Treaty.
The source, who requested anonymity, said that the number of Jordanians working in Eilat has fluctuated over the past three years but ranged between 700 and 1,200 annually in the hotel and construction sectors.
The official expected the number of workers to increase as "there are plans to sign an agreement that would offer Jordanians vacancies in administrative and clerical posts in Israel."
"The people working there are happy and many are willing to be part of the programme [the protocol]… their salaries are rewarding and range between JD800 and JD1,200," the official noted.
"Around JD10 million [of hard currency] gets earned by the Kingdom annually" through the programme, he added.
Jordanians working in Eilat are not allowed to sleep there; they enter and exit from a special entrance and without paying any extra fees, the official said.
"They sleep in Aqaba in hostels provided by recruiting companies," the official added.
The protocol provided for the recruitment of 1,500 Jordanians in Eilat to fill the shortage of workforce in the hotel sector, according to Israeli media which reported Israel's Interior Minister Silvan Shalom's reception of the first batch of 172 Jordanian workers in November 5, 2015.
Labour exploitation
Ahmad Awad, director of the Phoenix Centre for Economic and Information Studies said that lack of job stability and ill treatment, as well as unjustified salary deductions are the main violations experienced by Jordanian workers in Israel.
However, a Jordan Labour Watch (JLW) report last August documented cases of exploitation of Jordanian workers' rights, such as salary deductions that exceeded 7 per cent of the salaries, contract violations by employing them in jobs that are different than those agreed up on and dealing with them as daily wage labourers.
One of the labourers complained of such exploitation as well as the fears he and his colleagues face on daily basis.
"Our lives are full of stress. Living under the fear that our work visas might be cancelled," Ahmad, who worked in one of the hotels in Eilat was quoted as saying in the JLW report. "Our salaries get deducted and from time to time we receive insult… I am sure I'll get out of my job a psycho."
Eyad, another worked identified in the report only by his first name, was quoted as saying that he and his colleagues are not paid during holidays although they were recruited under a contract basis.
"Any migrant worker must receive the minimum wage defined by the country he/she works in and the minimum wages in Israel are much higher than in Jordan. Jordanian workers are deluded to work there with promises of high salaries but they receive salaries that align with the minimum wages in Jordan, as a result of up to 16 per cent salary deductions by the recruitment agencies," Awad said.
Related Articles
Apr 04,2016
TEL AVIV — Israel has authorised another 500 Jordanians to work in hotels in its Red Sea resort of Eilat to make up for a domestic lab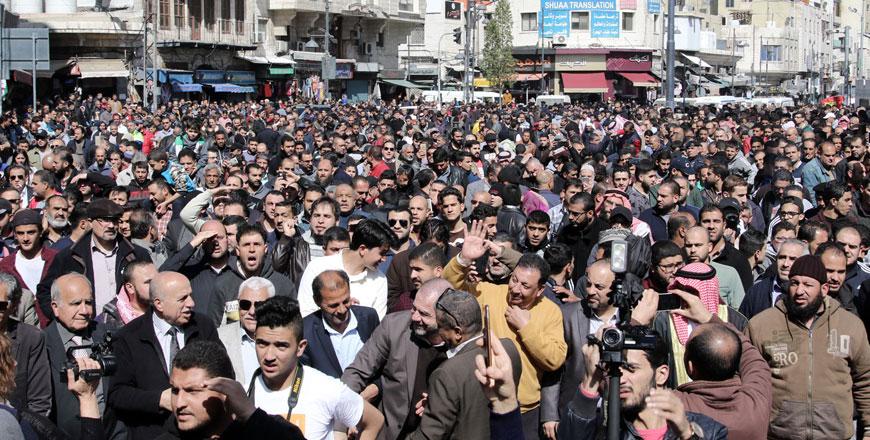 Feb 25,2017
AMMAN — Activists have vowed that 2017 will be a year of "increased activism" against Jordanian normalisation of ties with Israel, with a pa
Jun 29,2014
The Israeli government Sunday authorised 1,500 more Jordanians to come and work in its Red Sea resort of Eilat to combat a labour shortage, the tourism ministry said.
Newsletter
Get top stories and blog posts emailed to you each day.