You are here
Activists denounce 'normalising' Israeli tourism in Jordan
By Suzanna Goussous - Jul 26,2018 - Last updated at Jul 26,2018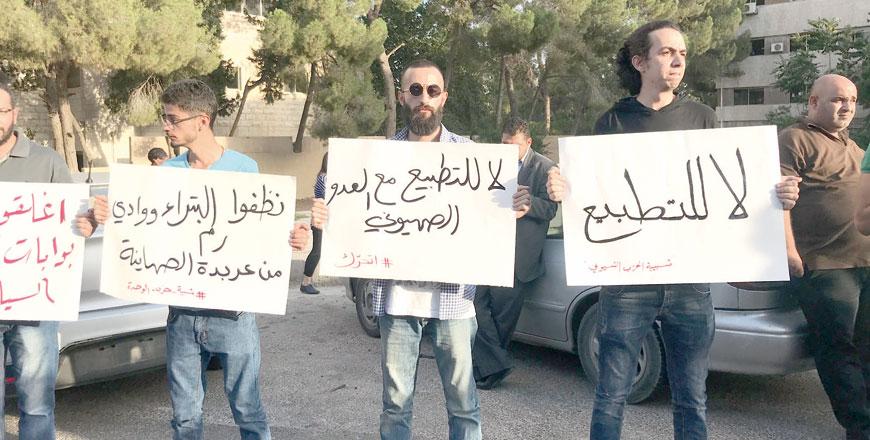 Activists are seen during a sit-in in front of the Ministry of Tourism on Tuesday (Photo by Suzanna Goussous)
AMMAN — Activists on Tuesday organised a sit-in in front of the Ministry of Tourism to denounce "promoting normalisation of tourism with the Israelis", demanding to sever ties with Israel at all levels.
"This sit-in is to condemn the Ministry of Tourism's latest decisions to promote Israeli tourism to Jordan… we demand cutting the ties with the occupation forces completely at all levels," said Mohammad Absi, head of the Etharrak anti-normalisation campaign.
"All the agreements for Zionists to enter Aqaba, Wadi Rum and Petra are to provoke the Jordanian people and to pressure them into gradually accepting the enemy," Absi stated at the protest.
Despite several attempts by The Jordan Times, officials at the Ministry of Tourism were not available for comment.
Member of the Arab National Youth bloc Ahmad Ramahi said the protest is part of a series of events to denounce the normalisation of ties with Israel. "There is also the Israeli vegetable produce entering Jordan, which is not only unethical, but also negatively impacts the Jordanian farmers' income," he said.
"Since today marks a year since the two Jordanian citizens were killed at the Israeli embassy in Amman, this is another decision that we are ashamed of. How are the Zionists allowed to enter Jordan and have tourist passes while they commit crimes against humanity in Palestine?" Ramahi asked.
"All these agreements attempt to change the people's perspective on the Palestinian cause, whether by entering Palestine through an Israeli visa or an Israeli passport. Jordanians have sacrificed their lives for Palestine. Jordanian and Palestinian blood [is]united over one humanitarian cause over the years; these decisions will turn blood into water," claimed Rakan Hiasat, member of Etharrak and the anti-Zionism and racism movement, adding that "the decisions issued by any authority in Jordan must go along with the state's stance on Palestine, since Jordan is the custodian of Jerusalem's holy sites".
Earlier this year, Jordan tourism stakholders had claimed that Israeli agencies that organise "inbound tours", which include a stay at Petra, instruct their tourists "not to spend a penny" on souvenirs in Jordan.
They also claimed that tourists are instructed not to stop for shopping in Petra, not even for water.
Related Articles
Jan 13,2018
AMMAN — Pushed by a number of local and regional political and economic upheavals during last year, 2017 saw an increased political activism
Nov 10,2019
AMMAN — Political activists, youth and citizens expressed their joy and pride in the Kingdom's decision to terminate the annexes of Baq
Aug 06,2014
The Jordan Press Association (JPA) on Wednesday called on its members to participate in a sit-in organised to express solidarity with Gaza and denounce the Israeli aggression.