You are here
'Ain Ghazal offers encyclopaedic record of social, cultural evolution over almost 3,000 years'
By Saeb Rawashdeh - Feb 23,2017 - Last updated at Feb 23,2017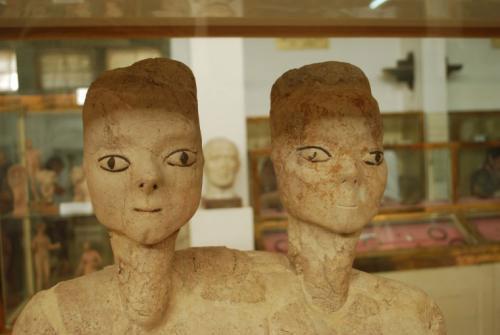 Statues unearthed in Ain Ghazal (Photo courtesy of Department of Antiquities)
AMMAN — Anthropologist Gary Rollefson's nearly four-decade long research into the anthropology of prehistoric Levantine civilisations began in 1978, when he received a small fellowship from the American Centre of Oriental Research (ACOR).
"At that time, there had been very little prehistoric archaeological research, except for Diana Kirkbride at Beidha and Donald Henry in the Wadi Hisma area," he recalled in a recent interview with The Jordan Times.
After earning his PhD in anthropology from the University of Arizona in the spring of 1978, with few teaching opportunities in the US, Rollefson decided to come to Jordan to explore "a new territory", as most of academic interest until then revolved around the Bronze, and Iron ages and the Early Islamic Period.
His first excavation in Jordan was at Ain Al Assad in south Azraq in 1980. During a second season the following year, Khair Yassine from the University of Jordan asked him if he was interested in looking at a "lithic scatter" near the old airport in Marka.
"I said 'Certainly!', and he took me to look at the site of Ain Ghazal. I think he must have been joking when he suggested that the site could be completely excavated in a few weeks," Rollefson noted.
His assessment was correct, and after 11 seasons at Ain Ghazal, beginning in 1982, scholars only managed to excavate less than 1 per cent of the enormous Neolithic site.
"The site turned out to be an encyclopaedic record of human social and cultural evolution that was unbroken [for] almost 3,000 years [8300-5500 BC]," Rollefson explained.
"Families lived in individual houses during the Middle Pre-Pottery Neolithic B [age], but at 7,500 BC, a large influx of refugees from abandoned farming villages in Palestine and the Jordan Valley doubled Ain Ghazal's population to about 1,600 people within a generation or two," he emphasised.
With parallels to the challenges Jordan faces today, Ain Ghazal's "urban" planning had to adapt to a swelling population.
"This resulted in the construction of two-storey 'apartment complexes' that housed four to five families [possibly of married brothers or sisters and their children]. This population continued to grow over the next 600 years, reaching 2,500 to 3,000 people in the town, which put enormous strain on the farms and domestic animal herds," the scholar continued.
In 7000-6900 BC, however, Ain Ghazal suffered an immense depopulation of about 90 per cent, returning the village to its size when it was first settled, Rollefson said.
Housing reverted to single-family houses built far apart from each other and while farming was still practised, a decrease in rainfall meant productivity was much lower than before.
"One interesting development during the PPNC [Pre-Pottery Neolithic C]was the construction of semi-subterranean storage buildings in the southern part of the village on the western bank of the Zarqa River; these small buildings appear to have... stored personal possessions of families who left the village for months on end, taking herds of sheep and goats to the Eastern Badia to convert the grasses out there to meat, dairy products, and eventually hair and wool," Rollefson explained.
Once the crop harvest was finished, the shepherds returned to Ain Ghazal, where the pastoral families exchanged sheep and goats with their farming relatives.
By around 6500 BC, pottery became important to those living in Ain Ghazal, the scholar noted, adding that this initiated the "culture of the Yarmoukian Pottery Neolithic period", which lasted until the end of the 6th millennium.
Field work at Ain Ghazal unearthed 151 small figurines, Rollefson said, which may have been children's toys
Some of the diminutive figurines offer insights into the rituals and practices of these communities, with some used to bring luck in a hunt. Two cattle figurines found buried under a house's floor had "been "killed" symbolically, by stabbing them with tiny flint bladelets in the eye, chest and ribs; several others bore slash marks across their bodies", he explained.
The most impressive human figurine pieces, all from theMiddle Pre Pottery Neolithic B (PPNB) period, were female and pregnant, Rollefson noted, noting that their function may have been to induce fertility in women, or more likely to protect women during the last stage of pregnancy when they were at risk of dying.
"Many of these so-called 'mother goddesses' bore rocker-stamped impressions that may indicate tattooing, textiles, or even stretch marks," he stressed.
The most stunning figures, however, are the Middle PPNB plaster statues and busts found in 1983 and 1985, he said, which, standing around one metre tall, "had been deliberately buried, as if they were real human beings", Rollefson said.
"Made by using, literally, a stickman skeleton, plaster was applied to form the head, neck, torso and arms and legs; busts had no arms or legs and stopped in the middle of the torso," according to the anthropologist.
"Furthermore, gender cannot be determined for the busts, although it appears both adults and children are represented, "he continued.
Many of the statues still bear a now-faded red pigment, with eyes circled with bitumen, Rollefson said, which acted as eyeliner and to mark the iris of the eye.
"In the 1985 cache, which was badly damaged by a bulldozer during highway construction, three two-headed busts were found, raising questions of the meaning of such an anomaly. Because the statuary faces bore similarities with the plastered skulls, who were probably associated with known ancestors. It is likely that the statues and busts were associated with mythical ancestors," he concluded.
Related Articles
Apr 13,2017
AMMAN — Human burials throughout Jordan, Palestine, Syria and Lebanon present a pattern that is "bizarre" compared to modern practices, acco
Oct 31,2023
Hunter — gatherers in the southern Levant based their social identity on small groups of consanguineal (blood-related) and affinal( through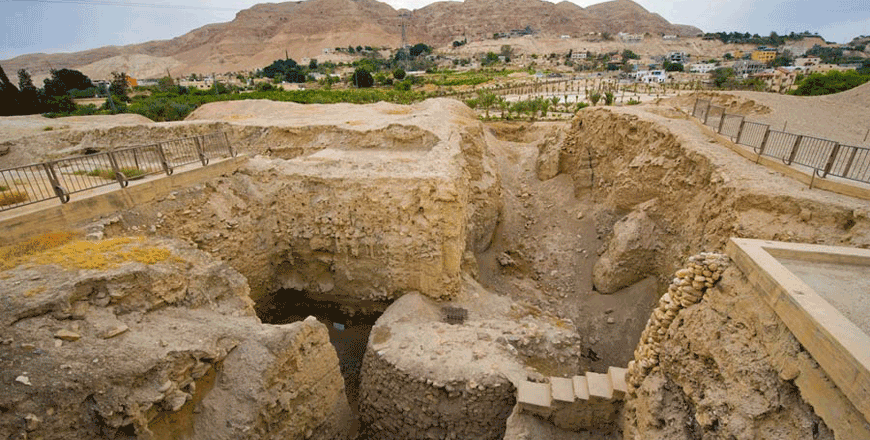 Jan 28,2023
AMMAN — With an area of 104km in length and ranging from five to 20km in width, the Jordan Valley has hosted human occupants from the Lower