You are here
American historian explores Ottoman land reforms in Palestine
By Saeb Rawashdeh - Jan 06,2018 - Last updated at Jan 06,2018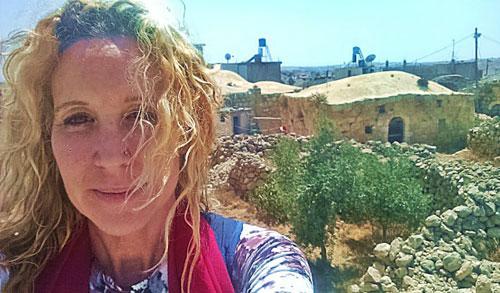 AMMAN — Ottoman land reforms are poorly understood by historians, according to Susynne McElrone, an American historian specialised in the history of Palestine.
Very little is known about the implementation of property-tenure reforms in Palestine, she said, noting that the Land Code was promulgated in 1858, while additional property-ownership-related reforms followed during the 1860s and 1870s.
"These reforms were significant because they institutionalised individually held, centrally issued title deeds [tapu], which established for the first time an individualised value-based property tax and made both the tapu and this tax important bases of proof of land rights," McElrone told The Jordan Times in a recent e-mail interview.
The predominant narrative about the issue has long been that villagers and other small landowners in the late-19th century did not understand the significance of land-tenure reforms, she explained.
"Motivated by fear of military conscription and increased taxes, they declined — or, in the language of the narrative, stubbornly refused — to register their lands with the government in their own names," she said.
As such, Ottoman land-tenure reforms in Palestine are widely understood to have resulted in outcomes opposite to their intentions, namely a class of landless agriculturalists and the formation of large landed estates, as village mukhtars, urban notables and merchants from Palestine and Lebanon registered in their own names small farmers' landholdings upon the request of suspicious and fearful fellahin, McElrone elaborated.
In order to implement these reforms, the empire sought to register every property in the empire in the name of individuals, the American scholar continued.
"This was a huge undertaking," she said, adding "despite what we commonly read in history books, I think that they were overwhelmingly successful".
According to McElrone, these reforms are also important because they continue to influence land-tenure law in the Levant nowadays. For example, the Jordanian Department of Lands and Survey traces its history back to these Ottoman reforms, the researcher highlighted.
"Ottoman-era tapu documents have been important proofs of Palestinian historical land ownership, which is crucial in legal battles against land confiscations today. So important, in fact, that in 2005, Turkey gave copies of all its Ottoman-era land records for Palestine to the Palestinian Authority," she stressed.
While land records in Turkey have not been made available to researchers or the public, Turkey has announced that it would grant access to the otherwise-closed Ottoman Tapu-ve-Kadastro archive in Ankara — the most complete archival source for such documents — to Palestinians in need of documentary evidence of Ottoman-era land tenure, McElrone underlined.
One of the problems of writing this history has traditionally been a difficulty of access to the tapu land records, she explained, adding that a number of historians have written that, when the Ottomans retreated, they took most of their records with them.
"Given the predominant narrative, I was surprised when researching Ottoman Hebron to come across a late 19th-century register cataloged as a 'registration of property owners, Hebron district, 1876'," the scholar explained.
McElrone was even more "surprised" to realise that Hebron villagers had registered in their names close to half a million dunams of land in this register, and that this register was a registration of properties for the new property-tax rather than a tapu register.
"The two types of registration surveys [tapu and property-tax] were conducted independently of each other," she said, noting that investigation of this record alongside tenure questions brought to the Hebron Sharia court between 1867 and the beginning of World War I have greatly helped her in her work.
Even though Ottoman law required every property holder to register his or her property with the tapu, it appears many people registered their land with the tapu only when they had a need for this specific legal document, because there were no legal consequences for not registering, and traditional methods of proving land tenure continued to remain valid in the empire.
Property-tax records are a better reflection of land tenure in the empire in the reform era than the tapu records, which have traditionally been the focus of scholars' attention, because, unlike the tapu, the tax was obligatory and the government exerted great efforts to ensure its collection, McElrone maintained.
She explained: "My research plan here [in Jordan] involves expanding this investigation to other parts of Palestine, comparing property-tax records and tapu records, and attempting to trace for the first time the progress of reform implementation in Palestine, because it has never systematically been traced."
"It is also a project that contributes to rural Ottoman history by tracing patterns of land-tenure and the socioeconomic history of land-tenure in the reform era," she noted, concluding that the Ottoman empire was an agrarian state and its population overwhelmingly rural, but this population has left the smallest imprint on the written record, making rural history the most difficult to uncover.
Related Articles
Sep 07,2017
AMMAN — There is a tendency to assume that villages in the late-Ottoman Levant were satellites of their nearest town and that villagers live
Sep 01,2016
AMMAN — Little attention has been paid to the early Ottoman era, but an abundant collection of documents and records could shed light on the
Sep 06,2015
The Lanterns of the King of GalileeIbrahim NasrallahTranslated by Nancy RobertsAmerican University in Cairo Press, 2014Pp.
Newsletter
Get top stories and blog posts emailed to you each day.