You are here
Amman Design Week workshop mulls association for designers
Researcher says showing artwork in streets reactivates public spaces; exposes wider audience to art of design
By Suzanna Goussous - Sep 04,2016 - Last updated at Sep 05,2016
Cars made out of cables by Khaled Nawasreh on display at the Amman Design Week's MakerSpace at the Jordan Museum in Amman on Sunday (Photo by Suzanna Goussous)
AMMAN — Designers gathered for a workshop on Sunday as part of Amman Design Week (ADW) to discuss developing a design association in Jordan and to explore potential collaborations.
Held at the MakerSpace at the Jordan Museum, the workshop aimed to bring designers together to discuss ideas and create projects, and to lay the groundwork for forming an association to enable designers' voices to be heard, organisers said.
Organiser Danah Abdulla, who is researching design education in Jordan for a PhD, said that data she collected indicated that many Jordanians felt there was no party to represent designers in the Kingdom.
Many people she surveyed said designers were usually considered as architects, yet they did not fall under the umbrella of the Jordan Engineers Association.
"It was obvious that there was a sense of need for something to represent designers in Jordan. I said, 'Why don't we do this as a workshop with people who are the most affected by it — designers and design educators and students?'" she added.
Abdulla, a university lecturer, aims to provide students with an association to represent them in the future, to teach them how to deal with contracts and get jobs, and how to hold exhibitions and talks.
"The end goal of this workshop is to actually develop an association for designers in Jordan… to present a number of practical projects and hand them to involved people like the Amman Design Week team so they can build on it," she told The Jordan Times.
The designer added that the most important aspect of ADW and the workshop is that it provides free access.
"I think that design itself is also still seen as something one class does over another. A lot of people are sort of intimidated by the idea of it. I think it's important to put these works in the streets… to reactivate public spaces," she added.
The workshop organisers aim to make people more aware of the role of design, to support local designers to showcase their talents to the public and to build ties with designers in the region.
"Amman is a city filled with communities from all over the region and that's what makes it really unique in the Arab world," Abdulla added.
"It helps the perception of design, how people understand what design is, what it can do, to respect it…. It's beyond working on a computer to photoshop pictures," she said.
Collin Babcock, an American who took part in the workshop, said he hoped it would pave the way for designers to make changes in their city.
"The workshop is held with the idea that people in this group want to promote design in Amman and make it more of a public thing… to make the design community stronger in the city," he told The Jordan Times.
"I've seen the three venues; it's huge. It's amazing how they put them together. Especially at the Hangar [in Ras Al Ain]; I heard it was going on, but when you see it, you realise the incredible amount of work that was put into it," he added.
Khaled Nawasreh, from Ghor Al Mazraa near the Dead Sea, has been designing cars from used cables since he was six years old.
"I used to make simple items out of cables; then I started creating cars from used cans and other items. The cars I am making are inspired by the traditional hobby of the older generation," he told The Jordan Times.
Nawasreh adopted the idea and developed it to start a business selling recycled cars and other items created from cables.
"When I developed my skills, I started selling my products at reasonable prices," he added.
Nawasreh is currently giving courses to children from his area to enrich their skills and develop their talents at a young age, he said.
He noted that the ADW workshops gave him the opportunity to present his products to a wider audience.
"In my opinion, workshops like these that are held in Amman give people from other governorates and rural areas the chance to promote their products and to develop their skills," he said.
Related Articles
Aug 28,2016
AMMAN — Amman Design Week (ADW) has joined forces with several local and international educational institutions to provide a wide range of e
Sep 10,2016
AMMAN — As the Amman Design Week (ADW) concluded on Friday, designers, architects, and visitors voiced hope more attention would be paid to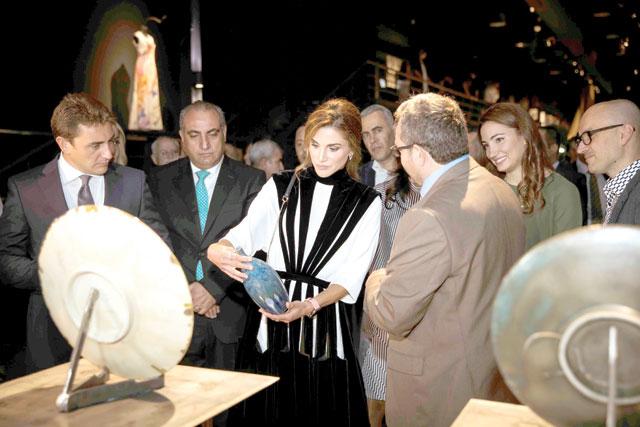 Oct 05,2017
AMMAN — Her Majesty Queen Rania on Wednesday launched the 2nd annual edition of Amman Design Week (ADW), which for this year focuses on incr
Newsletter
Get top stories and blog posts emailed to you each day.