You are here
Amman to have free Wi-Fi service in 15 selected locations
By Muath Freij - May 28,2015 - Last updated at May 28,2015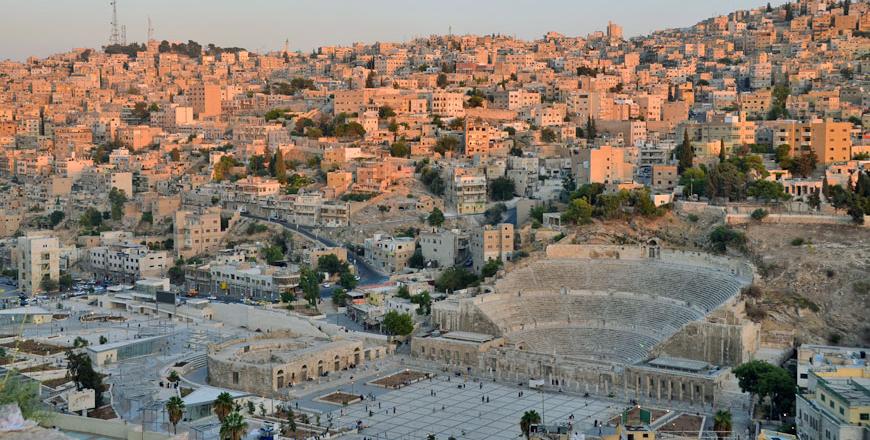 Hashemite Square in downtown Amman, one of 15 locations designated as Wi-Fi hot spots (Photo by Muath Freij)
AMMAN – The Greater Amman Municipality (GAM) and Zain Jordan will start operating free-of-charge Wi-Fi services in Amman next week, a GAM official said on Thursday.
Abdul Hameed Afashat, who heads GAM's services department, said in a statement e-mailed to The Jordan Times that the municipality's council agreed on Wednesday to sign the agreement with Zain to set up Wi-Fi hotspots in several locations in the capital without the municipality bearing any expenses.
"A total of 15 locations will be covered by this service including Wakalat Street, Rainbow Street, Hashemite Square, Ashrafieh Cultural Complex, Zaha Cultural Centre, Al Hussein Cultural Centre and Al Hussein Park," he added.
Amman residents interviewed by The Jordan Times welcomed the initiative, saying the step will enable many people to access the Internet, especially those who cannot afford to subscribe at home or on their mobile phones.
Ammar Nubani, the founder of local photography initiative Camerji, described the idea as "brilliant".
"This will make it easier for us to use the Internet wherever we are. I am a big fan of photography and I like taking photos and posting them immediately via social media networks and this step will make it easier for me to do so," he said.
Ahmad Aqraa agreed, noting that as a designer he needs the Internet whenever he goes.
"I have a lot of work to do and sometimes I am forced to go to specific locations because they have Internet access. With this step, I will be able to go to a wider range of places to work," he added.
Nubani called for having good infrastructure to ensure the project's success such as providing a number of chairs with access to mobile chargers and signs that lead people to the Wi-Fi hotspots.
Mohammad Al Masri, an active social media user, also commended the projected service.
"Many people depend on social media networks to post news on events they attend, and social media has become a hub for news in general and social events in particular, so we need Internet all the time to post these details," he said.
Masri added that this measure will further boost tourism, enabling visitors to stay online while touring the capital.
Amman resident Mahmoud Khatib suggested using this project to attract visitors to unfrequented areas in the capital.
"Places like Rainbow Street are frequented by many people, but the authorities can use the Wi-Fi project in other lesser known locations that do not receive many visitors."
Dina Batainah, a private sector employee, said having Internet access on the go will be convenient for people who browse the Web for the nearest restaurant or are looking for specific venues, but voiced hope that this will not have a negative impact on people's social life.
"This could encourage people to keep checking their mobiles while with friends and so end up socialising less," she added.
Julie Delaire, a French expatriate who resides in the capital, said the move would be "ground-breaking" in Jordan.
"Access to good Internet was a major struggle for me when I came as a student at the University of Jordan," Delaire said, adding that she had to keep buying coffee from cafés to use their Wi-Fi service.
She noted that Internet access was extremely important for her during her first months to keep in touch with friends and relatives.
For Dina Habashneh, who works in the private sector, the initiative will not make any difference.
"I spend eight hours working so I have Internet access at my workplace all the time, and when I go back home I use my home Internet subscription. When I go out with my friends, I spend a maximum of four hours with them which I should spend talking and socialising, not using the Internet," she said.
Related Articles
Oct 13,2014
Zain Jordan recently signed a cooperation agreement with the Aqaba Special Economic Zone Authority (ASEZA) to provide free Wi-Fi Internet services at specific public locations in Aqaba, according to a statement sent to The Jordan Times on Monday.
Feb 17,2015
Europe's airlines are racing to add Wi-Fi to their planes, eager to attract Internet-hungry customers in a cut-throat short-haul market and potentially add millions of dollars of revenue through entertainment, services and advertising.
Jul 26,2018
LAGOS — Google launched a network of free Wi-Fi hotspots in Nigeria on Thursday, part of its effort to increase its presence in Africa's mos