You are here
Amman Jazz Festival: Musiqa 3al Daraj and Halaqat take jazz music to Petra
By JT - Sep 30,2023 - Last updated at Sep 30,2023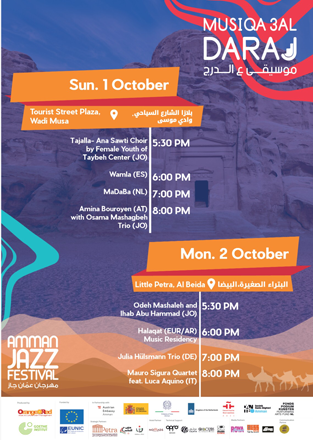 AMMAN — Within the framework of the Amman Jazz Festival, the Musiqa 3al Daraj festival returns in its fifth edition, taking place for the first time in Petra on October 1 and 2.
The festival has been jointly initiated and produced by the Goethe-Institut Jordan and OrangeRed, with the aim to transform public spaces into a stage that gathers artists, residents and tourists, according to a statement from the organisers.
This year, the festival presents a series of eight diverse public concerts, involving musicians from Jordan and other Arab countries, alongside musicians from Europe and fusing jazz, Arabic heritage music and more.
The first day's performances will take place at the Tourist St. Plaza in Wadi Musa, starting at 5:30pm with the "I Am My Voice" choir of the Tajalla Association for Culture and Arts (Jordan), followed by a performances of: WAMLA (Spain), MaDaBa Trio (Netherlands), and the Osama Mshaghbeh Trio (Jordan) featuring Amina Boerwern (Austria).
The second day will take the music to the magnificent entrance of Little Petra (Al Beida). Starting at 5:30pm, the line-up will feature performances by Odeh Mashaleh and Ihab Abu Hammad (Jordan), the Julia Hülsmann Trio (Germany), and the Mauro Segura Quartet feat, Luca Aquino (Italy).
A special performance by the artists of the Halaqat music residency completes the festival. It presents cross-cultural works co-created among participants from Jordan, Europe and other Arab countries.
The founder of the Amman Jazz Festival, Lama Hazboun, said: "We're happy to launch the fifth edition of the Musiqa 3al Daraj festival for the first time in the magical city of Petra. This is an opportunity for musicians from Europe and the Arab world to co-create amidst one the Seven Wonders of the World, and to get to know this city, its people and culture."
Director of the Goethe-Institut Jordan Christian Diemer added: "It is our ambition to take cultural experiences to audiences beyond Amman and the established concert venues. Uniting musicians from different backgrounds and countries in a place as unique as Petra, we set the stage for musical exchange to happen."
Musiqa 3al Daraj is jointly organised by Orange Red and the Goethe-Institut Jordan, with the support of the European Union in Jordan and EUNIC. It is realised in partnership with the Italian embassy, ​​the Austrian embassy, ​​the Dutch embassy, ​​the Instituto Cervantes and the Società Dante Alighieri, in cooperation with the Petra Tourism Development Region Authority.
The Halaqat music residency started on September 27 in Petra and gathered six talented musicians from Europe, the Arab world and Jordan for six days.
The residency offered a space to co-create, experiment with various musical compositions, musical heritages and jazz techniques. The results of the programme will be presented during the Musiqa 3al Daraj festival in Petra, and the Amman Jazz Festival's main programme in Amman.
Halaqat is jointly organised by the Goethe-Institut - Belgium, the Goethe-Institut Jordan and the Amman Jazz Festival.
Related Articles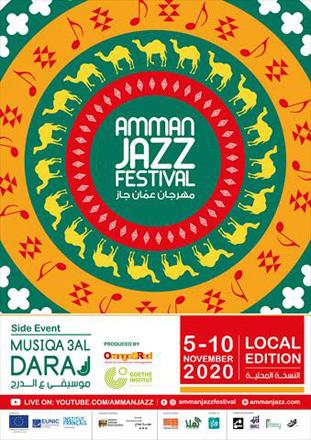 Oct 18,2020
AMMAN — Celebrating nine years of jazz from around the world, this year's Amman Jazz Festival (AJF) is going local and online from Nov
Sep 27,2022
AMMAN — The Amman Jazz Festival will kick off on September 28, celebrating 10 years of Jazz in Jordan with a vibrant and diverse programme.T
Oct 08,2023
AMMAN – Upon invitation of the Austrian embassy Amman, the Austrian vocal artist Amina Bouroyen and the Jordanian band Osama Mashagbeh Trio