You are here
Is Amman really the most expensive Arab city?
By Mohammad Ghazal - Apr 27,2016 - Last updated at Apr 27,2016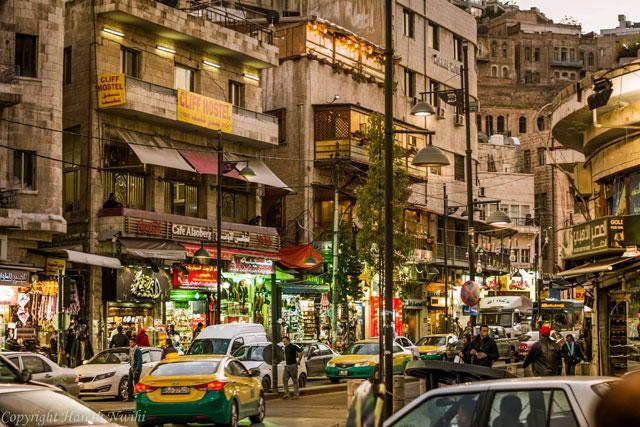 A recent photo of downtown Amman (Photo contributed by Hareth Nwihi)
AMMAN — Amman was ranked as the most expensive city in the Arab world, according to the Economist Intelligent Unit, as economists differed on the accuracy of the report.
Globally, Amman was ranked in the 29th place as the most expensive city, according to the worldwide cost of living survey by the Economist Intelligent Unit, which covered 133 countries.
Amman was more expensive than Abu Dhabi, which came second, and Dubai, which came third at the Arab level, according to the Worldwide Cost of Living, a bi-yearly Economist Intelligence Unit survey that compares more than 400 individual prices across 160 products and services. These include food, drink, clothing, household supplies, personal care items, home rents, transport, utility bills, private schools, domestic help and recreational costs.
According to the report, Amman, which is home to around four million, is more expensive than Beijing, Luxembourg, Berlin, Stockholm, Rome, San Francisco, Madrid, Miami and many others.
"This unit is not considered a respected source of information. The survey is prepared by one editor in London based on a press report by the unit's office in India without any field survey…It is based on testimonies by businesspeople who visit Jordan and reside in five-star hotels," economist Fahed Fanek said in a column at Al Rai daily.
"These surveys measure the cost of living based on the testimonies of people who reside in top-class hotels, eat at their restaurants, rent cars and drink alcohol, which is subject to 200 per cent customs fees. Such a consumption style does not reflect the cost of living for average Jordanians," said Fanek, saying it is strange that some writers use these reports and start making judgements about how expensive or not Amman is.
Economist Mazen Ersheid begged to differ. He said the report is realistic and reflects the actual situation in Amman.
"Many other international reports have also indicated that Amman is among the top five most expensive cities in the Arab world," said Ersheid.
"When one compares the income in Jordan to the prices of many services, then Amman is definitely more expensive than other Arab cities," he said, adding that the rise in income does not match the rise in prices of services in Jordan.
"With the cost of staying for two nights in a hotel in Aqaba or the Dead Sea, one can travel by plane and stay for five to six days in a four-star hotel in Sharm Al Sheikh with meals included," said Ersheid.
Economist Hosam Ayesh agreed.
The annual per capita income in Jordan is around $5,200 annually, which is very low.
"When you compare prices to income Jordanians earn, then the report is correct. In Dubai and Abu Dubai, there are higher incomes, more economic growth, but in Amman the income is meager and the economy is not doing well, yet prices are still very high," said Ayesh.
Related Articles
Apr 30,2016
AMMAN — The Consumer Protection Society (CPS) on Saturday affirmed that Jordan is not the most expensive Arab country to live in, criticisin
Jul 24,2014
Amman has dropped 14 places from 89 to 103 in Mercer's 2014 Cost of Living Survey, which shows the most expensive expatriate destinations in the world.
May 29,2018
AMMAN — Amman was ranked most expensive city in the Arab world and 28th worldwide, exceeding some of the main Gulf, European, and North Amer