You are here
Ammanis meditate to celebrate yoga day
By Sara Gharaibeh - Jun 23,2016 - Last updated at Jun 23,2016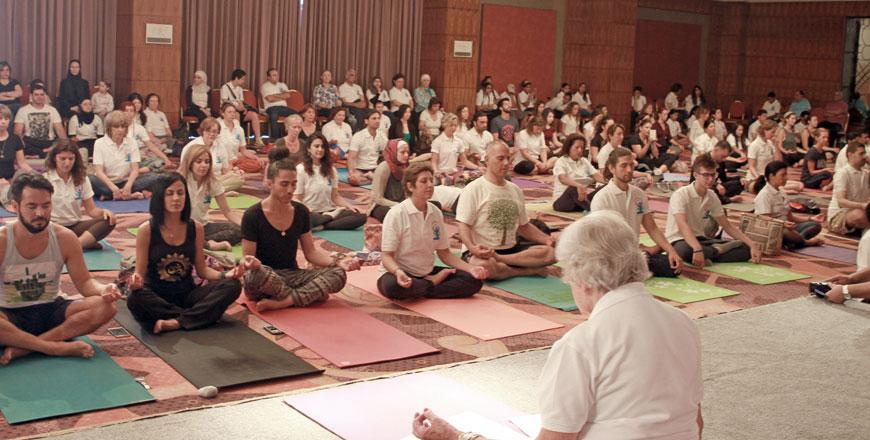 Yoga enthusiasts meditate during an event to mark the International Day of Yoga in Amman on Tuesday (Photo by Hassan Tamimi)
AMMAN — Jordan celebrated the second International Day of Yoga on Tuesday with a peace march in the capital and yoga demonstrations.
Jordanians and visitors marched from the Indian embassy to the InterContinental Hotel in Jabal Amman to participate in a session of a variety of meditation and yoga practices.
Spreading their mats on the floor and lining up in rows, participants of all ages, along with Jordan's World Cup U-17 FIFA Football team and Amman Mayor Aqel Beltaji, practised "the invaluable gift of India's ancient tradition" at an event planned by the Indian embassy.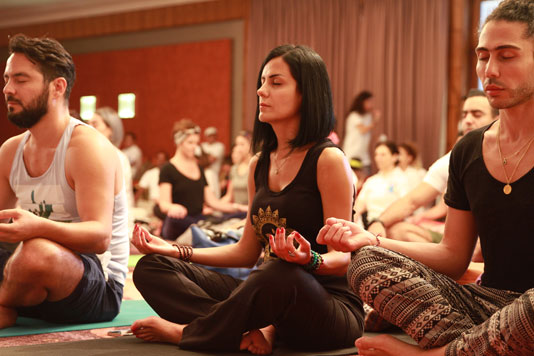 Shubhdarshini Tripathi, India's ambassador to Jordan, promoted yoga as an antidote to a world that is filled with negativity.
Yoga is "a tool of internal peace", the ambassador said, noting that where "there is internal peace, there is external peace" and urging people to "practise yoga to make a better world".
"Yoga is not working out, it's working in. It is not shaping your body; it is shaping your life," Tripathi said.
Instructors from local yoga institutions led the crowd in meditation, breathing exercises and practices of different yoga styles, all the while expressing their passion for the 5,000-year-old practice.
The session included a variety of exercises, starting from an eyes-closed form of meditation calling on calmness, peace of mind and focus, to breathing techniques, and demonstrations of the difficult Ashtanga, a modern style of gymnastic exercises and stretching practised in combination with yoga breathing and ancient yoga philosophy.
In 2014, Indian Prime Minister Narendra Modi addressed the UN General Assembly, requesting the adoption of the international day of yoga to "create consciousness, and help in well-being".
On the second marking of the occasion, the prime minister addressed the world in a recorded message, displayed at the event.
"Yoga is much more than a physical exercise; it enables us to access a new dimension of the self, even while providing a holistic approach to… healthcare and wellness," Modi said.
"Through its unifying power, we seek completeness, and at the same time a oneness with the world," the prime minister said, explaining the unity message that yoga day represents, after which he declared all participants from all over the world "ambassadors of yoga, taking forward India's ancient message to the world".
The international day for the physical, mental and spiritual discipline was suggested to be held on June 21, because "the date is the longest day of the year in the Northern Hemisphere and has special significance in many parts of the world", according to Modi.
Related Articles
Jun 23,2017
AMMAN — Yogis and yoginis gathered at the Amman Citadel on Wednesday to celebrate the third International Day of Yoga, in an open-air yoga p
Jun 20,2023
AMMAN — The Indian embassy in Amman on Saturday organised a live yoga demonstration session in Abdoun as part of the 9th International Day o
Jun 23,2019
RANCHI, India — The Indian discipline of yoga, involving spiritual and physical practices, is followed in myriad forms today by millions of