You are here
Ancient lead sarcophagus unveiled to public in Jerash
By Ahmed Bani Mustafa - Dec 27,2018 - Last updated at Dec 27,2018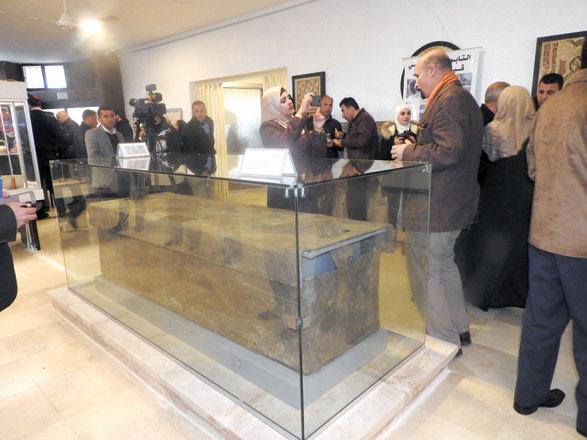 The Jerash Directorate of Antiquities on Thursday unveiled a 4th century sarcophagus containing carvings of Christian symbols and Greek mythological stories (Photo by Ahmed Bani Mustafa)
AMMAN — The Jerash Department of Antiquities on Thursday unveiled a "unique" lead sarcophagus that dates back to the Byzantine era.
During an unveiling ceremony held at the Jerash Archaeological Museum, Director of the General Department of Antiquities Yazeed Hashem said that the coffin represents one of the most important discoveries in the Middle East, as it is unique in terms of material, size and carvings.
"It is the one of only two lead sarcophagi found in Jordan. The other was found in Umm Qais, and it reflects the wealth of Jerash during that time," Hashem said.
The coffin is thought to have been made in Jerusalem or Sidon in Lebanon and was carried all way to Jerash, which tells researchers that the person inside must have been an important social or religious figure, stakeholders said.
The sarcophagus was found accidentally, in Jerash's Wadi Addeir Gharbi region in 2003, Jerash Director of Antiquities Ziad Ghunaimat, told The Jordan Times during the event.
It has funerary art carved on its outer walls, which depict Christian symbols and Greek mythological subjects, such as the myths of Prometheus and Hades, Abdulrahman Serouji, a professor from Yarmouk University who supervised the restoration process, said.
The sarcophagus is thought to have held the body of a priest or a high-profile person during the 4th century, according to a study from Masters student Belal Borini, who wrote his thesis on the finding.
Burial in such a coffin was expensive and, thus, done mainly by rich families during the Byzantine era, who expanded into Jordan from 324 to 636AD, according to Borini
This discovery, in addition to a number of marble statues of Zeus, Aphrodite and the muses, are important for the tourism sector of the Kingdom and Jerash, Director of Jerash Tourism Department Bassam Tobat said.
Exhibiting the sarcophagus at the museum will contribute to efforts by stakeholders to lengthen the time tourists spend in Jerash, Tobat added.
Early Christian sarcophagi were the result of an abandonment of the cremation practices used by the Romans, and spread in the 2nd to 5th centuries, according to experts.
Newsletter
Get top stories and blog posts emailed to you each day.