You are here
Animal welfare under scrutiny in Petra after reports of abuse
By Ahmed Bani Mustafa - Jan 18,2018 - Last updated at Jan 18,2018
People of Petra are keen to cooperate with authorities and organisations to end mistreatment of animals, a local community representative said (Photo by Amjad Ghsoun)
AMMAN — People of Petra are keen to cooperate with authorities and organisations to end mistreatment of animals, a local community representative said.
Meanwhile, authorities pledged intensifying efforts to improve the conditions of animal welfare at the ancient rose-red city, stressing that animal mistreatment is a punishable crime according the Jordanian Penal Law, an official statement said.
The issue was raised after the BBC published a report saying that the animal rights group Peta had launched an international campaign to try end the mistreatment of animals working in Petra, 235km south of Amman.
The report included videos and photographs purportedly showing beating animals and exposing wounds caused by unsuitable saddles and harnesses.
Peta said donkeys, horses and camels are being beaten and forced to carry visitors in extreme heat without shade or water, according to the BBC.
"Our community values strongly refuse such mistreatment and that's what we teach our children," Abu Firas, a community leader from Petra, told The Jordan Times Wednesday.
"Nevertheless, every community has its own disobedient individuals, mostly underage people," Abu Firas told The Jordan Times.
"Even if my son abuses an animal, I will have no problem seeing him being punished," the representative said, adding that authorities at the site should take action when they witness such acts.
Around 90 per cent of Um Sayhoun's population (the village beside Petra where the locals live nowadays) depend on tourism as their only income, according to the representative.
The local warned against preventing this business — riding donkeys and camels to visit the site — as it is "the only income for hundreds of locals".
A tourist guide, who preferred to remain unnamed, said: "Donkeys are the only means to carry water and goods up to the shops at the Monastery and other important must-see monuments in the site."
UNESCO said that using motorised vehicles to replace animals would not be desirable there, according to BBC.
The majority of users commenting on the video posted on Peta's Facebook page, called on tourists to stop riding the animals, so that locals will not be able make money out of this practice and abandon the business.
Meanwhile, Jan Hindmarsh, a Facebook user wrote: "Stop making out that this only happens in Jordan. Animal cruelty happens in every country. You need the government to stop it."
The Princess Alia Foundation in Jordan and the international animal charity, Four Paws, said they were happy to work with any group to improve animal welfare, according to the BBC.
However, they noted that much has already been done much to improve the horses' conditions at Petra by providing new stables and ensuring their owners have sufficient food, water and shelter, in addition to using lighter carriages and more animal-friendly harnesses and saddles. They nonetheless acknowledged that there is more to be done, according to the BBC report.
Following a request from The Jordan Times, the Tourism Ministry released a statement saying "we followed the recently released reports claiming there are issues related to the mistreatment of working animals in Jordan".
"Cruelty to animals is an issue that we, in Jordan, take extremely seriously, and it is a crime punishable by law (Penal Law article 472). Moreover, the teachings of Islam urge Muslims to treat animals humanely and with kindness. It also strongly enjoins handling them with compassion," the statement said.
"The government has cooperated and continues to work with civil society organisations in raising awareness about animal protection and the proper and humane treatment of animals," it continued.
The ministry's statement said that they would follow up on the issues to ensure that all violations are stopped and dealt with.
"The ministry has also instructed the Tourism Police to step up its enforcement and monitoring of all matters related to the mistreatment of working animals," the statement concluded.
Related Articles
Jul 12,2018
AMMAN — The Petra Development and Tourism Region Authority (PDTRA) and KBW Investments on Thursday signed a memorandum of understanding on p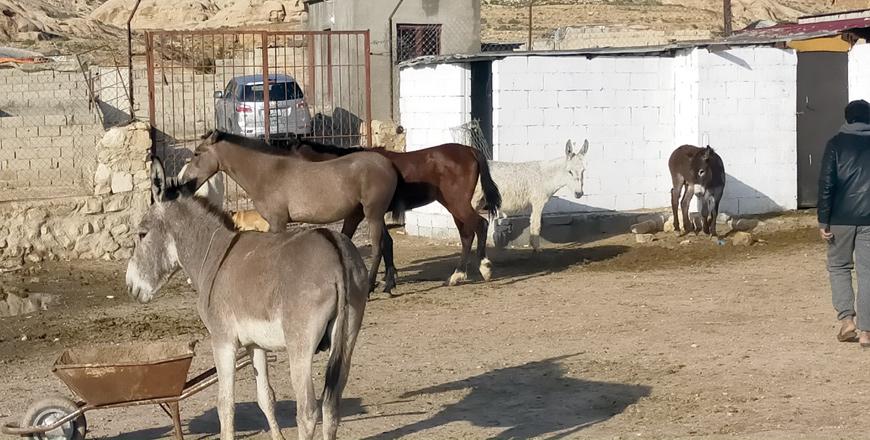 May 03,2021
AMMAN — PETA veterinary clinic in Petra is the only facility in the area, which provides free emergency medical care to hundreds of injured
Sep 17,2022
AMMAN — It is now prohibited to work with animals whose health or age would impair their function, or if working conditions or the equipment