You are here
Anthropologist enquires: Who determines choice of Muslim women?
By Andrea Celeste - Sep 17,2017 - Last updated at Sep 17,2017
AMMAN — A conference titled "Muslim Women and the Right to Choose Freely" was held on Wednesday at the Columbia Global Centres (CGC) in Amman, by noted Anthropologist Lila Abu Lughod who presented a "new way to think about the choice of Muslim women".
The anthropologist expressed her interest in conducting the conference for the first time in front of an Arab audience. "I thought it might be intriguing to present [this conference] in the Jordanian context," the scholar explained, noting that assumptions and debates about Islam and Muslim practices are very different from the ones present in the US, which "tend to revolve around fear".
"In Jordan, people actually understand the political complexities related to these topics, and they do not generalise about Muslims," Abu Lughod, a professor of Social Science at Columbia University, continued.
The evening revolved around the question of "what we can learn from public debates about Muslim women that hinge on the 'right to choose freely' that has been enshrined in international feminist conventions and that animates the popular American and European imagination about such practices as veiling and arranged marriage", a statement by CGC quoted Abu Lughod as saying.
"As an anthropologist, I always feel more comfortable talking from my experience," she said, noting that she studied the everyday lives of young women in an Egyptian village to explore a different way of thinking about choice.
She started off with a comparison of two surveys conducted in Muslim countries: "The Most Appropriate Form of Women Dress in Public" published by the PEW foundation in 2014 and a mock version of it retweeted by a Lebanese source titled "An Arab University Ran this fascinating poll about what is most appropriate for american women to wear in public".
According to the scholar, the Lebanese survey tried to "expose the absurdity of the obsession with women dress" and to "uncover some of what laid behind it, which is anxiety surrounding the hijab and Islam in the West, which are often linked to deadly fantasies about freedom and choice."
Defined in the UN Convention on the Elimination of all Forms of Discriminations against Women or "The Women Bills of Rights", the notion of free choice is included in different articles that guarantee women the right to choose their professions and partners freely.
Abu Lughod went on to challenge the idea of free choice by asking: "Who gets to determine whether an act or a form of dress was chosen freely?"
Abu Lughod said how some books depict Muslim women as oppressed and this is misinforming. "By convincing readers that other cultures, especially Muslim cultures do not value freedom of choice, they produce this comfort fantasy that, in contrast, Western women do have choice," she said, adding that "when the ideological loaded categories of choice and consent are applied to non-Western women in this way, they stigmatise these groups."
"The lives of men and women I know from this village have helped me understand the complexity of human lives better," she said, citing the variety of social settings and their influence on the concept of choice.
She continued with an example of Yamaha, a Muslim woman who could not have children, and whose freedom of choice laid beyond clothing and religion. "She couldn't choose how many children to have or even to have children, and this lack of choice has absolutely nothing to do with her wearing a hijab or not," the professor explained.
She concluded by stressing the global aspect of the struggle for choice, noting that it is not a defining feature of Muslim women.
"All choices are produced within specific configurations of power and culture to which women are subjected and their choices are shaped by the values and social norms within which they live," she added.
Related Articles
Feb 15,2017
NEW YORK — In just two seasons, Indonesian Muslim designer Anniesa Hasibuan has made the hijab her trademark — and dazzled New York Fashion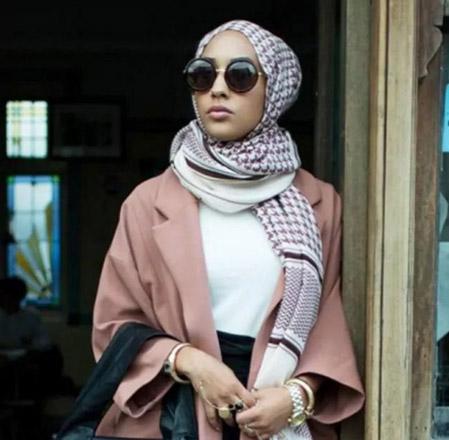 Jul 25,2017
BEIRUT — The hijab — one of the most visible signs of Islamic culture — is going mainstream with advertisers, media giants and fashion firms
May 14,2014
Around 60 women gathered outside the Prime Ministry on Wednesday to protest against the depiction of terrorists in a drill at the Special Operations Forces Exhibition (SOFEX) 2014 last week. 
Newsletter
Get top stories and blog posts emailed to you each day.