You are here
Arab states should draw up customised roadmap to address their development needs — Prince Hassan
By Dana Al Emam - Oct 12,2015 - Last updated at Oct 12,2015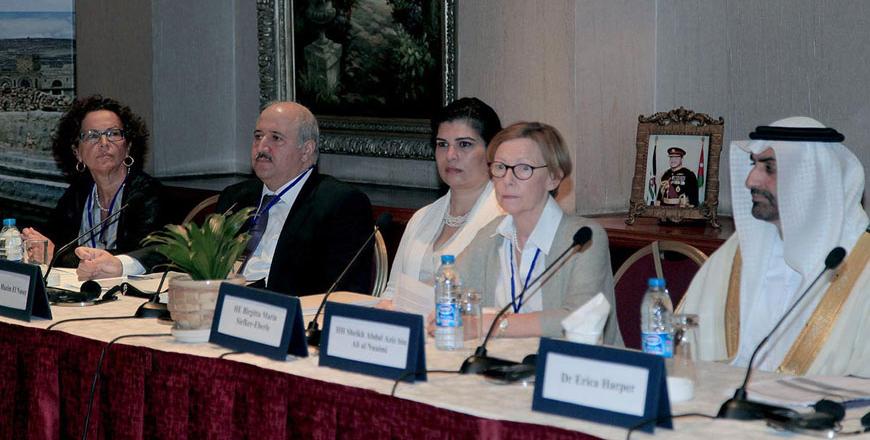 HRH Princess Sumaya attends a conference organised by the West Asia North Africa Institute on the Sustainable Development Goals in Amman on Monday (Petra photo)
AMMAN — Experts said on Monday that pressing regional environmental challenges, including water insecurity, climate change and arid lands management — all threats with visible impact — require collective work for immediate action.
They stated that despite the universality of the newly adopted 2030 Agenda for Sustainable Development, national and regional action plans must "efficiently" address shared environmental and water scarcity challenges.
In remarks delivered on his behalf by HRH Princess Sumaya, HRH Prince Hassan, chairman of the West Asia North Africa (WANA) Institute, highlighted the interconnectedness between sustainable development and the right for safe and equal access to resources.
At a conference organised by the WANA Institute on the environmental Sustainable Development Goals (SDG), he stressed the need for Arab countries to develop a customised roadmap that takes into account their particular needs and challenges, citing poor access to adequate water and sanitation as one of the major obstacles to sustainable development in the region.
However, the prince insisted that this could be overcome by more efficient use and management of existing water resources as well as the development of regulations that enhance accountability. He also emphasised the importance of finding affordable solutions for wastewater treatment.
Water Minister Hazem Nasser said drafting local and regional action plans concerning the 2030 agenda should focus mainly on challenges with immediate impact, such as water scarcity.
He also called for taking into consideration the demographic shifting of populations due to political turmoil, as well as the vulnerability of countries to the impacts of climate change, some of which are already suffering the consequences.
Sheikh Abdul Aziz Nuaimi, a conservationist and environmental adviser to the Ajman government, also highlighted the significance of water scarcity, citing it as a contributing factor to other major problems such as food insecurity and hunger.
He referred to the increase in individuals suffering undernourishment in West Asia from 18 million in 2009 to 21 million in 2012.
At the same time, the activist called for maximising the role of religious leaders in spreading awareness on environmental issues and changing behaviour towards sustainability efforts.
He also suggested investing in the potential of the younger generation to develop technology-based solutions addressing regional environmental challenges and promoting a culture of sustainability.
According to Costanza Farina, UNESCO's representative to Jordan and chair of the post-2015 Focus Group in Jordan, the true test of commitment to the 2030 Sustainable Development Agenda will be its implementation.
She stressed the need for understanding and ownership of the new goals.
The representative added that local consultations over the agenda during the last three years highlighted the urgency of addressing quality education, as well as the need for a more inclusive approach to addressing social and economic disparities and the importance of environmental protection.
Farina noted that the post-2015 Focus Group has been involved with governmental and international agencies in the process of mainstreaming the SDGs into Jordan's national planning.
German Ambassador to Jordan Birgitta Siefker-Eberle cited the "Improvement of Communal Water Efficiency through Cooperation with Religious Authorities", implemented by the German Development Agency (GIZ), as an example of efforts to change behaviour towards sustainability.
"Around 3 million people attend weekly Friday sermons at Jordan's mosques," she said, adding that the project aims to reach and educate targeted groups on more efficient use of water.
The ambassador added that the project is also developing teaching material, in cooperation with the Education Ministry, for religious instruction in secondary schools as well as at the university level.
A number of policy makers, scholars, environmentalists and civil society organisations are taking part in the forum, which seeks to encourage interdisciplinary discussion to enhance sustainable development cooperation in regards to pressing regional environmental challenges.
The two-day forum is carried out in cooperation with the GIZ and the Swiss Agency for Development and Cooperation.
Related Articles
Oct 13,2015
AMMAN — In regions where religion plays an integral role in shaping societies, drawing on religious institutions to inculcate better energy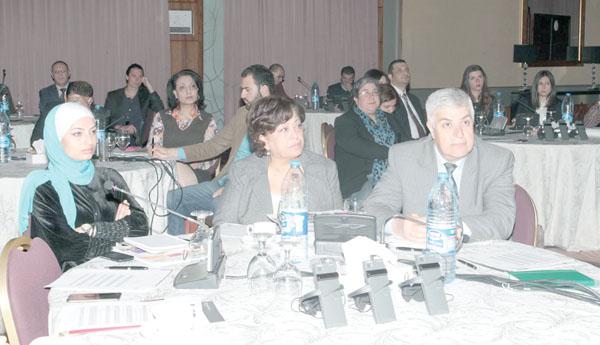 Mar 23,2015
A UN official on Monday urged local civil society organisations and young Jordanians to participate in designing and implementing the UN Post-2015 Development Agenda.
Mar 24,2014
Jordan is coordinating with international aid agencies to incorporate water and sanitation among the post-2015 development goals, Water Minister Hazem Nasser said on Monday.
Newsletter
Get top stories and blog posts emailed to you each day.