You are here
Archaeologists on a mission to breathe life into long-abandoned downtown site
By Rand Dalgamouni - Sep 13,2015 - Last updated at Sep 14,2015
In this recent photo, archaeologists and workers are seen restoring Nymphaeum, a long abandoned ancient Greco-Roman site in the heart of the capital (Photo courtesy of Marwan Asmar)
AMMAN — Around the corner of a busy downtown Amman street, as customers bargain with vendors over vegetable prices and passers-by flip through books at a nearby kiosk, archaeology students are hard at work restoring some of the past glory of the Nymphaeum.
The site, currently closed to tourists, dates back to the Roman era when Amman was a Decapolis city named Philadelphia, but residents and passers-by had been ignoring it, thinking that it is an old, abandoned building, according to Mohammad Khalili, associate professor of architecture and heritage restoration at the Hashemite University.
Years of disrepair, pollution and urban expansion have taken their toll on the site, but Khalili is determined to bring back a semblance of its grandeur.
He is the field director of a project to restore and renovate the Nymphaeum, implemented by the University of Jordan's (UJ) Hamdi Mango Centre for Scientific Research and funded through a $200,000 grant from the US Ambassador's Fund for Cultural Preservation.
"This is an important project to put the site on the Kingdom's tourism map," Khalili told The Jordan Times in a recent interview at the Nymphaeum.
Realising the significance of the endeavour, the US ambassador's fund presented double the usual grant amount of $100,000, he said.
The project, launched late last year, is led by UJ Dean of Academic Research Abeer Al Bawab and supervised by Department of Antiquities Director Munther Jamhawi, with the support of the Greater Amman Municipality.
Khalili said it is an opportunity for students to implement what they learned in class.
Over 40 students from UJ, Petra University and the Hashemite University, along with technicians, are working to clean, coat and consolidate the structure's stones, with new groups of students coming regularly to gain practical experience in archaeological restoration.
This process follows the documentation of the site in 3D using the latest technology, Khalili said, noting that the last documentation of the Nymphaeum is around 100 years old.
Nymphaea, Hellenistic structures later incorporated into Roman architecture and city planning, were built over caves or grottoes with running water, which were believed to be sacred to mythological nymphs. The structures were areas of public gathering and seen as a sign of a city's wealth and standing.
"I used to pass by this place when walking downtown, and I would tell my friends: 'This is an archaeological site. It's a shame to leave it like this. This is what my major is all about,'" said Rima Mansour, a graduate of the Hashemite University with a BA in archaeological conservation.
Mansour said she joined the project at the Nymphaeum the minute she learned about it out of her passion for history and archaeology and with the intention of implementing what she studied.
Those involved in the field work, which started in June, hail from various governorates and areas, Khalili noted, such as Zarqa, Ajloun and Qastal.
MA student Ibrahim Barghouthi, who has been involved with the work for two months, said it will enrich his field experience, adding that this was his first time.
Current work on the site includes removing the clusters of dirt, erosion, staining, crumbling, chipping, cracking and flaking, and cleaning the structure stone by stone.
"You really get a sense of achievement when you see a stone all white and clean after days of hard work," said Maen Al Hara, a fresh graduate involved in the project.
The 23-year-old said the work will help him find other jobs in archaeological restoration.
More difficult tasks are left to technicians such as 45-year-old Khalaf Al Kour, who has been working in restoration for four years.
"We are restoring the structure and filling in the missing parts of the stones," noted Kour, who has previously worked on the restoration of Qasr Mushatta in Qastal, some 30km south of Amman.
Khalili said 10 permanent technicians including Kour are working with the students, who are also paid a daily wage to cover transportation and meals.
"We see tourists come here every day wanting to take a look at the site although it is closed to them," he said, noting that once properly restored, the Nymphaeum can host cultural activities.
Looking at the upper side of the structure, where work is yet to start cleaning the blackened stones and address the effect of the nearby sewer network, Khalili acknowledged the Herculean task ahead of him and the whole team.
"It's a challenge. People might look at this and say $200,000 is not enough, that it takes $1 million to restore the site properly, but that won't stop us. We are determined to preserve this place for future generations."
Related Articles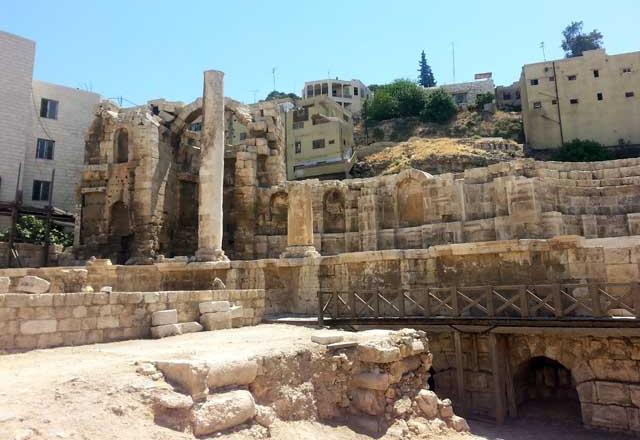 Aug 12,2014
The Hamdi Mango Centre for Scientific Research (HMCSR) will benefit from a $200,000 US grant for the restoration and rehabilitation of the Roman Nymphaeum in downtown Amman.
Jul 13,2014
Greater Amman Municipality will open detour routes in downtown Amman towards the end of July as work begins to revamp the Nymphaeum.
Nov 15,2016
AMMAN — The second phase of the restoration and rehabilitation of the Roman Nymphaeum in Amman was launched on Tuesday.The project is implem