You are here
Archaeology project gauges strategic defence value of Salt during late Ottoman period
By Saeb Rawashdeh - Jan 25,2021 - Last updated at Jan 25,2021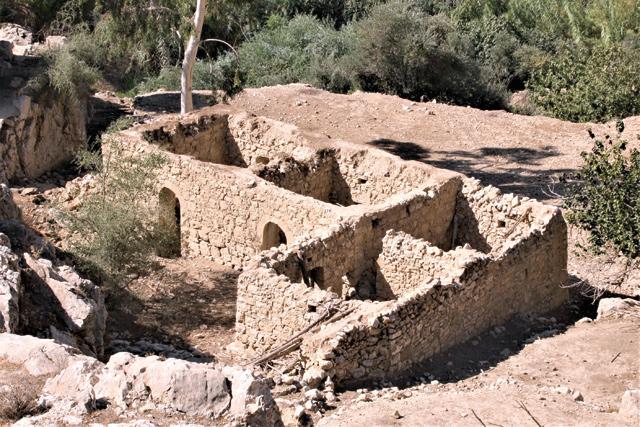 Remains of a late Ottoman period farmstead in the central part of Wadi Shuaib (Photo courtesy of Alexander Ahrens)
AMMAN — The northwestern town of Salt, nestled between the West Bank and Wadi Shuaib, was a strategic point during the late Ottoman period, said a German archaeologist.
"Being the commercial centre of Transjordan from the 18th century until the early years of the Emirate of Transjordan, Salt was also the centre of Ottoman administration of the entire region," Alexander Ahrens, who is affiliated with the German Archaeological Institute in Berlin, told The Jordan Times.
Many archaeological and architectural remains dating back to the Ottoman period are still found in Salt today, he noted.
"In the Wadi Shuaib there is an abundance of archaeological traces dating back to this period, e.g. water mills, aqueducts watering the fields and orchards in the wadi, as well as residential houses," Ahrens said.
At the end of World War I in the Levant — when the British forces under General Edmund Allenby, coming from Palestine, finally managed to cross the Jordan River with pontoon bridges — heavy fighting took place in the vicinity of Southern Shuneh, which is located at the entrance of the Wadi Shuaib, Ahrens, said.
Historical sources attest to the combats between the British and Ottoman troops in this region, however, only few archaeological finds and traces remain, according to the archaeologist.
A survey project conducted in the region by the German Archaeological Institute, however, succeeded in finding one single lead bullet that was part of a British shrapnel shell. It is one of the very few finds that can directly be linked to the fierce combats between British and Ottoman-German troops during 1918, Ahrens said.
"Due to its strategic location, the town of Salt housed a large number of garrisons, consisting of Turkish-Ottoman, Austrian and German troops during the period of World War I and the time of the Arab Revolt. From here, several smaller military bases were dotted along the banks of the Wadi Shuaib, safeguarding the wadi from the southern Jordan Valley and the entrance up to the Transjordanian Plateau," Ahrens noted.
"The wadi therefore clearly served as a defensive line, hampering the British troops of entering Salt and the plateau," the archaeologist explained.
It took the British forces three successive attempts to break through these lines, before the Ottoman-German defence finally collapsed during the final days of World War I, enabling the British troops to enter Salt, taking all enemy soldiers captive, before proceeding northwards to capture Damascus, Ahrens said.
Despite the COVID-19 pandemic, the team hopes to return to fieldwork in 2021, while in the meantime, the project focusses on publishing the data gathered during the previous years, Ahrens concluded.
Newsletter
Get top stories and blog posts emailed to you each day.