You are here
Architecture students use film to explore Jordan's design culture
By Sawsan Tabazah - Jul 09,2016 - Last updated at Jul 09,2016
Architecture students are working to photograph and film landmarks around the Kingdom to develop their understanding of Jordan's architectural heritage (Photo courtesy of Skyline Studios)
AMMAN — Architecture students are using film to discover and document the architectural heritage of Jordan.
"International and great architects reflect the cultures they live in, and to become like them, we have to start from our own culture," said Baidaa Frieh, who co-founded Skyline Studios with Batool Hayajneh.
Frieh and Hayajneh study at the Jordan University of Science and Technology in Irbid, and their new club uses film to explore their passion for architecture.
"We watch and discuss short, long, cultural and creative films, in addition to holding workshops on filming and shooting for the students of architecture and design," Frieh told the Jordan Times in a recent interview.
So far, the students have shot films in Ajloun and Petra and shared them on the club's channel on YouTube.
"About 20 of our colleagues from the faculty joined us for the trip to Ajloun, where we had the chance to visit the Royal Academy for Nature Conservation, designed by architect Ammar Khammash," the fourth-year student said.
Khammash's design was nominated for the Aga Khan Award for Architecture, a prestigious prize given to projects that set new standards of excellence in architecture, planning practices, historic preservation and landscape architecture, she noted.
Hayajneh said the students are prepared to travel the breadth of the Kingdom to study the history and design of its buildings, adding that she hoped to discover the beauty of Jordan's culture and history.
For Frieh, the visits are a chance to discover the country firsthand.
"The study of architecture relies in the first place on discovery, so we decided to take our own trips and to discover, because learning is not only about reading books," she stressed.
The students have taught themselves film production, in the little free time they have, Frieh added. "My friend Batool and I have taken a course in photography and we have learned about filming through videos on the Internet, in the short leisure time we have."
Their professors have been supportive, the student said, adding that they have made arrangements for the club to continue after their graduation.
"We have an administrative body at the faculty to make sure that the activities of the club continue even after we finish," Frieh said.
Related Articles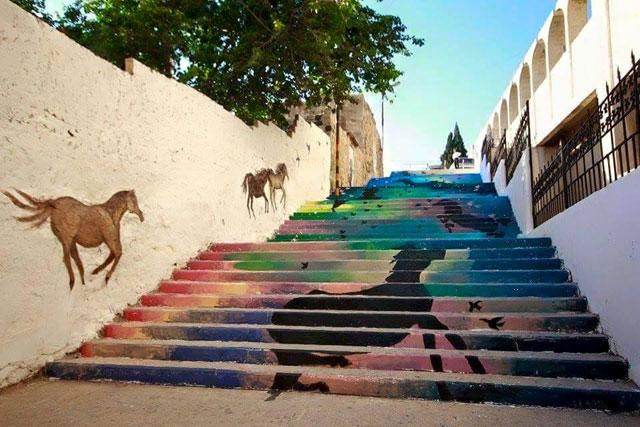 Jun 13,2016
AMMAN — Architecture and design students in Irbid are using their skills to accentuate the beauty of neglected areas of the city, some 80km
Sep 11,2018
AMMAN — HRH Prince Hassan on Tuesday honoured architect Rasim Badran for his achievements and designs.
Sep 01,2016
AMMAN — Young Jordanian designers see Amman Design Week (ADW), which officially opened on Thursday, as an opportunity to show their talents,
Newsletter
Get top stories and blog posts emailed to you each day.