You are here
Army chief says Jordan ready to deal with terror threats
By JT - Dec 31,2016 - Last updated at Dec 31,2016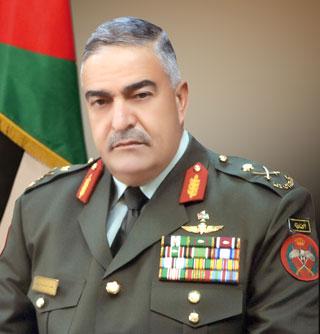 AMMAN — Security coordination between Jordan and both the Syrian regime and the Syrian opposition continues in order to fight terrorism, the army chief said in a recent interview, noting that Jordan has not halted diplomatic ties with Damascus.
In an interview with BBC Arabic on Friday, Chairman of the Joint Chiefs-of-Staff Lt. Gen. Mahmoud Freihat on Friday said the awareness of citizens led to discovering the terrorist cell in Karak.
Freihat explained that a citizen reported an explosion to the nearest police patrol, whose personnel immediately headed to the place and were surprised by heavy shooting, after which the terrorist headed to Karak Castle.
"Upon searching the apartment of the terrorists, security agents found large amounts of explosive belts and arms, which suggests that they were planning to carry out a larger attack possibly targeting a shopping mall, a school or a university," he added.
Friehat estimated that around 300 Jordanians have joined Daesh in Syria, with only a small number in Iraq.
He expressed concern about possible sleeper cells among hundreds of thousands who came from Raqqa, the Daesh stronghold in Syria, and are currently living in refugee settlements close to the Kingdom's borders, such as Rakban.
The Daesh-affiliated Jaysh Khalid Bin Al Waleed group, near the Golan Heights, is very close to the Jordanian border, and it has tanks, armoured vehicles and other arms that would reach the Jordanian side, Freihat said, stressing readiness to deal with any threat.
Jordan's border crossings with Syria remain closed due to a lack of regular troops on the Syrian side, and the continuing danger of the road to Damascus, especially in parts controlled by terrorist groups such as Fateh Al Sham, the army chief said.
He added that the crossings will reopened once the Syrian army takes control of them.
2017 will see the end Of Daesh, Freihat predicted, citing the Jordanian army estimates that Daesh has lost 60 per cent of its previously-held territory in Iraq, and 35 per cent in Syria.
In addition, the army believes that Daesh has lost around 25 per cent of its fighters, and 50 per cent of its leaders and key strategists.
Freihat reaffirmed Jordan's active membership of the coalition against Daesh and its regular aerial missions against the terror organisation.
After the fall of rebel-held Aleppo, Freihat listed three possible courses of action by the Syrian regime.
Firstly, he speculated that a government assault on Idlib is unlikely as the city is large and the Syrian army does not have enough troops.
Another option would be assaults on Deir Ezzor and Palmyra, but Freihat said he believes the most likely next stage of the war will be the redeployment of Syrian regime forces to the south, and to Daraa, on Jordan's border.
As for the Hashd Shaabi, or Popular Mobilisation Units, Freihat expressed Jordan's concern about the possible establishment of a "land belt", or contiguous territory, between Iran and Lebanon, as the Hashd continues to push towards the Syrian border with Iraq.
He also said that Jordan has trained some Syrian opposition factions such as the "tribal army", but in order to fight terrorists near the borders, and not the Syrian regime.
He noted that relations with both the regime and the Syrian opposition are still open.
Related Articles
May 05,2016
NORTHERN BORDER — The ultra-radical group Daesh is 120 and 80 kilometres away from Jordan's eastern and northern borders with war-torn Syria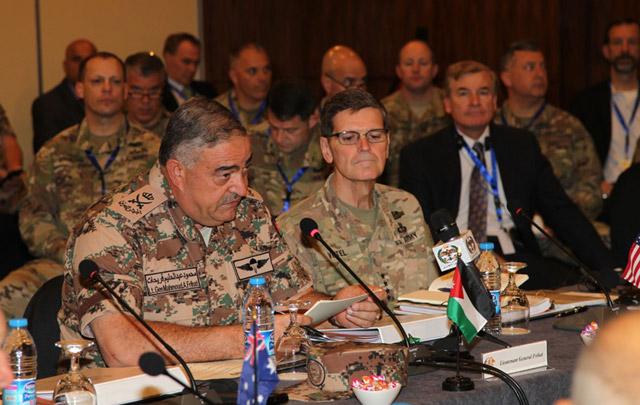 May 13,2017
AMMAN — A seminar for senior commanders participating in the Eager Lion 2017 drill was held on Saturday at the InterContinental Amman Hotel,
Jan 20,2017
THNEIBEH, Northern Border — Jordan is deploying more forces to face a growing threat to its borders, as Daesh extremists in neighbouring Ira
Newsletter
Get top stories and blog posts emailed to you each day.