You are here
Army kills 12 infiltrators on Syria border
By JT - Jan 23,2016 - Last updated at Jan 23,2016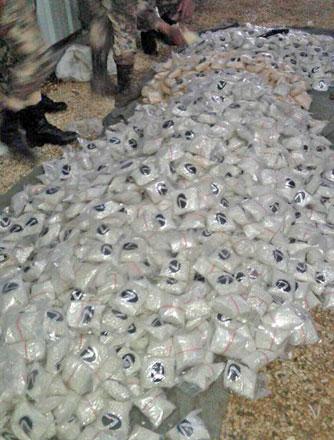 Drugs seized by the Border Guards on Syria border on Saturday are shown in this photo (Photo courtesy of Jordan Armed Forces-Arab Army)
AMMAN — Border Guards on Saturday killed 12 infiltrators and injured others as they attempted to cross from Syria into Jordan, a Jordan Armed Forces-Arab Army (JAF) source said.
Surveillance troops on the northern front line spotted 36 persons, some carrying arms and others unidentified items, trying to cross into the Kingdom from war-hit Syria, the army source said.
The troops immediately dealt with the situation in accordance with the rules of engagement as soon as they detected the infiltrators, the source was quoted in a JAF statement as saying.
The source added that 2,145,000 narcotic pills were found and handed over to concerned agencies.
During the past months, border surveillance troops have detected, and arrested or killed a number of infiltrators, mostly narcotics smugglers and suspected terrorists.
The army has repeatedly stressed that it would deal with any attempts to cross the border, in any direction, and schemes to harm Jordan and Jordanians with the necessary force.
Related Articles
Dec 02,2015
AMMAN — Border Guards on Wednesday killed an infiltrator and injured another after they tried to cross from Syria into Jordan, a Jordan Arme
Sep 01,2015
AMMAN — One Syrian infiltrator was killed and another critically injured after they were spotted attempting to cross from Syria into Jordan
Aug 23,2015
AMMAN — Border Guards during the weekend dealt with separate attempts by two people to illegally enter the Kingdom through the Syrian border