You are here
Army on northern border foils 280 smuggling attempts in 2015
By Raed Omari - May 07,2016 - Last updated at May 07,2016
AMMAN — The dramatic increase in the amounts of narcotics seized and the smuggling attempts indicate that there is a plot to "flood" Jordan with drugs, according to a high-ranking army officer.
Border Guards Commander Brig. Gen. Saber Mahayrah said last Wednesday that troops on the borders with Syria have foiled 280 attempts to smuggle narcotics into the Kingdom. "Twenty three million narcotic pills, mostly Captagon, have been seized."
"The amounts seized so far constituted a 12 per cent increase from last year when 19 million pills were seized in a total of 218 infiltration attempts," Mahayrah added in a media tour to the northeastern borders last Wednesday.
He also said that the Border Guards have dealt with 17 smuggling cases and 68 smuggling attempts since the beginning of this year, constituting a 300 per cent increase from last year, when they reached 33 attempts and 52 cases in the same period.
"We do not approach such smuggling attempts and seized drugs merely in terms of figures. Each case is being examined as an indication of something we have to be careful about."
"I have received a telephone call from the Saudi border guard commander telling me that prices of Captagon pills have risen sharply in Saudi Arabia because of the Jordanian army's efforts on the borders with Syria and Iraq," he added.
Mahayrah also said that smugglers use tunnels, animals and vehicles in their infiltration attempts. "We are vigilant and relentless in foiling all smuggling attempts."
Related Articles
Jun 05,2016
AMMAN — Border Guards on Thursday night killed two people who tried to illegally infiltrate into the Kingdom from Syria, a military official
May 20,2016
AMMAN — The Border Guards on Thursday foiled two attempts to smuggle large amounts of drugs through a vehicle and a motorbike from Syria, an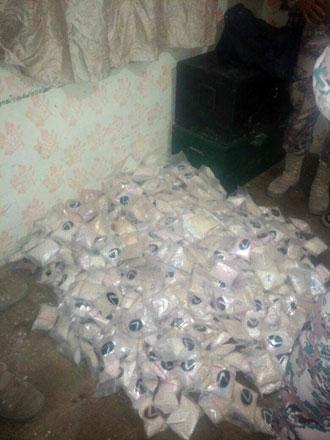 Jun 11,2016
AMMAN — Border Guards killed three people who tried to illegally enter Jordan from Syria late on Friday, a military official from the Jordan
Newsletter
Get top stories and blog posts emailed to you each day.