You are here
Around 70% of Jordanians own their homes — Halaseh
By Omar Obeidat - Nov 10,2014 - Last updated at Nov 10,2014
AMMAN – The government is preparing a long-term strategy to deliver affordable and well-planned housing to the lower middle class, benefiting from its experience with a previous nationwide housing scheme, according to Minister of Public Works and Housing Sami Halaseh.
In an interview with The Jordan Times Saturday, Halaseh said the strategy will be part of the 10-year economic growth vision for the Kingdom the government is readying.
The minister indicated that the ratio of Jordanian homeowners to households is around 69 per cent, a percentage he described as among the highest worldwide.
"But we need to draw a long-term plan for the sector because the last strategy was put in place some 20 years ago," he said.
The main objective of the strategy is to overcome current and future barriers for delivering affordable housing through offering incentives to the private sector to build decent and reasonably priced residential apartments targeting the lower middle class market, he said.
Under the proposed strategy, Halaseh said one of the options is that developers may receive tax discounts and financial incentives, adding the ministry would provide housing estates with the necessary infrastructure.
The government would also work with the banking sector to offer long-term housing loans for relatively low interest rates.
"Inflating land values and rising construction costs in addition to lack of affordable financing are preventing a large number of Jordanians from owning a housing unit," the minister said.
"Securing a residence for each Jordanian family in a suitable environment is a top priority for the ministry," he added.
Decent Housing for Decent Living initiative
In regards to Decent Housing for Decent Living initiative, launched by His Majesty King Abdullah in 2008, Halaseh said the ministry was able to market the remaining 5,200 units over the past four years by selling 1,700 apartments to households through loans by commercial banks this year and by allocating 3,500 units to the teachers' housing fund, run by the Ministry of Education. The units were allocated by a Cabinet decision.
The nationwide project was supposed to see more than 120,000 "affordable" housing units built for Jordanians from the low- and limited-income segments, but the plan stalled amid allegations of corruption and banks' lending restrictions.
A total of 8,448 housing units were built at 11 sites in major cities, according to official figures.
The minister says the new housing vision benefits from the pros and cons of the previous project.
Construction sector and capital spending
The minister said the performance of the construction sector in Jordan has recovered over the past years due to larger spending.
In the 2015 state budget draft law, capital expenditure is set to go up by 5.3 per cent to JD1.1 billion.
"It is only a slight increase in spending but it will also boost the sector," he said, adding the construction sector plays an important role in the Kingdom's economy as it represents around 20 per cent of the gross domestic product.
The construction industry is a major driver of economic growth and job generation as it provides thousands of jobs for people working in 120 professions and trades.
On expanding outside the Kingdom, Halaseh said there are a number of first-grade contractors carrying out large-scale projects in countries like Morocco, Algeria and Iraq, indicating, however, that it is not easy to penetrate markets outside the Kingdom because of difficulties to obtain bank guarantees from Jordanian banks to work outside and due to issues related to the rating of construction firms.
"For example, a first-grade contracting company in Jordan could be classified in the second tier in the Gulf," he explained.
Asked on delays to pay contractors outstanding dues, Halaseh said the ministry is currently owed by nearly JD3 million as it had in early October paid JD20 million to small- and medium-sized contractors who carried out rural and agricultural roads across the country over the past few years.
According to the minister, there are 2,220 contracting firms in Jordan.
Highway projects
Indicating that the Airport Road will be open before the end of this year after a severAl year makeover, the minister said the ministry has started rehabilitating the Azraq-Omari border crossing road, which links Jordan with Saudi Arabia, adding that the cost of the project is JD270 million.
The road, which is a vital venue for passengers between Jordan and Saudi Arabia, is expected to be ready by the end of 2016, Halaseh said.
Jordanian engineers
The official said that in the coming five years, the number of engineering graduates in Jordan will be around 150,000.
Currently, there are over 116,000 who are members of the Jordan Engineers Association, while there are 37,287 engineering students in public and private universities.
Halaseh said that one-third of Jordanian engineers work in Gulf countries, and accordingly are major contributors to remittances funnelled into the Kingdom.
There are 89,620 male engineers and 26,734 female engineers in the country, ministry figures show.
Achievements
Halaseh said his ministry has completed a total of 152 government buildings in the sectors of health and education and as part of Royal initiatives, worth JD176 million in total.
He added that the ministry is also implementing 226 projects worth JD155 million including hospitals and schools, noting the ministry had finished 19 major road projects worth JD334 million in addition to agricultural roads at a cost of JD80 million.
Halaseh said the value of building and road projects currently executed by the ministry is around JD1.2 billion.
Related Articles
Sep 28,2015
AMMAN – Minister of Public Works and Housing Sami Halaseh recently discussed with Spanish Minister of Public Works Ana María Pastor cooperat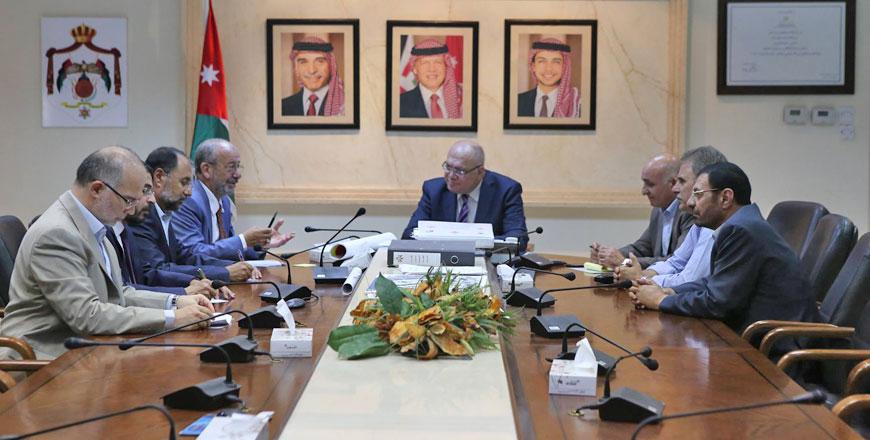 Jun 27,2016
AMMAN — Minister of Public Works and Housing Sami Halaseh on Sunday met with Jordan Engineers Association (JEA) President Majid Tabba and co
Mar 29,2014
Minister of Public Works and Housing Sami Halaseh met with his Palestinian counterpart Maher Ghneim during his official visit to Palestine, which concluded on Friday.
Newsletter
Get top stories and blog posts emailed to you each day.