You are here
Artist paints women's faces as window into their souls
By Andrea Celeste - Nov 12,2017 - Last updated at Nov 12,2017
Zeina Al Salti, during her exhibition titled 'In the Depths of Her Soul' at the Orient Gallery (Photo courtesy of Orient Gallery)
AMMAN — An exhibition depicting the life and depths of women's faces is giving art-enthusiasts the freedom to interpret its colourful and enigmatic paintings to "see inside the women's souls", according to a statement by the Orient Gallery.
Held under the patronage of Senator Haifa Najjar, the solo exhibition of Zeina Al Salti, titled "In the Depths of Her Soul" is currently on display at the Orient Gallery until November 16.
The paintings illustrate the faces of women with loose hair and big loop earrings, in acrylic colours ranging from purple, red, black, orange, white to blue.
"All of them are about women's emotions," said Salti, adding that she tries to express what is inside of them by "focusing on [the subject's] soul and feelings".
"These are my favourite colours and I also like the idea of displaying the models with loose hair, which represents their freedom," she told to The Jordan Times at the gallery.
"I really don't like to concentrate on a lot on features; I don't like them to be very clear, I like when viewers come up with their own interpretations — I leave it to the observer. I don't give you my own impression of the paintings. That's why I don't present details," she added.
The artist focuses on depicting shadowed eyes and coloured lips. "I like to keep some sort of mystery and vagueness, so the viewer has the freedom when looking at the paintings to feel whatever he/she is feeling," she said.
The artist draws her inspiration from the women she comes across, she said, noting "this is the subject I like to work on as I find beauty in every woman."
"I'm very passionate about art, even with my kids when we play we do it through art and I'm also very passionate about my job as an art teacher," Salti said.
Ever since her childhood, the painter said that she enjoyed working with her hands and engaging in arts and crafts, but she only started painting professionally in 2004.
After receiving her bachelor's degree in Archeology and Tourism, she studied art at the Training Centre for Fine Arts at the Ministry of Culture for two years. "I painted everything: landscape, figure, animation…," she explained, adding that what she likes to paint the most are human figures.
While she gets her inspiration from certain faces she comes across, Salti does not portray their exact features.
"It doesn't need to be someone I know, it can be someone whom I just looked at, and saw into her soul," the artist concluded.
Related Articles
Jul 29,2017
AMMAN — "Painting is the translation of one's thoughts onto a canvas," Jordanian artist Leena Baker said, adding that each painting sends a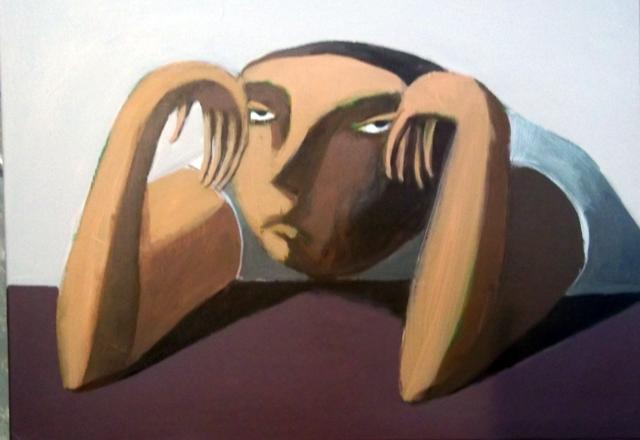 Mar 11,2014
For Lebanese artist Annie Kurkdjian, art is the best kind of therapy.
Oct 23,2016
AMMAN — After completing a bachelor's degree in history, it was artist Nissa Raad's studies in science and urban design that triggered her i
Newsletter
Get top stories and blog posts emailed to you each day.