You are here
Artist says street art beautifies country, has calming effect on residents
By Suzanna Goussous - Aug 21,2016 - Last updated at Aug 21,2016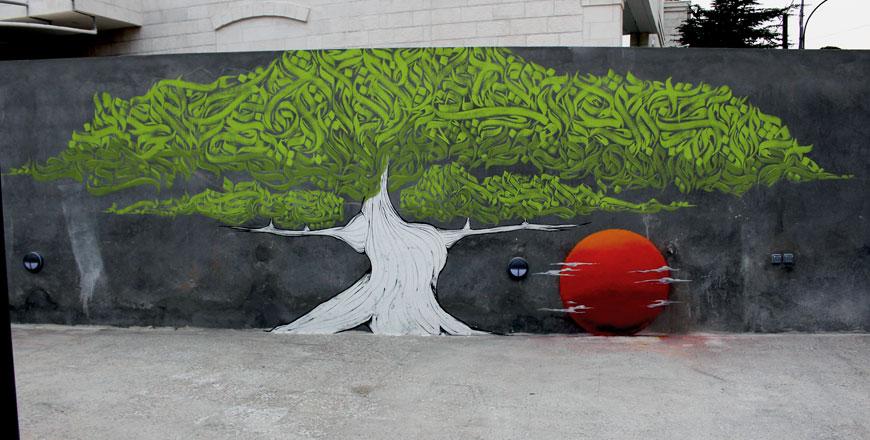 Street art by graffiti artist Wesam Shadid in Amman (Photo courtesy of Wesam Shadid)
AMMAN — On a mission to introduce Amman residents to art in all its forms, Wesam Shadid has been among the pioneers of graffiti in the capital.
Shadid told The Jordan Times that he started sketching in late 2002 when he was living in South Africa's Johannesburg and noticed street art as a common backdrop to the city.
"Since I was a child, I liked to sketch drawings, but people around me did not support my passion and I abandoned art for around 10 years. But when I was in South Africa, I used to carefully observe street art," he said in a recent interview.
Progress in the graffiti art scene in Jordan has been slow, the artist said, as people were initially hesitant to accept street art.
"It wasn't until 2010 that more artists started creating street art. The Internet and social media played a vital role in encouraging artists to express themselves. The vast majority of Amman residents enjoy viewing art," he said.
Women feature in several of Shadid's artworks, and the artist says he believes it is powerful to include women in art and in society.
"I try to fight the fixed image about women in the [Arab world]. I draw them with makeup on, in good shape, because I believe that we should show the beauty of women to the world."
To Shadid, street art beautifies the country, adds colour to old neighbourhoods and has a calming effect on residents.
The 40-year-old has painted his thoughts on walls in several areas of the capital, including Wadi Saqra, downtown Amman, Jabal Luweibdeh and Jabal Amman.
"The oldest neighbourhoods of Amman have a historic fragrance. The juxtaposition of old stone next to a modern piece of art makes the scene even more beautiful," he said.
Graffiti artists avoid working on old stones, he added, to preserve the history of the place and to mix its beauty with a contemporary scene.
"I believe that art is for everyone. Art should not be placed on a canvas or indoors in a gallery. The streets belong to the residents, and many people in Amman are art lovers and appreciate this type of art," Shadid noted.
He said the most rewarding aspect of creating art is the interaction with the local community.
"You get introduced to people when you are working on an art piece. My favourite part is when children approach us and start asking about our art and the idea behind each piece."
Related Articles
Apr 02,2018
AMMAN — A tip by her sister encouraging her to visit Amman triggered in curiosity in Palestinian Ashgan Borjas about the nearby capital.&nbs
Dec 28,2017
By Kamal TahaAgence France-PresseAMMAN — Dreadlocked university student Suhaib Attar clutches a can of spray paint as he sets to work on the
Nov 09,2017
AMMAN — An artist's preliminary drawings give an insight into how they perceive a painting — the composition, shadows and forms develop in s